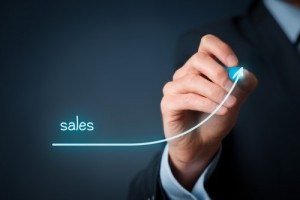 If you want to "always be closing" like the characters in "Glengarry Glen Ross," you need to always be learning. You can grow your sales numbers exponentially if you have a firm commitment to improving your sales technique and strategies by learning new approaches to gain market share.
Having the desire to improve beyond your current measure is a critical starting point. Stagnation is your enemy. Pledge to work hard to grow and evolve. Here are four keys to help you make the jump to the next level in your sales career and improve your sales numbers:
Know Your Market
A good salesperson should know their market inside out. By studying the market, you can identify the strengths and weaknesses of it so that you can better address those points in your sales pitch and product offerings in an effort to better suit the needs and wants of your audience.
In order to make the most of your time, edit your media consumption to be focused on your business market. Swap television for podcasts and books by industry professionals so that you can soak up the knowledge of those who have gone before you. By harnessing the power of situational awareness, you can increase your sales tenfold.
Understand Your Audience
Beyond knowing the overall market, you should also have a solid understanding of your sales audience. What does your target customer like? What are their dislikes? Beyond that, you should also know what kind of media they predominantly consume, and what social media websites they frequent. This can help you to better understand how to most effectively communicate with your customer base so that you can pitch your product in a manner that makes it as easy as possible to complete the sale.
Once you know what social media apps are most frequented by your customers, make sure that you are active on those platforms. Whether it is Instagram, Facebook, Snapchat, Twitter or Google+, create your own profile to offer a more personal glimpse inside your business and show your audience that you have common interests.
Sell Around the Clock
If you want to master your sales technique, you need to learn how to make any opportunity a business opportunity. One easy way to learn how to do this is by taking on a new sales project so you can make the most of any downtime from your regular gig. Join a sales platform like Amway and sell their products in your spare time to test out new pitching styles so you can easily see what works and what falls flat. Not only is this a low-risk way to improve, but it is also a way to bolster your income while you are refining your sales skills.
Come from a Helpful Place
Forget about your bottom line. Instead, think about how you can help your customers. Frame your sales pitch around how your product or service can help your client. Focus on how your client will benefit from what you are selling and aim to genuinely want them to reap those positive improvements.
"The Go-Giver" by Bob Burg and John David Mann delves into this subject even deeper, illustrating the prosperity and fulfillment that can lie within the joys of giving, rather than receiving.