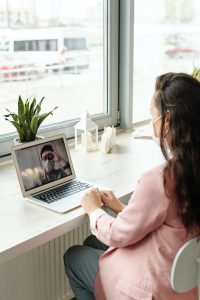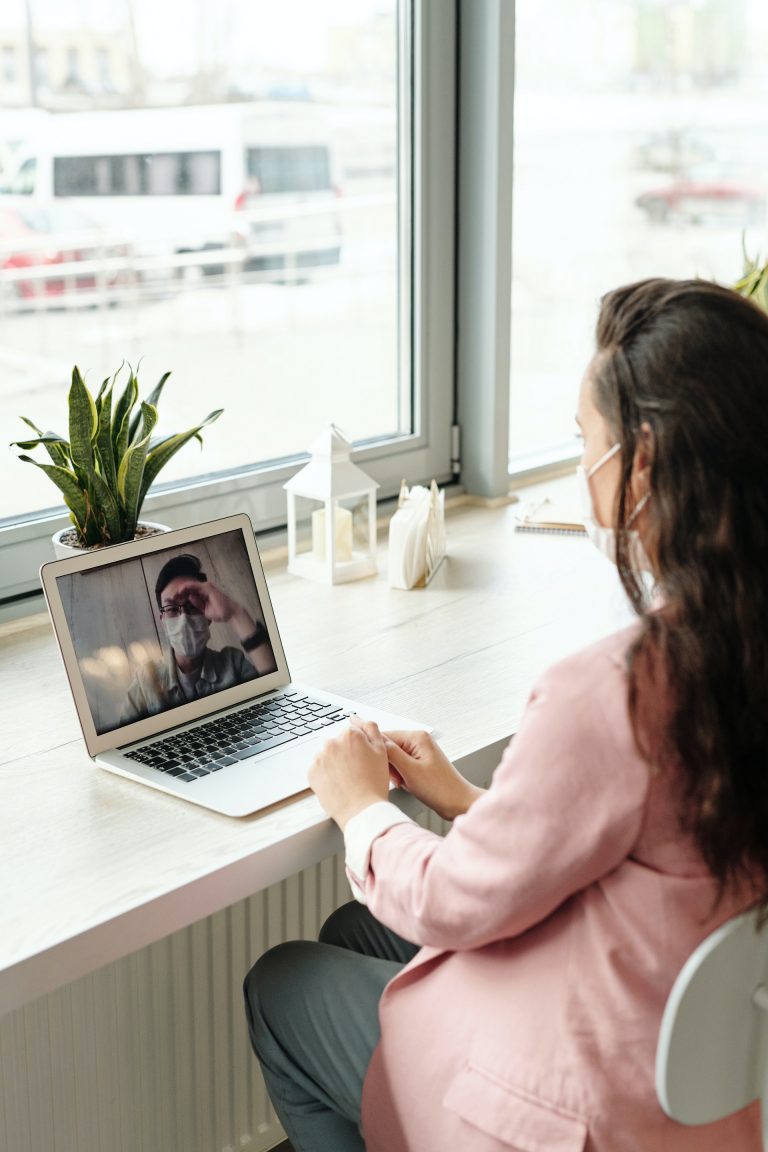 Virtual Work has become a norm nowadays.  To enable Virtual Work, organizations should strive to develop an Organizational Culture of writing things down.  Documenting everything—from meeting notes to quarterly objectives—facilitates in developing stronger, informed, and more credible teams.
Organizations need to pay attention to and make good use of these 9 communication tactics to establish effective communication mechanisms among their remote teams:
Daily Documentation
Text-based Communication
Low-context Communication
Value-guided Communication
Asynchronous Communication
Good Habits
Meetings
Informal Communication
Foster Relationships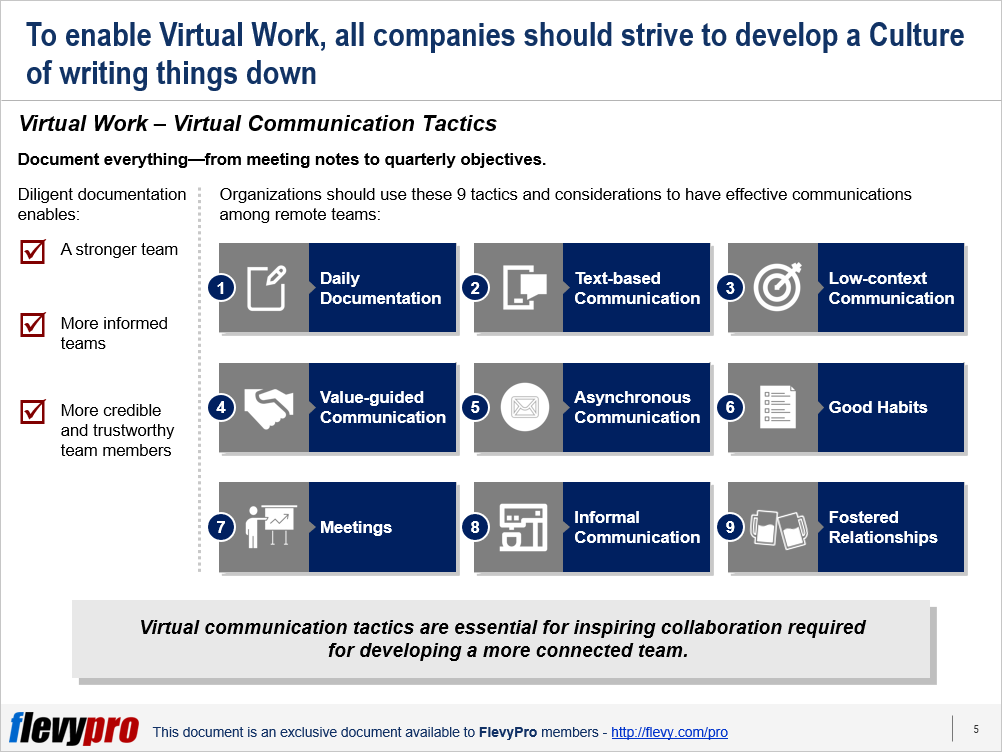 Virtual communication tactics are essential for inspiring collaboration required for developing a more connected team.
Now, let's talk about some of these tactics in Corporate Communications in further detail.
Daily Documentation
To have more collaborative work place and to have fruitful online meetings, virtual organizations need to follow these guidelines:
Share formal agenda and discussion items well in advance of the actual meetings.
Diligently document key ideas, points, and decisions for geographically dispersed team members to know their responsibilities, action items, and rationale for decisions.
Virtual teams should be encouraged and rewarded by the leadership on their thorough documentation, just as achievement of sales targets are rewarded.  This is particularly necessary since people tend to leave documentation when they have other urgent tasks at hand.
Encourage teams to document a solution as soon as it is discovered, since our ability to remember and recall is limited. Prompt documentation of solutions also ensures readiness of answers to other team members' queries in future.
Text-based Communication
For most people from an in-office environment, text-based messages are pretty awkward and cumbersome.  They are used to one-to-one or in-person meetings and communication, instead of text-based communication.  Making these people adopt text-based communique and use it to their advantage demands quite an effort and behavioral change.  However, mastering the art of textual communication affords a number of benefits for teams, projects, and organizations alike, including:
Text-based communication is vital for Virtual Work where team members are dispersed in different geographies. It is a medium which is inclusive, respectful, and emphasizes a documentation Culture.
Documentation is a real competitive edge. A Culture without mandatory documentation gives rise to inefficiencies, knowledge leaks and repetition.
Text-based communication seems a liability but helps avoid unnecessary meetings with the sole purpose of "filling someone in."
Cultivating a habit of communicating answers to problems through text makes documentation simpler, assists in asynchronous work, and provides information to all at the same time.
It frees up individual's time for contemplation and idea generation.
When communication stakes are high in the game, there are some key considerations to follow in text-based communication:
Consider evaluating your conservation through an external party's perspective before sharing.
Be mindful of the differences in various Cultures and communication styles.
There can be lags in obtaining input from the other team members due to difference in geographies and time zones.
Keep in mind that there can be minimum to none non-verbal communication.
There is emotional lag in communication.
Analyzing the mindset and frame of mind of the audience is a bit tough.
Management should assist team members in communicating effectively and getting the best out of Virtual Work.
Interested in learning more about the other communication tactics and guidelines for virtual work setting?  You can download an editable PowerPoint presentation on Virtual Work: Communication Tactics here on the Flevy documents marketplace.
Do You Find Value in This Framework?
You can download in-depth presentations on this and hundreds of similar business frameworks from the FlevyPro Library. FlevyPro is trusted and utilized by 1000s of management consultants and corporate executives.  Here's what some have to say:
"My FlevyPro subscription provides me with the most popular frameworks and decks in demand in today's market. They not only augment my existing consulting and coaching offerings and delivery, but also keep me abreast of the latest trends, inspire new products and service offerings for my practice, and educate me in a fraction of the time and money of other solutions. I strongly recommend FlevyPro to any consultant serious about success."

– Bill Branson, Founder at Strategic Business Architects
"As a niche strategic consulting firm, Flevy and FlevyPro frameworks and documents are an on-going reference to help us structure our findings and recommendations to our clients as well as improve their clarity, strength, and visual power. For us, it is an invaluable resource to increase our impact and value."

– David Coloma, Consulting Area Manager at Cynertia Consulting
"As a small business owner, the resource material available from FlevyPro has proven to be invaluable. The ability to search for material on demand based our project events and client requirements was great for me and proved very beneficial to my clients. Importantly, being able to easily edit and tailor the material for specific purposes helped us to make presentations, knowledge sharing, and toolkit development, which formed part of the overall program collateral. While FlevyPro contains resource material that any consultancy, project or delivery firm must have, it is an essential part of a small firm or independent consultant's toolbox."

– Michael Duff, Managing Director at Change Strategy (UK)
"FlevyPro has been a brilliant resource for me, as an independent growth consultant, to access a vast knowledge bank of presentations to support my work with clients. In terms of RoI, the value I received from the very first presentation I downloaded paid for my subscription many times over! The quality of the decks available allows me to punch way above my weight – it's like having the resources of a Big 4 consultancy at your fingertips at a microscopic fraction of the overhead."

– Roderick Cameron, Founding Partner at SGFE Ltd
"Several times a month, I browse FlevyPro for presentations relevant to the job challenge I have (I am a consultant). When the subject requires it, I explore further and buy from the Flevy Marketplace. On all occasions, I read them, analyze them. I take the most relevant and applicable ideas for my work; and, of course, all this translates to my and my clients' benefits."

– Omar Hernán Montes Parra, CEO at Quantum SFE