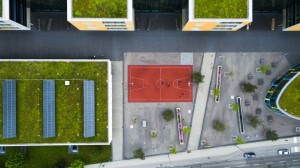 A substantial 73% of millennials are willing to pay more for goods if the origin was sustainable. Considering that millennials now make up a significant proportion of the market, it's imperative that corporates tailor their strategies to incorporate the number one focus any corporate in today's world should focus on: sustainability. But it's about more than just sourcing free-trade goods from developing countries and ensuring green is gold. Corporates also need to adopt an attitude which extends far beyond the bottom line.
Embracing Values for the Greater Good
Corporates with a good value system are already halfway there in capturing the millennial both as a client and as staff. Considering half the workforce will consist of millennials by 2020, the company ethos plays an integral role in retaining talent. Millennials go so far as pledging to give up a sizeable chunk of their income only to have the ability to work in an environment that is stimulating and where their roles are meaningful. The hamster-on-the-wheel approach will not be tolerated by future generations, which pose both challenges and rewards for corporates.
Cash Flow Is About Outflow as Much as Inflow
An important part of a good value system for any corporate is the public display of sowing seeds without any hope of return, but merely for the benefit of the bigger picture. It's important for millennials, whether internal or external customers, to know that the organization they tie themselves to sees the bigger picture and wants to be a part of it. Philanthropists such as Erik H. Gordon, Dietmar Hopp, and Jon Huntsman Sr. prove that letting go of some of those profits can make a significant change in the lives of others. By setting up charities, trusts, funds, and organizations, they've helped many regain their dignity. Others have a sense of responsibility towards natural resources.
It's About More Than Just A Paycheck
As important as it is for millennials to remain relevant in order to land that dream job, it's also important for corporates to understand what millennials want from their jobs. Simply offering a higher salary just to retain talent won't cut it. Millennials want financial reimbursement that makes sense, such as offering a solution to the whopping student loan debt this group of talent faces. Considering that graduates owe around $620 billion more on their student loans than credit cards, this is a good incentive to keep them happy and motivated.
Corporates have a golden opportunity to not only improve their bottom line and talent retention with the right focus but also create a better environment for themselves.