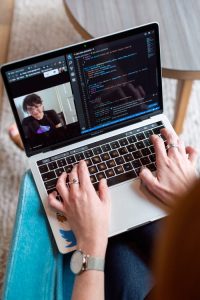 Due to the COVID-19 pandemic, the definition of successful management has abruptly changed. In a very short period of time, managers had to adjust their policies and patterns to the new circumstances. Completely remote management became a new way of operating any business, big or small.
To many companies, remote management became a chance – although challenging, it eventually led to improvement within the company and overall success. Unfortunately, not all managers were able to change their ways quickly. If you, too, need the ultimate guide to remote management and some tips on how to implement it in your company, follow our short guide:
Use the Right System
The most important part of remote management is using a sound, unified system that would respond to all the needs of your company and team. A remote work software system should have features such as flexible payment options and provide good communication tools. For the best systems, you can look on www.getweave.com and in other trusted companies.
Adjust Company Policies
Remote management is all about being flexible. You will have to give your employees more freedom. If you don't know where to start, allow your team to have flexible hours. Moreover, it's important to adjust meetings and conference calls and set the rules regarding communication mode and the preferred time.
Ensure Work-Life Balance
According to a study, remote employees often work longer than office-based employees. As a manager, you will need to help your team have a work-life balance as it's the only way to prevent burnout.
Improve Your Communication
Communication is the most important part of remote management. Give your team some space where they can share ideas, give feedback, and solve problems quickly and efficiently.
Integrate Remote Workers
It's also crucial to include remote workers in the company's life. They should be encouraged to participate in team activities, such as company parties or charity events. They should also be empowered to make decisions regarding the company and its future development.
Keep an Eye on Remote Workers
Since you won't be able to see your employees in person, you will have to motivate them and keep track of their progress. It's important to know whether they are making progress or need some guidance from your side.
Be Patient
In the beginning, it may seem difficult to manage a team of remote workers. In short: yes, it is difficult. You will have to invest in the right equipment, hire the best people for the job and adjust your management style accordingly. However, in the long run, it will all pay off. You will save money, and you will achieve a better quality of work and higher productivity.
Find the Balance
You will have to find a good balance between remote management and in-office work. Decide whether the work that needs to be done will require a manager in the office or it's something that can be completed at home.
Hire the Right People
Before you start a recruitment process, determine what you are looking for in a remote worker. You will have to check their personality, work ethics, and make sure that they are the right fit for the job. As one good man said: hire good people and leave them alone.
Make Sure Your Employees Have Everything They Need
No matter how good a remote worker is, if they have an old laptop or a bad quality headset, they won't be able to do the best work possible. That's why it's so important to invest in the right equipment. It's your job to make sure the employee  is comfortable and has everything they need to complete the job.
The Bottom Line: Make Sure The Work Gets Done
At the end of the day, the one overarching aspect of remote management is to make sure that the work gets done. Especially if you are working with a fixed team, you will have to make sure that the projects are being completed on time. Check the progress of the work and provide support where needed. Your remote workers may suffer from a lack of motivation or don't have the right equipment to perform their tasks. It is your job as their manager to provide them with whatever they need to maintain the right level of productivity.
Of course, you should not over-manage everything. If you do, your employees will feel as if you don't trust them to carry out their duties from home, leading to another decrease in your team's morale. Regardless of whether your company has transitioned to remote work due to the COVID-19 pandemic, or you've been working that way for a while, we hope this article has provided you with additional insight into how to get the best out of working from home.