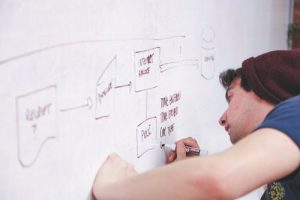 The Kanban system is an approach to devising the most efficient workflow possible. It may have begun life within the Japanese manufacturing industry, but the Kanban system can be applied to just about any task in your professional or personal life.
At the heart of the Kanban system are two simple principles. These are sometimes referred to as rules for using the Kanban system, but many people find this term misleading. The first is the visualization of your work. Visualizing your work forces you to think about it in more detail, which enables you to plan more effectively.
The other important aspect of the Kanban system is that it limits the amount of work in progress that you have at any one time. By focusing your efforts on specific tasks – the ones that will produce the most rewards for the time you invest – you can achieve your goals more efficiently and quickly.
Preparing Your Kanban Board
The Kanban board is the visual representation of your Kanban system. You can turn any whiteboard or a piece of paper into a Kanban board; all you need to do is divide it into 3 columns. These columns are, from left to right, 'to do', 'doing', and finally, 'done'. It should be relatively obvious how you use these columns, but just to be clear, the first column is for items that you need to do, tasks that have to be completed. The next column is reserved for the tasks that you are currently working on. Finally, the last column contains all the tasks that have been completed.
Of course, the Kanban system is more complicated than simply noting tasks down and shuffling them around a whiteboard. In order to use the Kanban board effectively, you need to avoid the common mistake of reducing an entire project to a single task. Your Kanban board should contain tasks that are achievable on short time scales. In other words, you need to break up larger projects into individual tasks and then populate your Kanban board with these.
As an alternative to producing your own Kanban board, you can use a digital Kanban board such as Kanbanize. Kanbanize's digital Kanban board software makes managing workflows easy for you and everyone else in your business. With plenty of collaboration features to complement the digital boards, it is a powerful Agile project management tool.
Using it to Work
For the people who are not so good at organizing themselves, there are myriad benefits to the Kanban system. The simple fact that it forces people to visualize the tasks ahead of them, and more importantly, how they plan on completing them, means that many of the psychological barriers to productivity are reduced.
Logically, the quickest way to complete any task is to get started on it right now, but many of us have experienced that paradoxical feeling of not wanting to start something that we need to start because it seems like such a big mountain to climb. Producing a Kanban board that lays out the individual smaller steps that you will take to complete the task can make an otherwise insurmountable goal suddenly seem achievable.
The key to using a Kanban board effectively lies in the way that you break down your larger goals. If you are capable of turning long-term objectives into achievable short-term goals. then you will find the Kanban system invaluable. However, if you simply write down what you need to complete a large project without giving any thought to exactly how you will do it, the Kanban system is not going to reveal the answer to you.
It is important that you remember to move your tasks from one column to the next as you complete them. Do not underestimate the psychological boost that this provides to your productivity. Visualization is a very powerful tool and it is the crux of Kanban's effectiveness.
Things to Avoid
A common mistake with the Kanban board is to overload the middle column, which should contain the tasks that you are currently working on. Simply moving lots of tasks into that column is not going to get them done. There is no point biting off more than you can chew deliberately; this will only lead to stress and lower performance in the long run, not to mention the hit to your team's morale.
If you are using the Kanban board to delegate tasks, it is important that you are properly communicating between all the relevant people. Simply adding work to the Kanban board without telling the relevant people will also lead to lower productivity. The Kanban board should not be replacing other forms of communication between different members of your team.
When they are used correctly, Kanban boards are powerful tools for improving productivity and enabling you to take on bigger tasks more confidently. Digital Kanban board software makes implementing the Kanban system throughout your business much easier. If you want to give your productivity a boost, it is something worth considering.