In the late 1990s, business strategist Michael Porter argued that clusters make business more competitive by increasing the pace of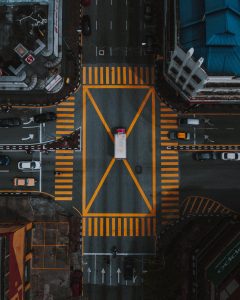 innovation and stimulating new business formation. National and regional governments quickly embraced the idea and immediately supported its development by providing the necessary funding support. As expected, good things started to happen: businesses became interested to set up in the area drawing employees and, at the same time, more employers.
In recent decades, numerous industrial clusters have developed around the world. Industry clusters are often a geographic concentration of interconnected businesses, suppliers, and associated institutions in a particular field. It is a geographic location where enough resources and competencies amass reach a critical threshold thus giving it a key position in a given economic branch of activity. As a result, industry clusters often have a decisive sustainable competitive advantage over other places or even world supremacy.
Of the different types of industry clusters, there is one sector where industrial clusters have a brighter long-term future: the Logistics Cluster.
The Logistics Cluster and its Role in Supply Chain Management
Logistics is an essential component of Supply Chain Management (SCM). It involves the planning, carrying out, and management of goods, services, and information from the point of origin to the point of consumption. Logistics is fundamental to Supply Chain success.
Providing logistics support are transportation carriers, warehousing companies, freight forwarders, third-party logistics service providers, as well as distribution operations of retailers, manufacturers, and distributors. The compose the Logistics Cluster: a local network of businesses that provide a wide array of logistics services.
The Logistics Cluster provides the necessary logistics services to companies that give great value to Supply Chain Management. These are the companies that consider logistics as a critical element either as a service offering or as a large part of overall costs. Aside from these companies, regional and national governments are providing support and funding to logistics in recognition of their important role in economic growth.
The Logistics Cluster provides operational flexibility and distribution efficiencies that can enable global supply chains to reach Operational Excellence. Logistics Clusters are self-reinforcing and offer advantages based on the interchangeability of its transportation and logistics assets. In fact, there are key-value areas Logistics Clusters have demonstrated greater effect.
The Impact of Logistics Cluster vis-à-vis Other Industry Clusters.
The world's largest logistics hub brings together multiple elements at once. This is from mode-changing services to distribution to the nearby populations to transshipment services. Involved in a wide array of activities across the economy, Logistics Clusters can potentially create strong "Positive Feedback Loop".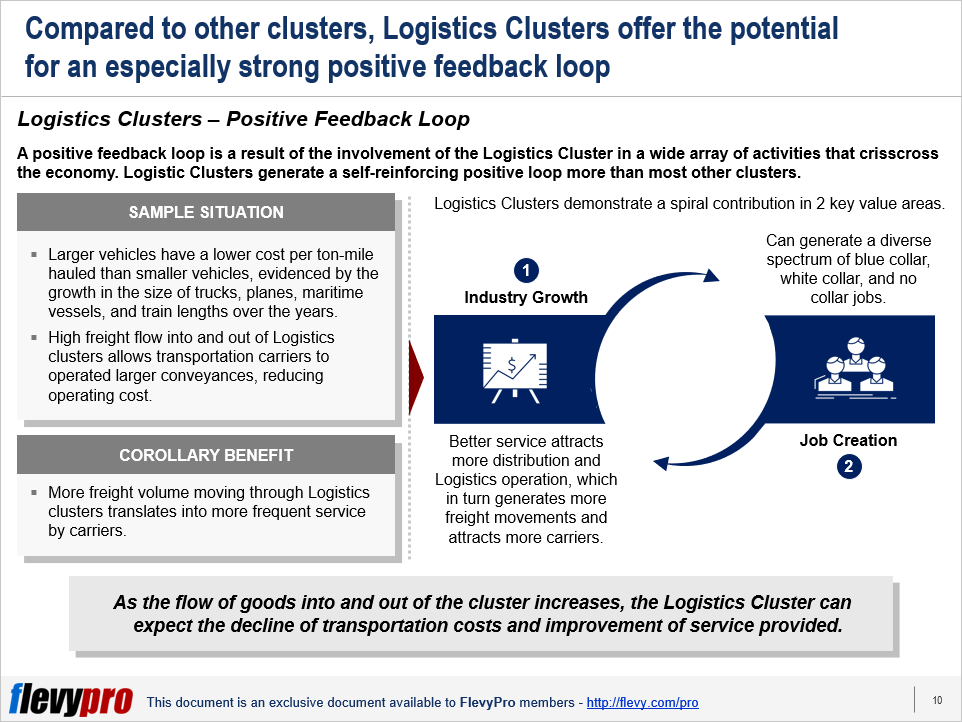 Logistics Clusters are purveyors of growth by virtue of its involvement in a wide array of activities that crisscross the economy. A chain of most desirable events may occur as a result of these industrial clusters. Specific to Logistics Clusters, it can push the development of two key areas: Industry Growth and Job Creation.
Alliance Texas, A Case Sample on Industry Growth and Job Creation
Alliance Texas is a logistical hub that is located 40 minutes north of Downtown Dallas. The17,000-acre development includes a cargo airport and an intermodal yard. Prior to 2011, the total investment put in was $7.35 billion with less than 6% coming from public sources. This development has attracted more than 260 companies such as General Motors, Chrysler, Ford, Best Buy, Home Depot, Coca Cola, LG Electronics, Exel, and FedEx. This influx of business in 2011 has resulted in job creation of more than 30,000 direct and 73,000 indirect jobs with a total economic impact of $40.7 billion.
Interested in gaining more understanding of Supply Chain Logistics Clusters? You can learn more and download an editable PowerPoint about Supply Chain Management (SCM): Logistics Clusters here on the Flevy documents marketplace.
Do You Find Value in This Framework?
You can download in-depth presentations on this and hundreds of similar business frameworks from the FlevyPro Library. FlevyPro is trusted and utilized by 1000s of management consultants and corporate executives. Here's what some have to say:
"My FlevyPro subscription provides me with the most popular frameworks and decks in demand in today's market. They not only augment my existing consulting and coaching offerings and delivery, but also keep me abreast of the latest trends, inspire new products and service offerings for my practice, and educate me in a fraction of the time and money of other solutions. I strongly recommend FlevyPro to any consultant serious about success."

– Bill Branson, Founder at Strategic Business Architects
"As a niche strategic consulting firm, Flevy and FlevyPro frameworks and documents are an on-going reference to help us structure our findings and recommendations to our clients as well as improve their clarity, strength, and visual power. For us, it is an invaluable resource to increase our impact and value."

– David Coloma, Consulting Area Manager at Cynertia Consulting
"As a small business owner, the resource material available from FlevyPro has proven to be invaluable. The ability to search for material on demand based our project events and client requirements was great for me and proved very beneficial to my clients. Importantly, being able to easily edit and tailor the material for specific purposes helped us to make presentations, knowledge sharing, and toolkit development, which formed part of the overall program collateral. While FlevyPro contains resource material that any consultancy, project or delivery firm must have, it is an essential part of a small firm or independent consultant's toolbox."

– Michael Duff, Managing Director at Change Strategy (UK)
"FlevyPro has been a brilliant resource for me, as an independent growth consultant, to access a vast knowledge bank of presentations to support my work with clients. In terms of RoI, the value I received from the very first presentation I downloaded paid for my subscription many times over! The quality of the decks available allows me to punch way above my weight – it's like having the resources of a Big 4 consultancy at your fingertips at a microscopic fraction of the overhead."

– Roderick Cameron, Founding Partner at SGFE Ltd
"Several times a month, I browse FlevyPro for presentations relevant to the job challenge I have (I am a consultant). When the subject requires it, I explore further and buy from the Flevy Marketplace. On all occasions, I read them, analyze them. I take the most relevant and applicable ideas for my work; and, of course, all this translates to my and my clients' benefits."

– Omar Hernán Montes Parra, CEO at Quantum SFE