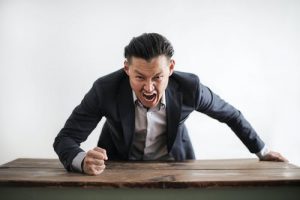 In a high-pressure environment such as the C-suite or Boardroom, tension is bound to exist. Since tension is bound to exist, the goal is not to eliminate tension, but rather, to turn tension into productivity.
These 2 main kinds of tensions that exist in an organization:
1. Natural Tension
Natural Tension refers to personal tension that arises when talented, driven people compete among one another. People, particularly leaders, are constantly competing for results, power, stature, budget, and compensation.
2. Performance Tension
Performance Tension refers to the class tension related to business performance. There are 3 specific types of Performance Tension that exist:
Profitability vs. Growth
Short-term vs. Long-term Priorities
Success of the Whole Organization vs. the Parts
These Performance Tensions are considered "good tensions," ones that management should focus and leverage to foster a productively tense dynamic that is critical to high-performance organizations. To quote Brian Pitman, former CEO of Lloyds TSB,
"You need real disagreement first to get true agreement later."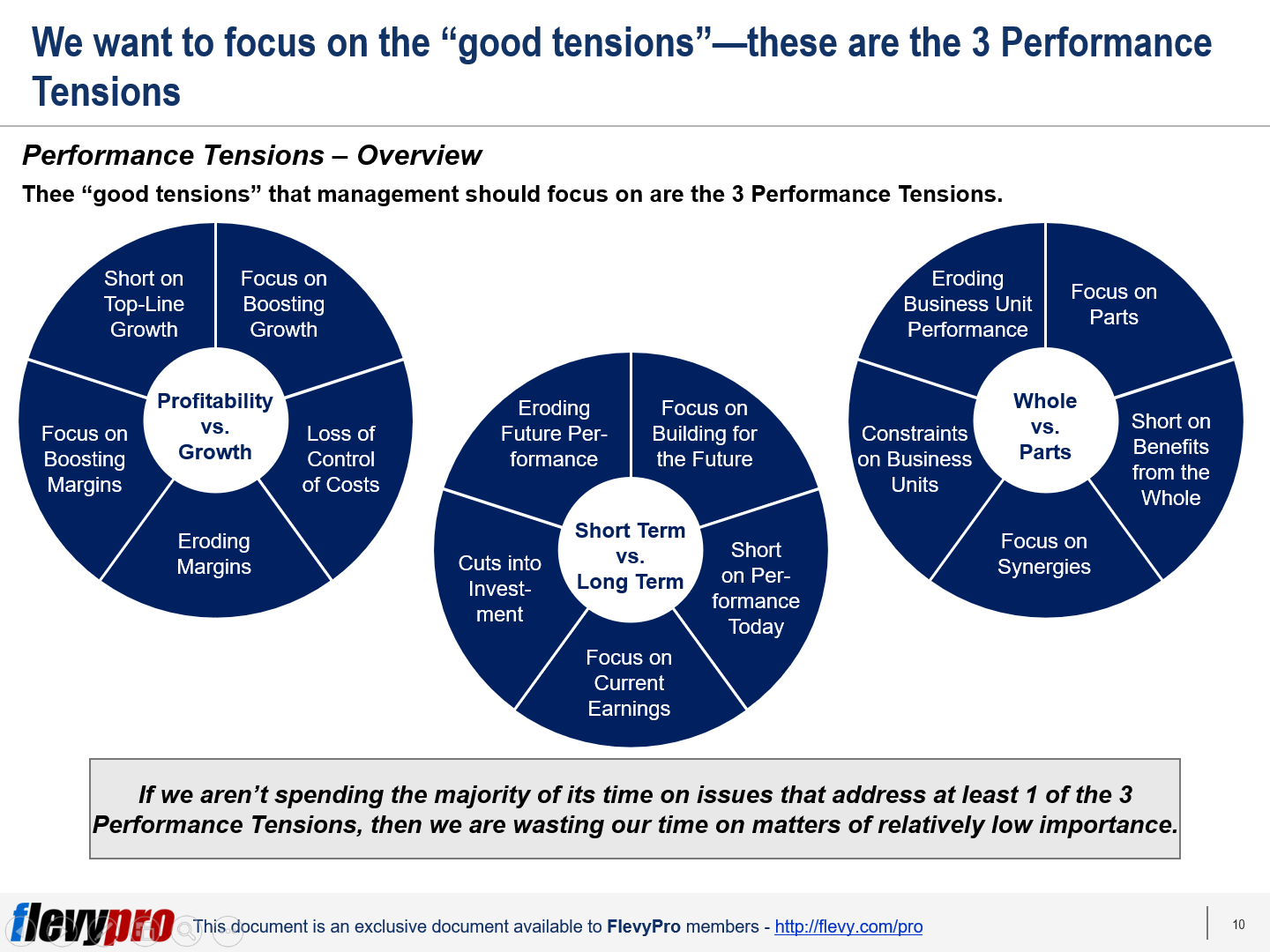 Dealing with Performance Tensions effectively is what we call Tension Management. Now, let's dig a little deep into these 3 Performance Tensions.
1. Profitability vs. Growth
This tension captures the opposing forces of the pull for more growth against the pull for more profitability.  Striving for more growth damages profitability, while working towards higher profitability slows growth.
Specific points of tensions include:
Focus on boosting growth
Loss of control of costs
Eroding margins
Focus on boosting margins
Short on top-line growth
If we are trapped by this tension, here are symptoms to be on the lookout for:
Swinging between a growth push and a productivity push
Giving priority to reducing costs in difficult times and to boosting growth in boom times
Low or falling share or price relative to competitors
Falling market growth
Reduction in volume per line; increasing complexity
High unit costs relative to competitors
To best manage this type of Performance Tension, we need to make management decisions related to Business Model Design. In other words, there must be productive debates and discussions, and ultimately decisions, related to Strategy Development (i.e. offerings, Customer Value Proposition, profit formula, etc.).
2. Short-term vs. Long-term
Next, let's examine the tension that exists between short-term goals vs. long-term objectives. Related to the previous Performance Tension, this tension captures the need to show profit today (i.e. short-term) against the need to invest in the organization's future (i.e. long-term).
Oftentimes, publicly traded companies are pressured to focus on short-term profits—at the possible expense of long-term growth.
3. Whole vs. the Parts
This last Performance Tension expresses the goals for the whole organization vs. those of individual business units. This tension captures the objective for optimizing the whole organization against the tendency of individual parts (e.g. business units, product lines) to maximize their own performance.
Tension Management here involves decisions around Organizational Structure, Culture, and People. This tension can become particularly heated when individual incentives are tied to the performance of individual parts.
Interested in learning more about Tension Management? Check out our presentation framework on Tension Management. It dives deeper into each of the Performance Tensions, as well as discusses other important concepts, such as the Management Relationship Spectrum.
You may also be interested in our collections of best practice frameworks centered a common management discipline, what we call our Streams.  Here are a few that relate to this article: