Do you find problem solving so mind breaking? That when we crack our heads to find solutions, we often end up with the same solution all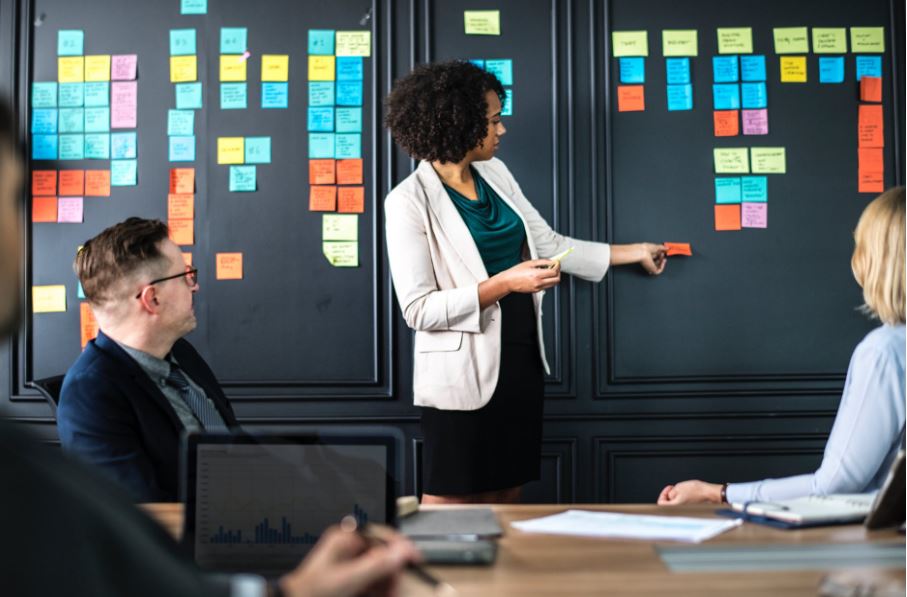 over again? As Albert Einstein once said:
We cannot solve our problems with the same thinking we used when we created them.
In this volatile and complicated time, the value of taking a number of different approaches simultaneously to solving difficult problems has increased in intensity. This mindset has become more critical. Today, companies are operating in an era where problems have become more complex, the tempo faster, the markets more volatile, and the stakes higher.
Let us take a look at the Flexons Approach. The Flexons Approach to Problem Solving is the basic framework that allows companies to develop innovative solutions.
What Is the Flexons Approach?
Flexons are flexible objects for generating novel solutions. It is not a silver bullet for solving any problems. But it provides a way of shaping difficult problems to reveal innovative solutions that are often not revealed or unearthed in the process of problem solving. Companies often tapped experts of various disciplines to generate diverse solutions to problems. But, in reality, not all companies have think thanks at their disposal. For companies that do not have a diverse group of problem solvers, the Flexons Approach can be their small business tool to approach complex problems with innovative solutions.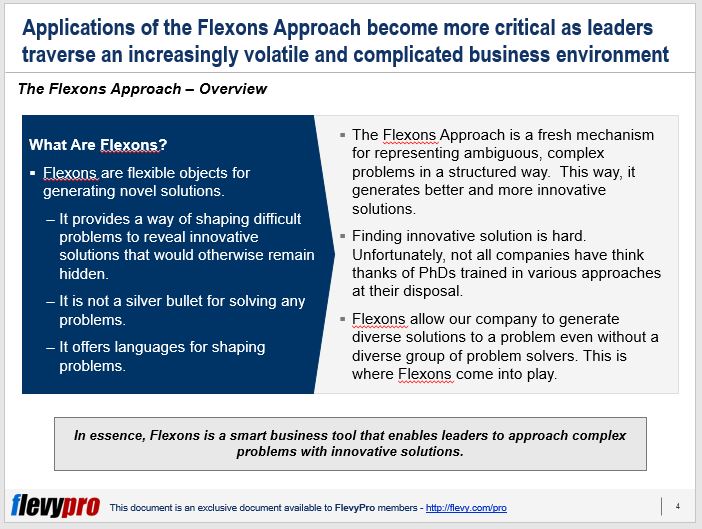 The dynamism of the Flexons Approach can be seen when complex and ambiguous problems are arranged in an organized manner. When this is done, innovative solutions are better created because problems become clearer and defined.
Tapping the 5 Flexons
To accommodate the world of business problems, 5 types of Flexons have been identified. The 5 Flexons are problem solving languages that can deliver effective optimal solutions.
Evolutionary Flexon
System-dynamics Flexon
Networks Flexon
Decision-agent Flexon
Information-Processing Flexon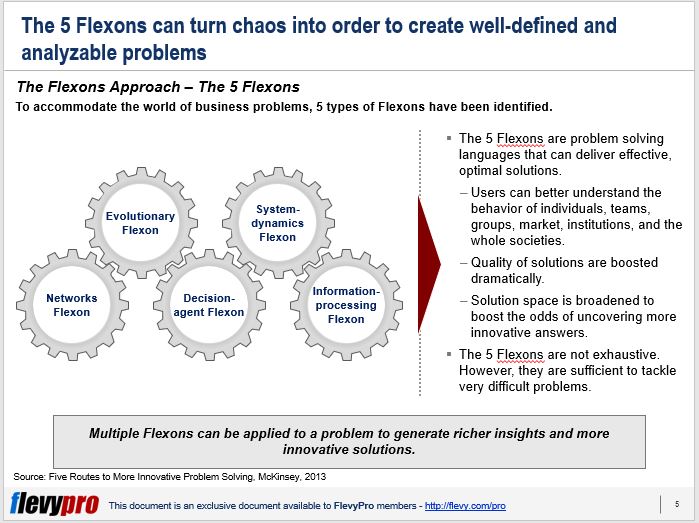 Using the 5 Flexons, order is established in a chaotic field of problem solving. Problems are turned into well-defined and analyzable problems thus enabling companies to better come up with innovative solutions. The 5 Flexons deepen the users understanding of the behavior of individuals, teams, groups, market, institutions, and the whole societies. This way, quality of solutions is boosted with solution space being broadened to come up with innovative answers.
Understanding the 5 Types of Flexons
The Networks Flexon
A Network Flexon focuses on a group or system of interconnected people or things. This situation is decomposed into interrelated problems of prediction and optimization. This can be used by pharmaceutical companies that are about to launch a product. To successfully achieve their goal, a network map of physicians can be created to influence drug usage.
With Network Flexon, the company can target clusters of physicians who share the same ideas and have close interactions.
The Evolutionary Flexon
Evolutionary Flexons are very effective in market research where companies need to determine if a certain brand would be a hit or an expensive failure. A series of low-scale product experiments may be done using the Evolution Flexon.
The Decision-agent Flexon
The basic approach of Decision-agent Flexon is to determine the right level of analysis of firms. It determines the combination of strategies that can be collectively used. The Decision-agent Flexon can be used by an industrial company that wants to maximize its manufacturing footprint. Using this approach, the company can assess the payoffs and the strategies proposed by multiple stakeholders.
The System-dynamics Flexon
The System-dynamics Flexon looks at effects of decisions made. Often, when finding solutions, it can be a challenge to assess the decision's cascading effects on complex businesses. When given solutions are just too many, finding the right decision can be difficult.
The System-dynamics Flexon sheds light on a complex system. It helps companies develop a map of the causal relationships among key variables.
The Information Process Flexon
The Information Process Flexon is the one that provides a lens for viewing various parts of a business as information-processing tasks. In organizations, this device is a collection of people, whose processes for deliberating and deciding are the most important explanatory variable of decision's effectiveness.
Designing a Better Innovation Network through the Flexons Approach
The multiple use of Flexons can result to companies optimizing their strategic results to gain competitive edge. The Flexons Approach can be the company's framework to innovative solutions. Let us look at the case of a large biofuel manufacturing company that needs to design a better innovation network.
The large biofuel manufacturing company opted to use the Networks Flexon, the Evolution Flexon, and the Decision-agents Flexon. By using multiple types of Flexons, the large biofuel manufacturer was able to illuminate the problem from very different angles. This paved the way to developing a more innovative and fresh solution never thought of and tried before. The Flexons Approach gave the company the needed business tool to approach complex problems and come up with solutions that are more applicable in today's highly competitive business world.
Interested in gaining more understanding on how to approach problem solving using the Flexons Approach? You can learn more and download an editable PowerPoint about Flexons Approach to Problem Solving here on the Flevy documents marketplace.
Do You Find Value in This Framework?
You can download in-depth presentations on this and hundreds of similar business frameworks from the FlevyPro Library. FlevyPro is trusted and utilized by 1000s of management consultants and corporate executives. Here's what some have to say:
"My FlevyPro subscription provides me with the most popular frameworks and decks in demand in today's market. They not only augment my existing consulting and coaching offerings and delivery, but also keep me abreast of the latest trends, inspire new products and service offerings for my practice, and educate me in a fraction of the time and money of other solutions. I strongly recommend FlevyPro to any consultant serious about success."

– Bill Branson, Founder at Strategic Business Architects
"As a niche strategic consulting firm, Flevy and FlevyPro frameworks and documents are an on-going reference to help us structure our findings and recommendations to our clients as well as improve their clarity, strength, and visual power. For us, it is an invaluable resource to increase our impact and value."

– David Coloma, Consulting Area Manager at Cynertia Consulting
"As a small business owner, the resource material available from FlevyPro has proven to be invaluable. The ability to search for material on demand based our project events and client requirements was great for me and proved very beneficial to my clients. Importantly, being able to easily edit and tailor the material for specific purposes helped us to make presentations, knowledge sharing, and toolkit development, which formed part of the overall program collateral. While FlevyPro contains resource material that any consultancy, project or delivery firm must have, it is an essential part of a small firm or independent consultant's toolbox."

– Michael Duff, Managing Director at Change Strategy (UK)
"FlevyPro has been a brilliant resource for me, as an independent growth consultant, to access a vast knowledge bank of presentations to support my work with clients. In terms of RoI, the value I received from the very first presentation I downloaded paid for my subscription many times over! The quality of the decks available allows me to punch way above my weight – it's like having the resources of a Big 4 consultancy at your fingertips at a microscopic fraction of the overhead."

– Roderick Cameron, Founding Partner at SGFE Ltd
"Several times a month, I browse FlevyPro for presentations relevant to the job challenge I have (I am a consultant). When the subject requires it, I explore further and buy from the Flevy Marketplace. On all occasions, I read them, analyze them. I take the most relevant and applicable ideas for my work; and, of course, all this translates to my and my clients' benefits."

– Omar Hernán Montes Parra, CEO at Quantum SFE