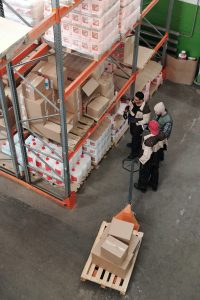 Cut-throat competition in industries has driven companies to find ways to reduce costs while increasing efficiency.  To accomplish this, most companies have skillfully endeavored to streamline Sales, Operations Planning, Forecasting, Inventory Management, and Logistics.
One area that has still not grabbed industry's attention is out-bound Supply Chain Management–from packaging to final delivery.  Companies generally neglect Supply Chain simply because they do not consider it their core competency.
Significant Cost Reduction in the Supply Chain can be achieved by focusing on 2 main cost categories:
Warehousing Costs
Transportation Costs
Warehousing and Transportation represent a significant portion of the total Logistics costs.  Implementing improvement programs, without any significant capital investments, can enable 20-50% cost saving in Warehousing, 40% in Transportation costs, flexibility, and better service.
Supply Chain Cost Reduction in Transportation and Warehousing has vast potential, not only in terms of costs, but also Process Improvement using Lean Six Sigma (LSS) techniques.
The approach to Supply Chain Cost Reduction in Warehousing encompasses 3 phases:
Set the Baseline
Determine the Gap
Implement Lean Six Sigma (LSS)
Meticulous and persistent application of Lean Management and Six Sigma techniques is at the core of reshaping Warehousing Operations and eradicating sources of waste, variability, and inflexibility.  This article is an overview of the 6 building blocks used in Implementing Lean Six Sigma (LSS)—the 3rd phase of the approach to  Supply Chain Cost Reduction in Warehousing:
Business Processes
People
Performance Management
Third Party Interactions
Layout
Ownership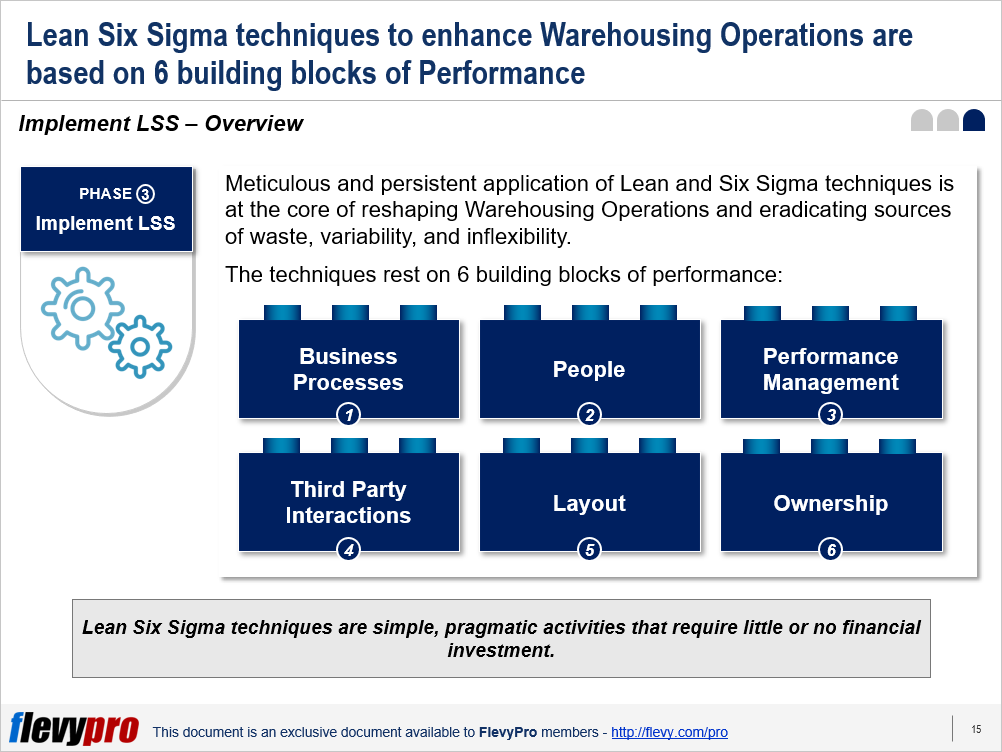 Let us dive a little deeper into some of the building blocks.
Business Processes
Business Processes present a huge opportunity for improvement by eliminating redundancies and sources of waste in Warehouse operations (e.g., unnecessary motion or double-handling in Manufacturing).  Each source of waste represents extra costs and inflexibility that can be reduced or eliminated.
 Business Process Improvement can help reduce:
Handling steps
Motion
Transportation
Space requirements
Effort
Time spent
People
This building block of Implementing Lean Six Sigma aims at avoiding overstaffing of full-time employees and at the same time maintaining a well-trained, efficient workforce.
Streamlining this building block leverages the following benefits to organizations:
Refined Recruitment process reduces Employee Turnover.
Facilities can more closely match on-site staffing to demand by reducing notice periods.
Efficiency can be raised by about 15% through regular training.
Overstaffing of full-time employees can be avoided.
Productivity can be improved by 5-10% by focusing on appropriate facets of Performance during training.
Performance Management
This building block aims at using existing Performance Management levers to improve Employee Performance through morale boosting and awareness exercises.  A laser-focus on the performance element helps the leadership achieve the following benefits: 
Constant reminders and display of current performance give employees a sense of competition and drive.
Quick daily discussions highlight the significance of good performance and helps employees focus on essential aspects of their work.
Productivity is improved up to 20% by linking pay to performance.
Real-time feedback supports pay-related performance.
Measuring and rewarding the "softer" elements has long-term benefits.
Recognizing employee of the month can increase staff satisfaction.
Given the existing industry cost and performance demands, wasteful or unpredictable Warehouse operations lose more than money.  This can do rapid and permanent harm to a company's reputation with customers since distribution is the logistical interface with the customer.
Improving Warehouse Operations is a significant area not only for Cost Reduction, but also a source of refining Customer Value Proposition.
Interested in learning more about Supply Chain Cost Reduction in Warehousing and Lean Six Sigma?  You can download an editable PowerPoint on Supply Chain Cost Reduction: Warehousing here on the Flevy documents marketplace.
Do You Find Value in This Framework?
You can download in-depth presentations on this and hundreds of similar business frameworks from the FlevyPro Library.  FlevyPro is trusted and utilized by 1000s of management consultants and corporate executives.  Here's what some have to say:
"My FlevyPro subscription provides me with the most popular frameworks and decks in demand in today's market.  They not only augment my existing consulting and coaching offerings and delivery, but also keep me abreast of the latest trends, inspire new products and service offerings for my practice, and educate me in a fraction of the time and money of other solutions.  I strongly recommend FlevyPro to any consultant serious about success."

– Bill Branson, Founder at Strategic Business Architects
"As a niche strategic consulting firm, Flevy and FlevyPro frameworks and documents are an on-going reference to help us structure our findings and recommendations to our clients as well as improve their clarity, strength, and visual power.  For us, it is an invaluable resource to increase our impact and value."

– David Coloma, Consulting Area Manager at Cynertia Consulting
"FlevyPro has been a brilliant resource for me, as an independent growth consultant, to access a vast knowledge bank of presentations to support my work with clients. In terms of RoI, the value I received from the very first presentation I downloaded paid for my subscription many times over!  The quality of the decks available allows me to punch way above my weight – it's like having the resources of a Big 4 consultancy at your fingertips at a microscopic fraction of the overhead."

– Roderick Cameron, Founding Partner at SGFE Ltd