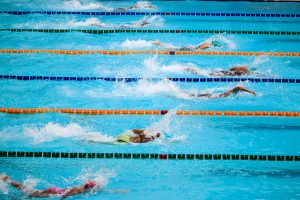 Michael Eugene Porter—a Professor at the Institute for Strategy and Competitiveness, Harvard Business School—is widely acclaimed for his unmatched prowess in competitive strategy, strategic planning, global economic development, and the application of competitive principles and strategic approaches.  Renowned as the father of modern day strategy, Dr. Porter is an author of 18 books and a number of articles.
His scholarly writings on management and competitiveness are ranked as the most influential pieces of work till date.  Dr. Michael Porter is widely known for his Porter's Five Forces framework, which is a useful tool to evaluate the competitiveness of an organization with respect to its rivals.  Competition is part and parcel of every industry, and for the existence of an enterprise it is important to know its rivals and how their product / service offerings and marketing strategies affect the market.  It is a common foundational framework used in Strategy Development.
The Five Forces framework emphasizes on 5 critical elements that determine the attractiveness of a business against its rivals in the industry:
Threat of New Entrants
Supplier Power
Buyer Power
Threat of Substitution
Competitive Rivalry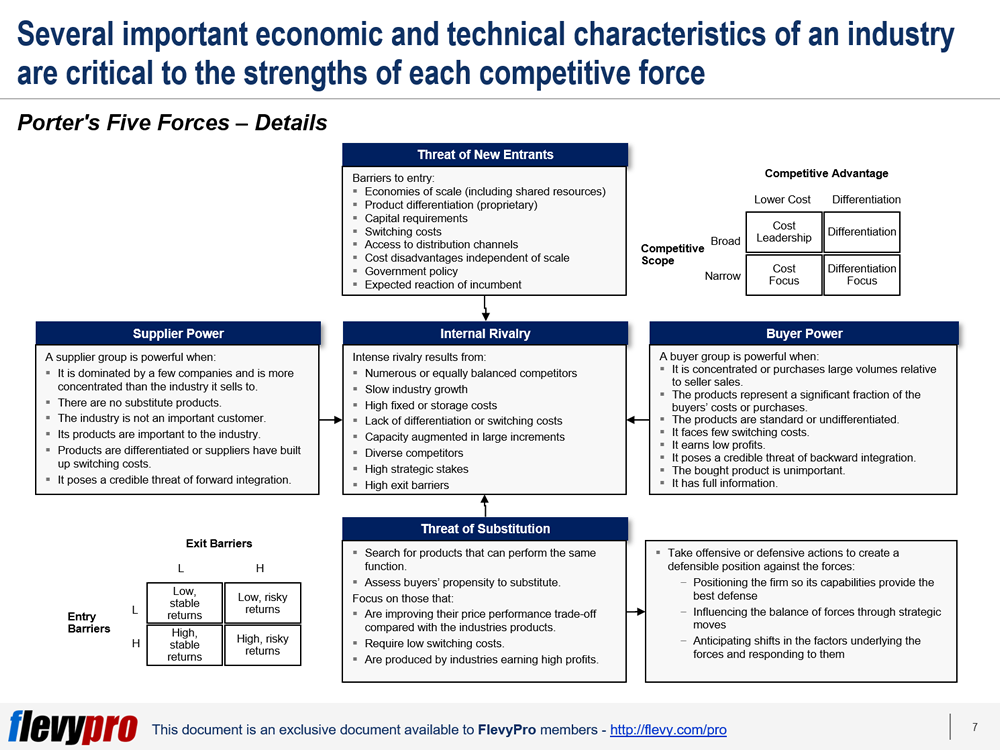 Threat of New Entrants
This element examines the simplicity or complexity of an industry for the competitors to jump in.  High-return industries are more appealing to new entrants.  A market with easy access for new entrants poses greater risk—of market share diminishing—for established businesses.  New entrants in an industry are able to dent the profitability of established players unless the incumbents retaliate strongly and make the entry of new firms challenging.
A serious threat to entry also relies on the existing barriers in the industry.  If the market entry barriers are high and there is an expected sharp response from the entrenched competitors, the newcomers will think twice before entering the market.  Another important factor for new entrants is the requirement for large capital for branding, advertising and creating product demand, which limits their entry in a niche market.  Aspiring market entrants should thoroughly analyze and understand all the critical barriers to entry before entering an industry—such as economies of scale, product differentiation, capital investment, access to distribution channels, and government policies and regulations.
There 6 prevalent types of barriers to entry:
Economics of scale
Product differentiation
Capital requirements
Cost disadvantages (independent of size)
Access to distribution channels
Government / regulatory policy
Supplier Power
Suppliers are a powerful force that influences the competitiveness of an industry.  They create immense pressure on market players by slashing the quality of goods and by increasing prices, thereby squeezing the margins of manufacturers.  For instance, by jacking up the price of soft drink concentrate, suppliers erode profitability of bottling companies.  The bottlers, in turn, don't have much leverage to raise their own prices because of intense competition from fruit drinks, powdered mixes, and other beverages.
The power of a supplier group amplifies if it's dominated by a few firm, has differentiated and unique products; and has built up switching costs that buyers face when changing suppliers, for making investments in specialized equipment, or in learning how to operate a supplier's equipment.  The supplier group also thrives when there isn't much competition for sale to the industry, or when the industry is not its major customer, as this saves the supplier from selling at a bargain and investing in R&D and lobbying for the industry.
Buyer Power
Buyer or customer groups also impact the competitiveness of an industry landscape by exercising their power to bring the prices down, insist on higher quality, or demand more service.  A buyer group is powerful if it buys in large volumes in an industry characterized by heavy fixed costs and buys undifferentiated or standard products.  Buyers have the ability to put one supplier against another and find alternative suppliers.
The power of a buyer group increases if it's a low profit business—providing it the reason to be price sensitive and insist on lower purchasing costs—, if the industry's product is insignificant to the quality of the buyers' products or services, or if the product that suppliers provide does not save much for the buyer.  Buyers can also use the threat of self-manufacturing as a bargaining lever against the suppliers.
Threat of Substitution
Substitute product or service offerings restrict the capacity of an industry by placing an upper limit on prices it can charge.  The industry's earnings and profits will continue to suffer lest it can enhance the quality of products or create differentiation through, for instance, aggressive marketing.
If substitute products offer more competitive price-performance trade-off, then the industry's profitability gets limited or goes down.  For instance, the erosion of profits for the sugar industry due to substitution of sugar with commercialized high-fructose corn syrup.
Internal Rivalry
Internal Rivalry, existing at the center of Porter's Five Forces framework, represents the competition between existing players often leads to rivals using manipulative tactics like price competition, new product launch, and advertising wars.  Companies can use strategic shifts to improve their competitive position—e.g., raising buyers' switching costs, increasing differentiation, and focusing on low fixed costs areas.
Interested in learning more about the other critical elements of the Porter's Five Forces and their role in in determining the state of competition and profit potential of an industry?  You can download an editable PowerPoint on Porter's Five Forces here on the Flevy documents marketplace.
Do You Find Value in This Framework?
You can download in-depth presentations on this and hundreds of similar business frameworks from the FlevyPro Library. FlevyPro is trusted and utilized by 1000s of management consultants and corporate executives. Here's what some have to say:
"My FlevyPro subscription provides me with the most popular frameworks and decks in demand in today's market. They not only augment my existing consulting and coaching offerings and delivery, but also keep me abreast of the latest trends, inspire new products and service offerings for my practice, and educate me in a fraction of the time and money of other solutions. I strongly recommend FlevyPro to any consultant serious about success."

– Bill Branson, Founder at Strategic Business Architects
"As a niche strategic consulting firm, Flevy and FlevyPro frameworks and documents are an on-going reference to help us structure our findings and recommendations to our clients as well as improve their clarity, strength, and visual power. For us, it is an invaluable resource to increase our impact and value."

– David Coloma, Consulting Area Manager at Cynertia Consulting
"As a small business owner, the resource material available from FlevyPro has proven to be invaluable. The ability to search for material on demand based our project events and client requirements was great for me and proved very beneficial to my clients. Importantly, being able to easily edit and tailor the material for specific purposes helped us to make presentations, knowledge sharing, and toolkit development, which formed part of the overall program collateral. While FlevyPro contains resource material that any consultancy, project or delivery firm must have, it is an essential part of a small firm or independent consultant's toolbox."

– Michael Duff, Managing Director at Change Strategy (UK)
"FlevyPro has been a brilliant resource for me, as an independent growth consultant, to access a vast knowledge bank of presentations to support my work with clients. In terms of RoI, the value I received from the very first presentation I downloaded paid for my subscription many times over! The quality of the decks available allows me to punch way above my weight – it's like having the resources of a Big 4 consultancy at your fingertips at a microscopic fraction of the overhead."

– Roderick Cameron, Founding Partner at SGFE Ltd
"Several times a month, I browse FlevyPro for presentations relevant to the job challenge I have (I am a consultant). When the subject requires it, I explore further and buy from the Flevy Marketplace. On all occasions, I read them, analyze them. I take the most relevant and applicable ideas for my work; and, of course, all this translates to my and my clients' benefits."

– Omar Hernán Montes Parra, CEO at Quantum SFE