These days, the local business is like a folk hero. Plenty of people committed to support their municipal economy and personal, human business vow to keep as much of their money local as possible, but are these things really mutually exclusive?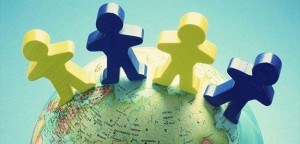 A global business managed correctly can keep the same hometown spirit and customer service– just offer it to billions of other people besides those that happen to be within walking distance. Keeping your business local might feel "noble" somehow, but really all you're doing is stunting your company's growth.
If Money Is Coming to You, Then It's Local Money
Just because you have operations from Main Street to Manila doesn't mean that your money becomes a global commodity. Any guilt you might have for expanding your business beyond city limits is unfounded.
A larger, global presence will actually bolster the local economy. Not only will you be bringing in more money, but expansion means there's more work to be done. More work means more jobs. And whether you make your hires locally or draw in talent from elsewhere, that's going to be a boost to everything from real estate to retail.
Business Is a Numbers Game
Unless you're at the helm of an NPO, then your mission statement should revolve around one thing: satisfied customers. Keeping those satisfied customers close to home is one thing, but unless you sell an everyday necessity like bread or gasoline, there's only going to be a certain percentage of people that would even consider your business in the first place.
By and large, that percentage is going to stay fairly consistent no matter where you go, but obviously the more territory included in that percentage, the more individual customers there are to assist. For example, if only 14% of people have a need for what your business offers, would you rather have 14% of Bangor, Maine or 14% of North America, Europe, and Australasia?
To get the most on your returns as quickly as possible, you need to make contact with more than just your neighbors.
Global Expansion Can Help Your Community
Even if people want to cry foul at your company's desire to broaden its coverage, the truth is that having a more global presence at arm's reach can be extremely beneficial to a community. Expansion and growth for your company means that any business owners that want to be philanthropic about things can dip into a much larger pool of global profits to make improvements and give back to where they are headquartered.
Additionally, having a multinational business can be attractive to other globally-minded businesses to do the same. By either growing that passion for globalized business locally or bringing in outside partners to set up shop somewhere that makes it convenient for the two of you to collaborate, global business is infectious. That kind of commercial or industrial growth only stands to help a city become its best.
Don't Hold Back
When it comes down to it, the only reasons your business should stay local is if you lack the resources, the manpower, or if it doesn't make sense for your business to expand. These problems are all solved by proper budgeting and growth strategies, and possibly some creativity in the case of the latter.
While it may not be prudent now for your business to expand globally, it should never be out of the question, and you should always be looking for ways to reach that goal.