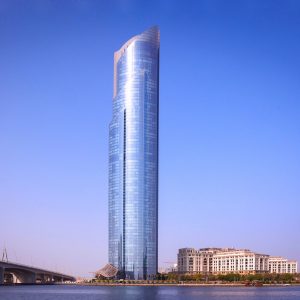 Disruption is constantly changing the retail business environment.  In fact, it is adding complexities to it with every passing day.  Sweeping changes in consumers' behaviors and the challenges to retail economic models are pushing the current retail models to undergo considerable transformation.  A number of organizations that possess a sizable property portfolio find it challenging to manage their assets.
Although, physical stores still remain the preferred mode of shopping in retail—owing to benefits, such as, experiencing the products on the spot, ensuring a good fit, and the satisfaction of immediate ownership—consumers today have the convenience of exploring and buying products online.  There is a progressive trend of e-commerce with many consumers relying on online medium instead of physical store, as they prefer a shopping experience that reduces ambiguity and inflexibility and boosts simplicity and fun.  In future, mobile commerce is predicted to make up an even larger portion of e-commerce.
In future, new pricing regimes and transforming consumer behaviors will put further pressure on retail margins.  Moreover, intense rivalry and a gamut of online shopping solutions will likely push the retailers to reassess their store requirements, evolving from larger stores to smaller store formats, since optimization of real estate operating costs will be a decisive factor in keeping the stores profitable.  Market challenges will drive the retailers to have low space per store, demand greater flexibility, briefer lease periods, discontinuity clauses, and store area modification options.
For the organizations to deal with imminent consumer trends and competition, it is important to undertake frequent evaluations and adjustments in their retail business strategy.  But often they face issues, such as the retail business strategy not translated into property domain; disassociation between business and Real Estate Strategies; or existing Real Estate Strategy lagging behind in meeting business needs resulting in high operating costs and unused premises.
Integrated Real Estate Strategy
These changing times warrant integration of organizational and Real Estate Strategies.  Leadership needs to understand the effect of local and global trends on an organization's industry.  They should then interpret and incorporate the impact of these trends into an integrated, pragmatic, and executable Real Estate Strategy; and envisage its potential alignment with their real estate requirements.
An integrated Real Estate Strategy assists the premises occupants in implementing strategic decisions consistent with evolving markets and technological disruption, without having any negative effects on business operations and in line with their current portfolio.  A pragmatic Real Estate Strategy meets enterprise and customer requirements and streamlines operating costs.
An integrated approach to manage enterprise real estate in the retail industry helps reveal potential opportunities and threats for the investors.  The benefits of adopting an integrated Real Estate Strategy include enhanced market access and operational efficiency by responding promptly to consumer demands, flexibility in retail and office environment, improved consumer experience, and robust premises cost management.
An integrated and executable approach to Real Estate Strategy encompasses 4 key elements:
Detailed understanding of the Corporate Strategy
Current portfolio analysis
Workforce management
Occupancy management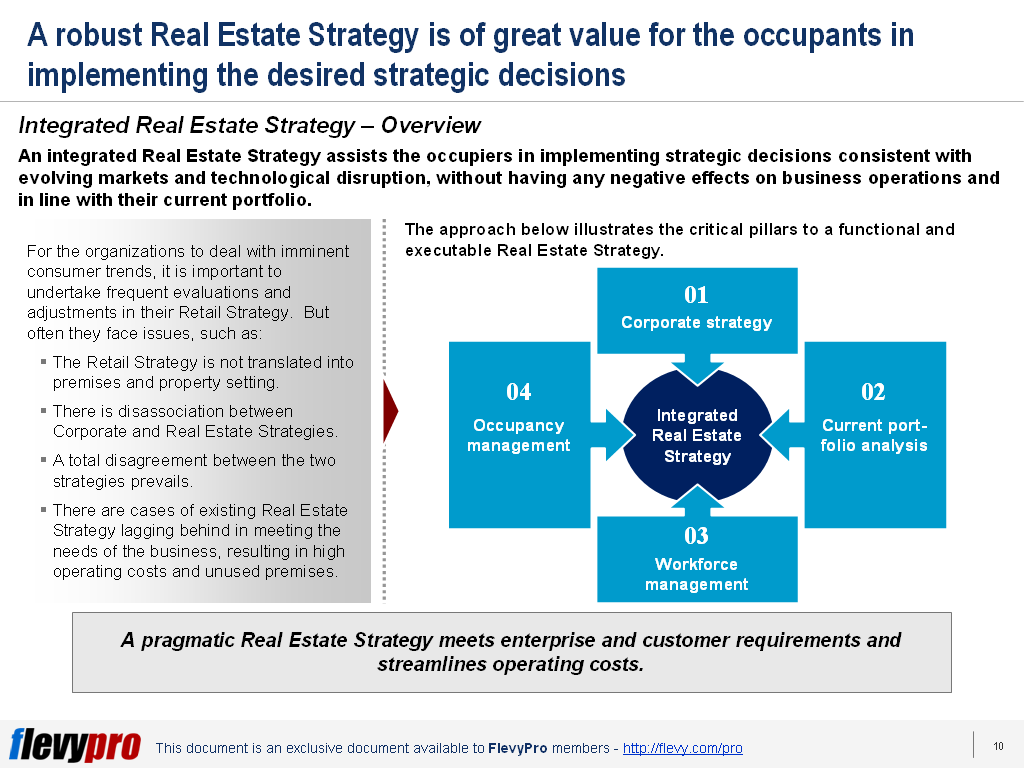 Let's now get into the details of the first 2 key elements of the integrated Real Estate Strategy.
Detailed understanding of the Corporate Strategy
Leaders need to have a detailed assessment of business requirements to develop a premises strategy.  Based on a thorough understanding of business requirements, a premises strategy should be developed.  The occupants should outline a detailed location portfolio mix to achieve enterprise goals related to cost optimization, growth, locations, and risks.
The key to developing an integrated Real Estate Strategy is to understand and challenge the organization's Corporate Strategy and Target Operating Model; outline the business or service model and product mix; and ascertain current and future strategic and financial goals.  A robust strategy entails clear definition of premises requirements, initiatives to enable sustained optimization of portfolio, and alignment with financial goals.
Current Portfolio Analysis
Another important element aimed at the integration of organizational and Real Estate Strategies is to evaluate the existing premises portfolio, by undertaking a thorough analysis of the current and future use of the properties.  This should include taking a careful look at the existing tenure agreement and terms and conditions, current rents, market conditions, and commercial options.  This also warrants carrying out a premises opportunity analysis to include development and disposal options, current and future operational and capital expenditures, portfolio-wide exit terms from current owned/leased premises, tax, and performance metrics.
Interested in learning more about the other 2 elements (Workforce Training & Management and Occupancy Management) to managing real estate portfolio?  You can download an editable PowerPoint on Integrated Real Estate Strategy here on the Flevy documents marketplace.
Do You Find Value in This Framework?
You can download in-depth presentations on this and hundreds of similar business frameworks from the FlevyPro Library. FlevyPro is trusted and utilized by 1000s of management consultants and corporate executives. Here's what some have to say:
"My FlevyPro subscription provides me with the most popular frameworks and decks in demand in today's market. They not only augment my existing consulting and coaching offerings and delivery, but also keep me abreast of the latest trends, inspire new products and service offerings for my practice, and educate me in a fraction of the time and money of other solutions. I strongly recommend FlevyPro to any consultant serious about success."

– Bill Branson, Founder at Strategic Business Architects
"As a niche strategic consulting firm, Flevy and FlevyPro frameworks and documents are an on-going reference to help us structure our findings and recommendations to our clients as well as improve their clarity, strength, and visual power. For us, it is an invaluable resource to increase our impact and value."

– David Coloma, Consulting Area Manager at Cynertia Consulting
"As a small business owner, the resource material available from FlevyPro has proven to be invaluable. The ability to search for material on demand based our project events and client requirements was great for me and proved very beneficial to my clients. Importantly, being able to easily edit and tailor the material for specific purposes helped us to make presentations, knowledge sharing, and toolkit development, which formed part of the overall program collateral. While FlevyPro contains resource material that any consultancy, project or delivery firm must have, it is an essential part of a small firm or independent consultant's toolbox."

– Michael Duff, Managing Director at Change Strategy (UK)
"FlevyPro has been a brilliant resource for me, as an independent growth consultant, to access a vast knowledge bank of presentations to support my work with clients. In terms of RoI, the value I received from the very first presentation I downloaded paid for my subscription many times over! The quality of the decks available allows me to punch way above my weight – it's like having the resources of a Big 4 consultancy at your fingertips at a microscopic fraction of the overhead."

– Roderick Cameron, Founding Partner at SGFE Ltd
"Several times a month, I browse FlevyPro for presentations relevant to the job challenge I have (I am a consultant). When the subject requires it, I explore further and buy from the Flevy Marketplace. On all occasions, I read them, analyze them. I take the most relevant and applicable ideas for my work; and, of course, all this translates to my and my clients' benefits."

– Omar Hernán Montes Parra, CEO at Quantum SFE