Project Investment Selection
Featured Best Practice on Business Case Development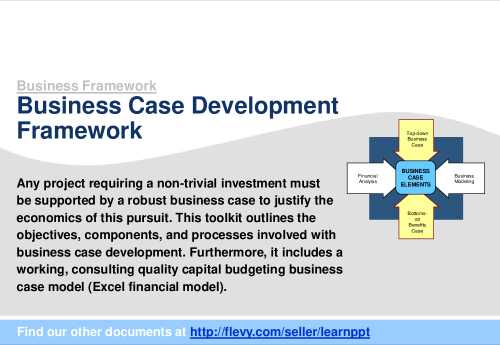 32-slide PowerPoint presentation
The Business Case is an instrumental tool in both justifying a project (requiring a capital budgeting decision), as well as measuring the project's success. The Business Case model typically takes the form of an Excel spreadsheet and quantifies the financial components of the project,
[read more]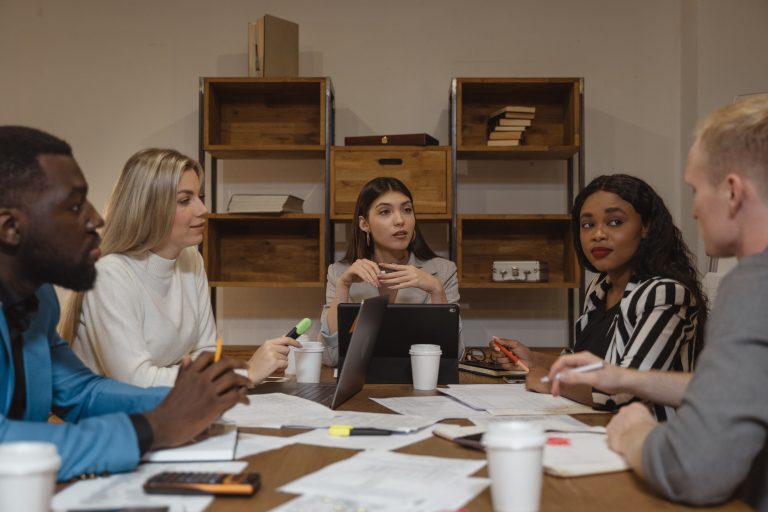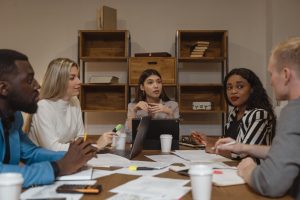 Picking ground-breaking new projects for more investment and expansion is perilous and difficult since fresh ideas are characterized by major technological and market ambiguity.  There will forever be some winners and some failures in the process of evaluating Capital Investment projects for funding, but no one desires to be the decision-maker who failed to recognize a fantastic investment.
As per research, project selections can go awry due to the following 5 issues in the expert panel created to select the project:
Predisposition against fresh concepts.
Absence of diversity in expert panels.
More focus on technical facets.
Bias of the panel member introducing the project.
Timing plays a major role.
An organization's product lines, processes, and services can be revitalized, it's functioning and competitiveness enhanced by the choice of a good R&D project.  Leaders have to comprehend the points where R&D selection panels may make mistakes for them to better their performance of selecting appropriate projects.  Research demonstrates that by comprehending the conceivable pitfalls and improving the process, organizations can make wiser judgments and produce enhanced outcomes.
There are several means that can be used before, during, and after selecting strategic initiatives to bring down biases and enhance selections for additional investment.  By following the undermentioned best practices before, during, and after selection, decision-makers can make smarter choices when deciding on which projects to invest in:
Pre-selection
Conceal Names & Demographics
Homogenize Submissions (Heilmeier Catechism)
During Selection
Pursue Diversity
Apply Crowdsourcing
Adopt Workshop Approach
Entrust to Probability
Organize One-on-one Contests
Post-selection
Give Feedback
Gain from Failures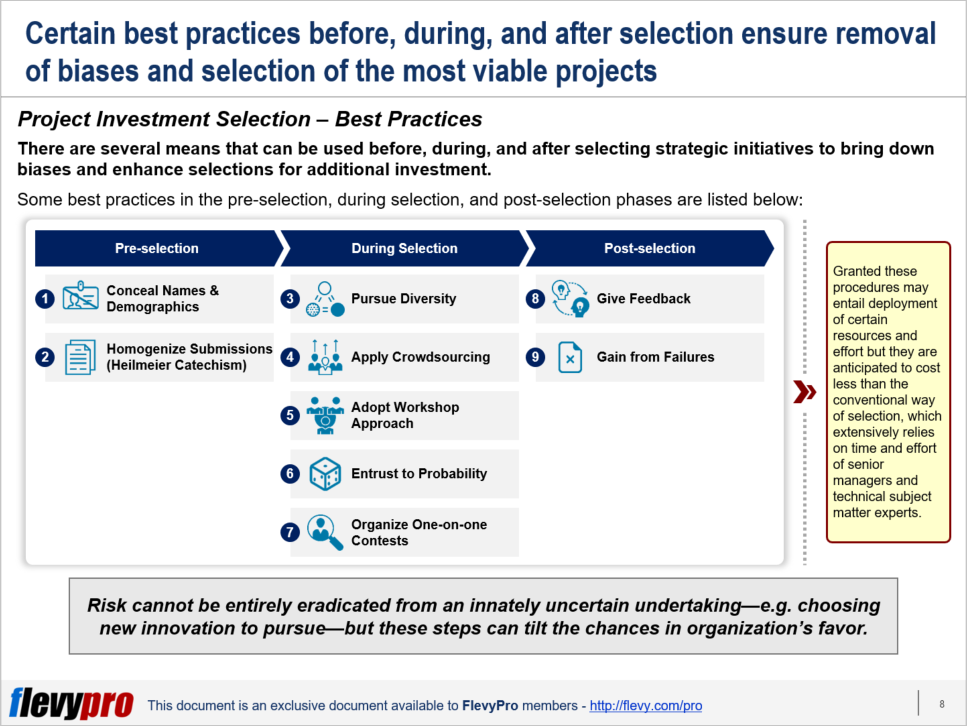 Granted these procedures may entail deployment of certain resources and effort, but they are anticipated to cost less than the conventional way of selection, which extensively relies on time and effort of senior managers and technical subject matter experts.
Let us look at some of the best practices in a little more detail.
Conceal Names & Demographics
One way of removing bias is to conceal the names and demographic information of the persons who are pitching strategic initiatives for selection.  Limited research has suggested that concealing names and demographic characteristics in science submissions escalates the chances receiving grants for women.
Although masking submissions is a significant first step but organizations may have to take supplementary steps to detect biases.
Homogenize Submissions (Heilmeier Catechism)
Comparability is necessary for similar themed project ideas.  A standardized way of developing proposals makes it easier to evaluate the initiatives.  A comprehensive, uniform template for proposals can make comparability possible.  This was demonstrated in a concept known as Heilmeier Catechism, coined by George Heilmeier, director of a U.S. research organization, in the mid-1970s.
Heilmeier Catechism is also employed as a screening technique to aid project proposers appraise whether their ideas have a possibility of being approved.
Pursue Diversity
An increasingly varied selection panel aids in reducing biases and furthermore it results in products that are more attractive to people with varied requirements and interests.
Research has shown the significance of diversity across several aspects—not only demographic features but also professional capability and backgrounds as well.
Interested in learning more about Project Investment Selection Best Practices?  You can download an editable PowerPoint on Project Investment Selection here on the Flevy documents marketplace.
Do You Find Value in This Framework?
You can download in-depth presentations on this and hundreds of similar business frameworks from the FlevyPro Library.  FlevyPro is trusted and utilized by 1000s of management consultants and corporate executives.  Here's what some have to say:
"My FlevyPro subscription provides me with the most popular frameworks and decks in demand in today's market.  They not only augment my existing consulting and coaching offerings and delivery, but also keep me abreast of the latest trends, inspire new products and service offerings for my practice, and educate me in a fraction of the time and money of other solutions.  I strongly recommend FlevyPro to any consultant serious about success."

– Bill Branson, Founder at Strategic Business Architects
"As a niche strategic consulting firm, Flevy and FlevyPro frameworks and documents are an on-going reference to help us structure our findings and recommendations to our clients as well as improve their clarity, strength, and visual power.  For us, it is an invaluable resource to increase our impact and value."

– David Coloma, Consulting Area Manager at Cynertia Consulting
"FlevyPro has been a brilliant resource for me, as an independent growth consultant, to access a vast knowledge bank of presentations to support my work with clients.  In terms of RoI, the value I received from the very first presentation I downloaded paid for my subscription many times over!  The quality of the decks available allows me to punch way above my weight – it's like having the resources of a Big 4 consultancy at your fingertips at a microscopic fraction of the overhead."

– Roderick Cameron, Founding Partner at SGFE Ltd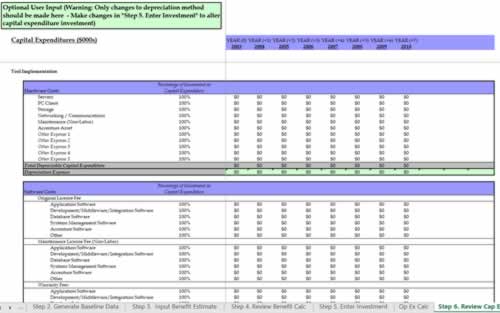 Excel workbook
For individuals who are fairly new at developing business cases, the Business Case Template Excel file provides a step-by-step methodology for developing a high level business case. This Template Excel is also a companion document of the "How to Develop a Business Case" presentation
[read more]
Readers of This Article Are Interested in These Resources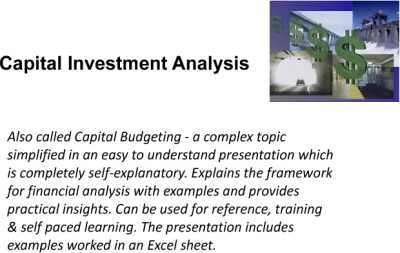 101-slide PowerPoint presentation
Capital Investment Analysis Also called Capital Budgeting - a complex topic simplified in an easy to understand presentation which is completely self-explanatory. Explains the framework for financial analysis with examples and provides practical insights. Can be used for reference, training &
[read more]
105-slide PowerPoint presentation

26-slide PowerPoint presentation
About Mark Bridges
Mark Bridges is a Senior Director of Strategy at Flevy. Flevy is your go-to resource for best practices in business management, covering management topics from
Strategic Planning
to
Operational Excellence
to
Digital Transformation
(
view full list here
). Learn how the Fortune 100 and global consulting firms do it. Improve the growth and efficiency of your organization by leveraging Flevy's library of best practice methodologies and templates. Prior to Flevy, Mark worked as an Associate at McKinsey & Co. and holds an MBA from the Booth School of Business at the University of Chicago. You can
connect with Mark on LinkedIn here.