Persistence or Annoyance
Featured Business Best Practice: Organization Design Toolkit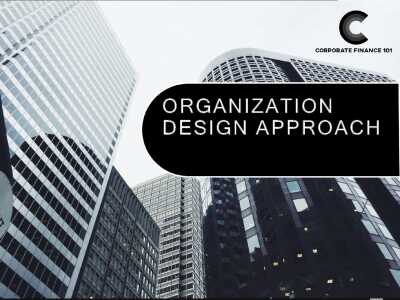 103-slide PowerPoint presentation
Recent McKinsey research surveyed a large set of global executives and suggests that many companies, these days, are in a nearly permanent state of organizational flux. A rise in efforts in Organizational Design is attributed to the accelerating pace of structural change generated by market
[read more]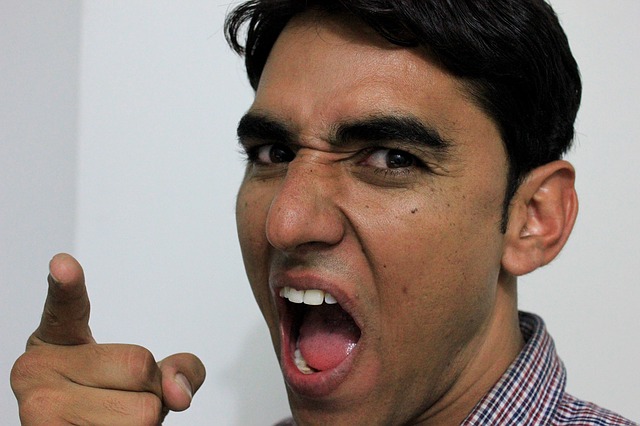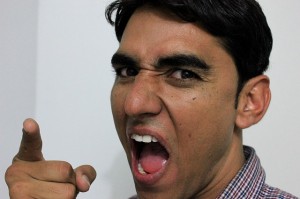 I was recently visiting an established client and saw the opportunity to "drop In" on a potential client that I had been repeatedly trying to contact.
Why wouldn't you, I hear you ask?
I approached reception and introduced myself and asked to speak to the principal of the college (let's call her Bernie for anonymity's sake) and was told to wait in reception.  After 2 minutes of waiting, out storms this petite lady with a decidedly angry expression and the first words out of her mouth were, "I don't know you, I don't know your company, and I never asked to see you!"
Well, the consummate professional that I am, I didn't balk at this onslaught and asked her for 5 minutes of her time.  It was wasted by the way, but I'll explain why.  For those who study body language or NLP, I could instantly tell that "Bernie" was not giving an inch, with her crossed arms and crossed legs, coupled with the etched scowl.  It turns out that my calls to her office had been misrepresented and the message that she received had claimed that I knew "Bernie" and that she was expecting my call!  Now this is clearly not the case and never have I used duplicity to gain an audience with the MAN (Money Authority Need).
According to "Bernie," she had been emailing various peers across the city asking about me and they too had received calls from me.  Here ensued a quite malicious train of communication that has ensured that numerous potential clients are no longer an option!  Quite an incestuous industry that I work in!
My remit is to support schools and colleges with under-performance and "challenging" students that disrupt their peer group and are on the brink of exclusion.  Despite being endorsed by Local Government, the DfE, and numerous other schools and colleges as a cost effective early intervention, it is surprisingly difficult to obtain an audience with principals and head teachers.  It sometimes feels like they are either burying their heads in the sand or that they feel their existing provisions are sufficient, despite figures to the contrary.
Now, I know this is not the case having spoken with and supported many schools and colleges, but they feel that anyone trying to gain an audience is automatically trying to sell them something.  And I am no different, just for clarification!  However, the way in which we approach our provision ensures that it falls within their existing budgets and when balanced against existing provisions, it is a more cost effective solution with outcomes that have a positive impact!
One of the things head teachers and principals most frequently say to me when I'm working with them in their schools is, "I don't want to be annoyed by sales calls." Usually they say this at the thought of receiving a phone call from someone like me.
When it comes to your marketing, there's a big difference between persistence and annoyance/pushiness.
Or is there?
One thing we know about this environment is that it's taking more interaction with a prospect before they become a client. It doesn't matter what type of service we're talking about, people are taking a little longer and investigating more thoroughly before spending their money.
We know the budgets are tight for these schools and colleges. And we know that the growing competition is making more noise. Plus, your prospects have built a deflector shield to ward off messages (usually in the form of some great gate-keeper receptionists and PA's).
S,o let me sum this up—your prospects are taking longer to decide, there's less money, and tons more messages to "buy from me." And through that din, you're satisfied that your prospect doesn't want to work with you after you've emailed or called them once, maybe twice?
I don't think so!
You aren't being annoying. You're providing valuable, decision-making information when you talk to your prospects.  Marketing… and support… is about building relationships, not about being annoying. You must be prepared to "touch" your prospect and do it again, and again.
Here are some ways to make your contacts more productive for you and your prospect:
Everyone has a preferred method of communications. I love email. Geoff prefers phone calls. How does your target prospect want to be contacted? Find out and use that method.
Several "touches" in a tight time frame enables your prospect to "see" you faster. The market noise is so loud that your prospect can't remember who you are if you go too long between contacts. Three emails in one week are usually more effective than three emails over three months. With the latter, you're starting over each time you send something out. They don't remember you.
If you're communicating by email or mail—something written—keep the message simple. What do you want them to do? Make it obvious so they aren't struggling through dense copy, or worse, simply throwing it out.
Share WHY you do what you do. What's your motivation, your passion? People don't buy WHAT you do. They buy WHY you do it. There are lots of computer makers out there. People buy from Apple because they love their passion. They relate to Apple's WHY. It's their WHY, too. What's your WHY? Tell them.
Marketing is about building a relationship to turn a prospect into a client, and relationships aren't built overnight. It's rare—and kind of spooky—to meet someone, fall in love, and get married based on the first encounter. If you wouldn't marry someone after you met them once, what makes you think a prospect will "marry" you and become your client after one encounter?
Persistent and consistent. Embrace those two words when you're marketing. You're not being annoying. You're building a relationship.
Despite "Bernie" not giving an inch and rejecting my offer of support, I won't give up on her!  Our services positively impacts on the lives of our young generation and is one of the only effective interventions available to schools and colleges (cost effective interventions).  I am persistent and tenacious and passionate about what we do and if people wish to view this as annoying, then so be it!  My job is not to be bogged down with rejection and refusal, my job is to reach the right person and to make them realise that what we do is in the best interests of their business (school, college, or academy) and that I am there to support them!
I should also add that I am not bonus or commission based!  Do you think this makes a difference?  Does your view of me change now you know that I am doing this because I care and not the money?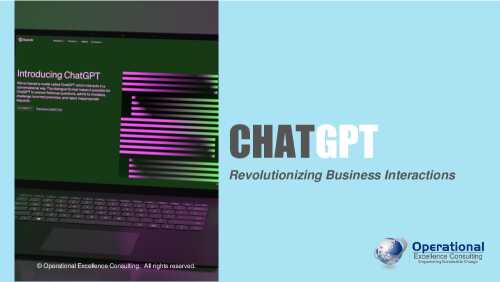 81-slide PowerPoint presentation
ChatGPT (Generative Pretrained Transformer) is a state-of-the-art AI language model developed by OpenAI, one of the leading research organizations in the field of artificial intelligence. It was created to process and generate human-like language by utilizing advanced deep learning
[read more]
Do You Want to Implement Business Best Practices?
You can download in-depth presentations on 100s of management topics from the FlevyPro Library. FlevyPro is trusted and utilized by 1000s of management consultants and corporate executives.
For even more best practices available on Flevy, have a look at our top 100 lists:
These best practices are of the same as those leveraged by top-tier management consulting firms, like McKinsey, BCG, Bain, and Accenture. Improve the growth and efficiency of your organization by utilizing these best practice frameworks, templates, and tools. Most were developed by seasoned executives and consultants with over 20+ years of experience.
Readers of This Article Are Interested in These Resources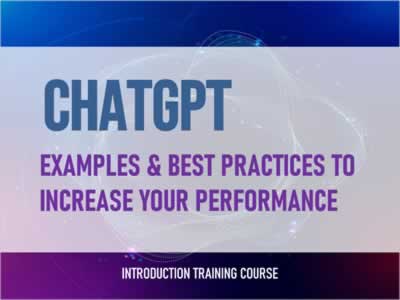 85-slide PowerPoint presentation
Update 18/03/2023: Recently added slides: related to GPT-4 Features Update 20/03/2023: Tabular Formatting Update 20/03/2023: Enhanced slides realted to the other products from OpenAI OpenAI ChatGPT has advanced language processing. It can write like a human and speak naturally. Texting,
[read more]
1-page PDF document

1-page PDF document
Top 10 Recommended Documents
103-slide PowerPoint presentation
81-slide PowerPoint presentation
85-slide PowerPoint presentation
1-page PDF document
1-page PDF document
3-page PDF document
135-slide PowerPoint presentation
192-slide PowerPoint presentation
Excel workbook
Excel workbook