For large global corporations, forming productive alliances with promising startups is a far more challenging undertaking than it appears. Global corporations frequently struggle to identify potentially advantageous startup partners.
On the other hand, startups face significant difficulty isolating and contacting the appropriate decision makers in the corporations, given the massive hierarchies of global businesses. These difficulties are amplified in Emerging Markets.
Emerging Markets are rapidly growing markets that already show signs of developed markets, but have yet to meet the full standards of a developed market. Emerging Markets are on the trajectory to becoming developed markets and may, in fact, have been one in the past.
Such markets are presumed to offer more possibilities for profit but also carry greater risk due to many other issues. Countries with the Emerging Market status are deemed to be in an intermediate stage between developing and developed.
Forming successful partnerships with promising startups is an arduous undertaking even for big multinational corporations. A study on successful partnership of multinational companies with startups in Emerging Markets found 4 key factors influencing the relationship.
Immaturity of the Entrepreneurial Ecosystem
Appetite for Entrepreneurship
Outsider Status of Western Multinationals
Access to Novel Innovations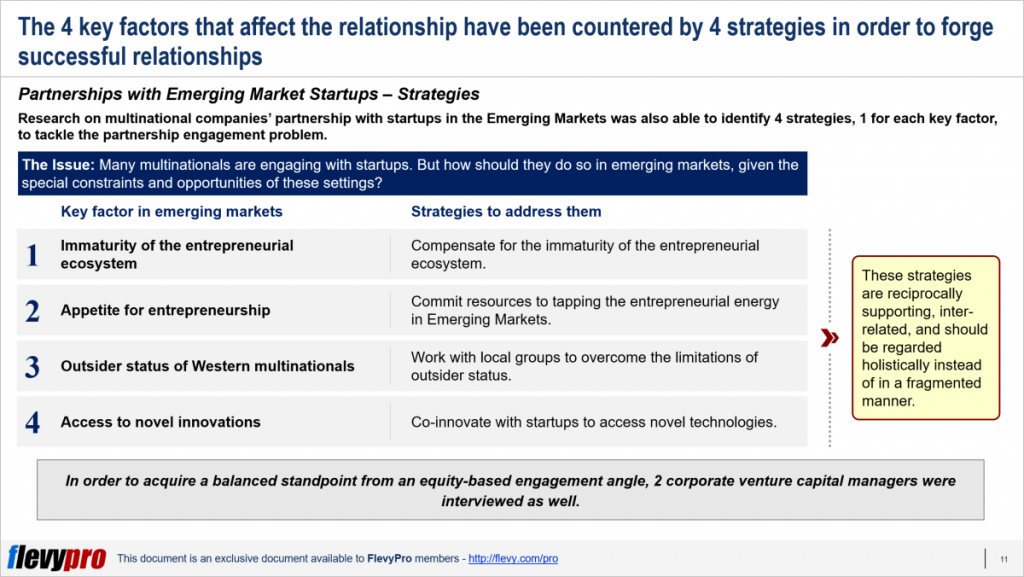 Research on multinational companies' partnership with startups in the Emerging Markets was also able to identify 4 strategies, 1 for each key factor, to tackle the partnership engagement problem.
Certain factors may be more influencing than others for a particular global corporation, but all 4 factors play a part.
Let us delve a little more deeply into the strategies pertaining to each factor.
1. Compensate for the immaturity of the entrepreneurial ecosystem.
A large number of Emerging Markets are stricken by limitations and vacuities in their institutions because of immaturity of the entrepreneurial ecosystem. This problem is also referred to by some as the 'last mile' problem. Strategy in such situations demands forging of trusting connections to safeguard deliverance of undertakings by each partner. The larger burden to counterbalance the insufficiencies of the entrepreneurial ecosystem falls on the shoulders of the global corporations wanting to engage in such markets.
2. Commit resources to tapping the entrepreneurial energy in Emerging Markets.
Despite the limitations of the Emerging Markets, there is appetite for entrepreneurship due to abundance of opportunities in them. In a few instances, flourishing growth companies have galvanized startup ecosystems in Emerging Markets. Global companies can locate their accelerators in these Emerging Markets. Such commitment can generate a host of networking and collaboration efforts in the Emerging Markets among all the stakeholders.
3. Work with local groups to overcome the limitations of outsider status.
Unfamiliar conditions are a given in foreign markets but the insufficiency of knowledge—with regards to local conditions—is magnified in Emerging Markets, which earns global companies the status of outsiders. Such challenges can be countered through engagement with institutions that know local environment well; e.g., incubators that work with local governments and local startups.
4. Co-innovate with startups to access novel technologies.
Fundamental attractiveness of Emerging Markets for the global companies is their reduced cost base and substantial market size. Global companies can also have an added advantage; that of unearthing local innovation. Limitations of the Emerging Markets propel innovators in such markets to use concepts that cannot be thought of in advanced countries. Global companies can also make use of innovative technologies by means of co-innovation programs in Emerging Markets.
Interested in learning more about Partnerships with Emerging Market Startups? You can download an editable PowerPoint on Partnerships with Emerging Market Startups here on the Flevy documents marketplace.
Do You Find Value in This Framework?
You can download in-depth presentations on this and hundreds of similar business frameworks from the FlevyPro Library. FlevyPro is trusted and utilized by 1000s of management consultants and corporate executives. Here's what some have to say:
"My FlevyPro subscription provides me with the most popular frameworks and decks in demand in today's market. They not only augment my existing consulting and coaching offerings and delivery, but also keep me abreast of the latest trends, inspire new products and service offerings for my practice, and educate me in a fraction of the time and money of other solutions. I strongly recommend FlevyPro to any consultant serious about success."

– Bill Branson, Founder at Strategic Business Architects
"As a niche strategic consulting firm, Flevy and FlevyPro frameworks and documents are an on-going reference to help us structure our findings and recommendations to our clients as well as improve their clarity, strength, and visual power. For us, it is an invaluable resource to increase our impact and value."

– David Coloma, Consulting Area Manager at Cynertia Consulting
"FlevyPro has been a brilliant resource for me, as an independent growth consultant, to access a vast knowledge bank of presentations to support my work with clients. In terms of RoI, the value I received from the very first presentation I downloaded paid for my subscription many times over! The quality of the decks available allows me to punch way above my weight – it's like having the resources of a Big 4 consultancy at your fingertips at a microscopic fraction of the overhead."

– Roderick Cameron, Founding Partner at SGFE Ltd