We recently had the opportunity to speak with the two co-founders of TheConsultantLounge.com, Laura Woodroof (picture on the right below) and Martina Segerer.   TheConsultantLounge is an online and offline community for smart and passionate management consultants who were looking to expand their network and share their experiences across the broader consulting ecosystem.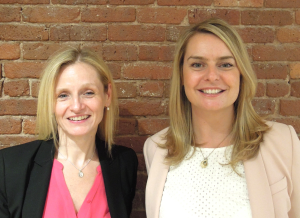 Both Laura and Martina are seasoned consultants with combined experience of 25 years working at large, global consulting firms.  They created the site to fulfill the need of having a one-stop hub for all info consulting related–industry news, job opportunities, career advice, lifestyle information, consulting tools, etc.
How did you two meet?
Martina and I worked together on a number of client engagements in the Human Capital consulting practices at both Capgemini Consulting and Deloitte before founding TheConsultantLounge.com together.
How did come up with the idea behind TheConsultantLounge?
We were looking for a one-stop hub for all the information we wanted within the consulting profession–and couldn't find it! We wanted somewhere we could go to get all the latest industry news updates & trends, job opportunities across all consulting firms, career articles, advice, tools, lifestyle information etc. and since we couldn't find it, we decided to create it!

Our goal is to give the consulting profession and it's professionals a new look. We want to move away from the very formal and sometimes "stuffy" image by creating something modern, fresh, interactive, and professional but not too formal.  Call us the "new face of the consulting profession!"
How has your consulting background helped you launch and grow TheConsultantLounge?
It has helped tremendously. The skills you learn as a consultant in successfully selling, scoping, planning, and executing engagements for your clients and managing relationships with them are completely transferable to entrepreneurship. We have found that one of the most critical skills is the ability to be flexible–and by that we mean really flexible! Consulting requires us on a daily basis to be very flexible in our approach to solving problems, our ways of working, our ability to work with limited information, how we deal with lots of different people and organizations… and startups are no different. If you are accustomed to working regular hours, in one location and with one group of people, the culture shock would be enormous! I think consulting is a kind of half-way house, so it prepared us well.
What were some marketing challenges you faced and how did you overcome them?
Well, we actually pretty rapidly realized that there is real demand for what we are creating. Our user base and unique visitors are growing at a phenomenal rate, all of our networking events are sold out, and the list of firms who will be using our job platform–which will be released shortly–is growing every day. The bigger challenge is our ability to keep up.

That said, I would say that our biggest challenge is reaching a wide audience that is all-inclusive. While we are completely focused on the consulting profession vertical, we want to reach: students interested in consulting, current consultants from entry to executive level, independent consultants and those simply curious about the profession, and that's a huge audience. Keeping track of all those groups and growing has been challenging. Our strategy has been to focus on all the groups at the same time, but focus on one channel at a time. It's tough, but has been a successful approach so far.
What are your most popular consultant resources?
Resources which provide guidance to students on how to get into consulting have been consistently very popular indeed. In addition, our readers really gravitate to articles from our writers on real life stories and experiences of consultants.

That said, our job platform is probably the most asked for resource right now. Consulting firms of all sizes are excited about being able to house consulting and related jobs in one place and to have access to such a highly relevant audience of potential candidates. Plus, those interested in looking for new jobs–whether actively or passively–can access a wide range of consulting jobs without having to visit multiple firm sites or farm through lots of irrelevant jobs.
Is your community geared towards any particular type of consulting?
No! Consultants at all levels in all industries and across all disciplines are welcome and will find our content, events and job listings relevant and useful.
Can you share with us some upcoming features and plans you have for The Consultant Lounge?
Job listings! We will be launching this in the coming weeks and will have job listings from a wide variety of firms, including non-consulting firms looking to hire consultants. If you want to receive regular updates from us, partner with us or are interested in knowing more, please do drop us a line at [email protected]