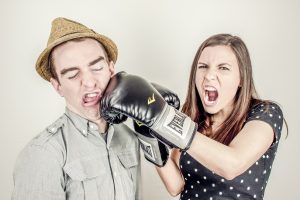 A major reason for employees leaving their workplaces is conflicts with their bosses.  To succeed in today's fiercely competitive market, organizations need to invest in developing their leadership, such that they further develop their teams by training them on the desired competencies and create a sense of engagement in them.
A big challenge for leaders is getting their employees to believe in the organizational vision.  No two personalities have the same viewpoints and aspirations, thus conflict is bound to occur between team members while they interact.
The Thomas-Kilmann Conflict Mode Instrument (TKI), developed by Dr. Ralph H. Kilmann and Dr. Kenneth W. Thomas, is an easy-to-use, online assessment tool to Conflict Management.  Human Resources (HR) and Organizational Design (OD) consultants utilize the TKI tool as a mechanism to initiate discussions on differing topics and facilitate in mediation by learning how conflict-handling modes affect personal, group, and organizational dynamics.
Each of us has a predominant conflict style that we use in a particular situation.  The Thomas-Kilmann Conflict Mode Instrument provides a basis to measure a person's behavior in conflict situations, where individuals appear to be unable to get along.  The individuals' behavior in conflict situations encompasses 2 broad dimensions:
Assertiveness
Cooperativeness
These behavior dimensions define 5 predominant conflict handling styles (or modes) that we use while responding to conflict situations:
Competing
Accommodating
Avoiding
Collaborating
Compromising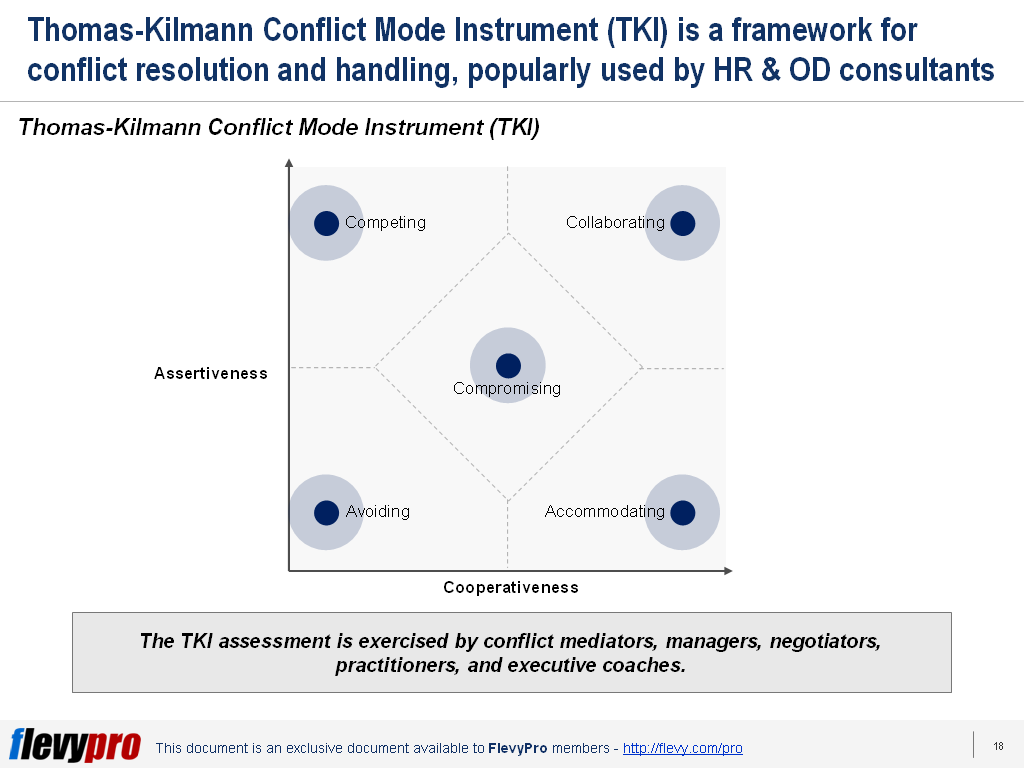 A thorough understanding of these styles allows for making a conscious decision on how to respond to others and assists in easing conflict and stress.
Let's now discuss 3 of these conflict handling styles.
Competing
Competing is a power-oriented mode in which individuals use power to win their position, stand up for their rights, and defend a position which they believe is correct.  Competing is assertive and uncooperative where a person pursues his own concerns at the other individual's expense.
Individuals using a competitive style consistently are considered aggressive, autocratic, confrontational, and intimidating.  Competitors try to gain power and force change at the other person's expense.  This style is appropriate to execute a quick, unpopular decision, or to let others know how important an issue is to you.  The major disadvantage of this style is low value for relationships, which can be damaged beyond repair.
Accommodating
Unlike competing, accommodating is unassertive and cooperative.  Individuals using this conflict management style neglect or even sacrifice their own concerns to satisfy the concerns of the other person.  They may obey other person's order even if they disagree to it, or yield to other's viewpoint.  People who accommodate others forget their own personal needs to please others and to maintain harmony.  They have high importance for preserving their relationships.  The accommodator style is useful when a person is wrong but you want to minimize losses and preserve relationships.
This habit cannot permanently fix an issue and may induce a feeling of anger or pleasure in the other person.  Prolonged use of the accommodator style changes the behavior to competitive, brings down creativity in conflict situations, and enhances power imbalances.
Avoiding
The individuals with an avoiding style of conflict management neither pursue their own concerns nor those of the others.  The avoiding style is neither assertive nor cooperative.  These people prefer to avoid conflict rather than deal with it, diplomatically bypass or postpone an issue, or simply withdraw from a threatening situation.
Avoiders are considered negligent towards their own or others' problems.  They avoid a problem expecting that it will pass, resolve on its own, or anticipate other people to take care of it.  Avoidance is acceptable only in situations where you need time to think of the response, there is little chance of satisfying your needs, or in case confrontation can hurt a relationship.  Avoiding a conflict and not dealing with it allows the conflict to flare up and triggers negative sentiments and animosities.
Interested in learning more about the 5 predominant conflict handling styles and how to conduct the TKI Assessment?  You can download an editable PowerPoint on Thomas-Kilmann Conflict Mode Instrument here on the Flevy documents marketplace.
Do You Find Value in This Framework?
You can download in-depth presentations on this and hundreds of similar business frameworks from the FlevyPro Library. FlevyPro is trusted and utilized by 1000s of management consultants and corporate executives. Here's what some have to say:
"My FlevyPro subscription provides me with the most popular frameworks and decks in demand in today's market. They not only augment my existing consulting and coaching offerings and delivery, but also keep me abreast of the latest trends, inspire new products and service offerings for my practice, and educate me in a fraction of the time and money of other solutions. I strongly recommend FlevyPro to any consultant serious about success."

– Bill Branson, Founder at Strategic Business Architects
"As a niche strategic consulting firm, Flevy and FlevyPro frameworks and documents are an on-going reference to help us structure our findings and recommendations to our clients as well as improve their clarity, strength, and visual power. For us, it is an invaluable resource to increase our impact and value."

– David Coloma, Consulting Area Manager at Cynertia Consulting
"As a small business owner, the resource material available from FlevyPro has proven to be invaluable. The ability to search for material on demand based our project events and client requirements was great for me and proved very beneficial to my clients. Importantly, being able to easily edit and tailor the material for specific purposes helped us to make presentations, knowledge sharing, and toolkit development, which formed part of the overall program collateral. While FlevyPro contains resource material that any consultancy, project or delivery firm must have, it is an essential part of a small firm or independent consultant's toolbox."

– Michael Duff, Managing Director at Change Strategy (UK)
"FlevyPro has been a brilliant resource for me, as an independent growth consultant, to access a vast knowledge bank of presentations to support my work with clients. In terms of RoI, the value I received from the very first presentation I downloaded paid for my subscription many times over! The quality of the decks available allows me to punch way above my weight – it's like having the resources of a Big 4 consultancy at your fingertips at a microscopic fraction of the overhead."

– Roderick Cameron, Founding Partner at SGFE Ltd
"Several times a month, I browse FlevyPro for presentations relevant to the job challenge I have (I am a consultant). When the subject requires it, I explore further and buy from the Flevy Marketplace. On all occasions, I read them, analyze them. I take the most relevant and applicable ideas for my work; and, of course, all this translates to my and my clients' benefits."

– Omar Hernán Montes Parra, CEO at Quantum SFE