We, at Flevy, recently evaluated our entire base of hundreds of document authors to determine a select few to be designated Top Authors. This designation is a based on a number of factors, including customer feedback, quality and breadth of content, and sales history. At the end of the day, only 14 made the initial list of Top Flevy Authors.  Most of these authors manage their own successful consulting firms.
As you browse Flevy, documents produced by the Top Authors will be indicated with a yellow badge besides the author's username.  See the screenshot below.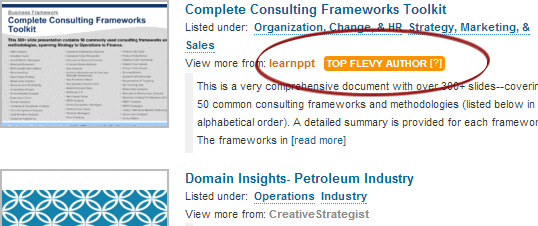 Now, without further ado, here are the Top Flevy Authors,  listed below (not in any meaningful order).
PPT LAB
https://flevy.com/seller/pptlab
As of the date of this article, PPT Lab is the author with the strongest sales on Flevy.  PPT Lab is a presentation design firm, specializing business strategy frameworks and PowerPoint templates.  All of the firm's documents are of the same quality produced by top-tier consulting firms and utilize the Consulting Presentation Framework.
OPERATIONAL EXCELLENCE CONSULTING
https://flevy.com/seller/oeconsulting
Operational Excellence Consulting is a management training and consulting firm that assists organizations in improving business performance and effectiveness. They have 40 (and growing) documents covering categories of topics from Lean Methodologies to Strategic Planning to Quality Management. Specific topics include Hoshin Kanri, Kaizen, Service Excellence, Benchmarking, 5S, PDCA, and more.
LEARNPPT
https://flevy.com/seller/learnppt
LearnPPT is a team of consultants trained by top tier global consulting firms with a collective experience of several decades. Their documents consist of business templates, business frameworks (from Growth Strategy to Cost Management), and PowerPoint templates.
TEAM NEOSI
https://flevy.com/seller/teamneosi
Team neosi consists of a small group of communication specialists who have 40+ years' experience helping blue-chip management consultants and top-tier strategy teams improve the quality of the thinking behind their communication. Their documents are based upon techniques learned while working as communication specialists with McKinsey & Company and then refined while consulting for a wide range of other top-tier corporates in Australia, the Asia Pacific region, the UK and the USA.
PROCESSMAN
https://flevy.com/seller/processman
This author offers 4 frameworks commonly used by management consulting firms. These are: Structured Problem Solving & Hypothesis Generation; Structured Communication, Presentation Development, and Storyboarding; Collaborative Process Mapping; and Designing and Delivering Focus Interviews.
STRATICX
https://flevy.com/seller/straticx
Straticx is a strategy and innovation consulting firm. The partners all have 10+ consulting experience covering a broad range of sectors and have delivered a range of engagements such as corporate and business unit strategy, business transformation, business case development, M&A, and operational improvement.
FRANK ADLER (OPERATIONAL EXCELLENCE CONSULTING)
https://flevy.com/seller/oec
Frank Adler is the co-founder of Operational Excellence Consulting (OEC). He has over 20 years of domestic and international executive leadership experience in General Management, multi-site Operations & Supply Chain Management, Quality & Customer Support Management, and Operational Excellence & Lean Six Sigma. He is a certified and experienced Lean Six Sigma Master Black Belt, with in-depth and hands-on expertise in implementing these concepts and tools in various organizations and industries.
DEMAND METRIC
https://flevy.com/seller/demandmetric
Demand Metric is a global marketing research & advisory firm serving a membership community of over 40,000 marketing professionals, CEOs, and business owners. They have 20 (and growing) documents on Flevy, mostly Excel tools focused on marketing and strategic analysis.
LANCE LATHAM (METRILOGICS)
https://flevy.com/seller/LanceLatham
Lance Latham, Senior Managing Partner of Metrilogics, led a successful career in operations management and process improvement — including roles as a hands-on operations manager, consultant and project manager in the manufacturing, warehouse / logistics, financial services and IT sectors. His documents include 13 modules that outline a robust framework for Performance Improvement and Cost Reduction.
HAINES CENTRE FOR STRATEGIC MANAGEMENT
https://flevy.com/seller/HainesCentre
The Haines Centre for Strategic Management is an International Alliance of Master Consultants, Facilitators and Trainers, who are Experts in Strategic Management (Strategic Planning, Strategy Implementation, Strategic Leadership, and Strategic Human Resources) and Organizational Innovation, using the Systems Thinking Approach. They have developed a couple robust documents on Strategic Marketing and Sales Planning.
PAUL SMITH-ALLEN (DARTVIEW CONSULTING)
https://flevy.com/seller/paulsa
Paul Smith-Allen is the owner of Dartview Consulting. Dartview Consulting focuses on delivering value through the use of Industry Standard Best Practice Frameworks for Service Management (ITIL), Project Management (PRINCE2), and Risk Management (MOR). This author's documents include frameworks and templates related to the aforementioned concepts.
DR. STEPHEN SWEID
https://flevy.com/seller/drsweid
Dr. Stephen M. Sweid is a business consultant, researcher and trainer with over 20 years consulting experience on the international scene: Europe, USA, Middle East and Far East. He has involved as expert in technical assistance projects of international organizations, such as UNDP, UNIDO, World Bank, European Commission etc, as well as in consulting projects commissioned by multinationals. His documents focus on Strategy Development.
MARTIN PALMGREN (.COMMUNICATE)
https://flevy.com/seller/MPalmgre
Martin Palmgren is a seasoned Senior Business / IT Strategy and Transformation Executive that has addressed Strategy formulation and roll out for Fortune 500 businesses internationally with a focus on how to ensure that the business strategy and objectives are supported by IT with an effective IT Strategy and Governance.
OFFICE HELP
https://flevy.com/seller/officehelp
Office Help specializes in automated, macro-driven tools built in Excel. Each Excel tool is highly sophisticated and customizable. Their functionality range from generating Gantt Charts to Org Charts.