"All you need is your own imagination
So use it that's what it's for (that's what it's for)
Go inside, for your finest inspiration
Your dreams will open the door (open up the door)" Madonna
Madonna is a perfect example of reinvention. A very versatile actress, Madonna has the ability to adapt to new trends; someone that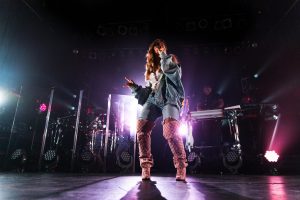 can send a lesson to companies struggling with their own digital revolution.
In this digital age, change is rewarded while being static is being punished. Companies must be open to Digital Transformation; a radical reinvention to find new, significant, and sustainable sources of revenue.  Incremental adjustments or building something new outside of the core business can provide real benefits and, in many cases, are a crucial first step for a digital transformation. But if these initiatives do not lead to more profound changes to the core business and avoid the real work of re-architecting how the business makes money, the benefits can be fleeting and too insignificant to avert a steady march to oblivion.
Discovering Digital Reinvention
Reinvention is a rethinking of the business itself.  Based on a Digital Quotient Research, reinvention requires significant commitment. First, the investment must be aligned closely with strategy at a sufficient scale. And second, digital leaders must have a high threshold for risk and must be willing to make bold decisions.
Digital Reinvention is not a throw-it-all-out approach. If you look at Apple when it moved from a computer manufacturer to music and lifestyle brand, it has reinvented itself while continuing to build computers.  Likewise, this is the case with John Deere.  John Deere is the brand name of Deere & Company that manufactures agricultural, construction, forestry machinery, and others. It continued to sell tractors and farm equipment while reinventing itself into a creator of online services for farmers.
Digital Reinvention is an innovative approach to laying the foundation for future growth while continually pushing improvement targets. Digital Reinvention is Business Transformation in action.
Approaching Digital Reinvention
Digital Reinvention will put new demands on leadership. Hence, an organization must have a strategic approach to Digital Reinvention: The 4Ds of Digital Reinvention.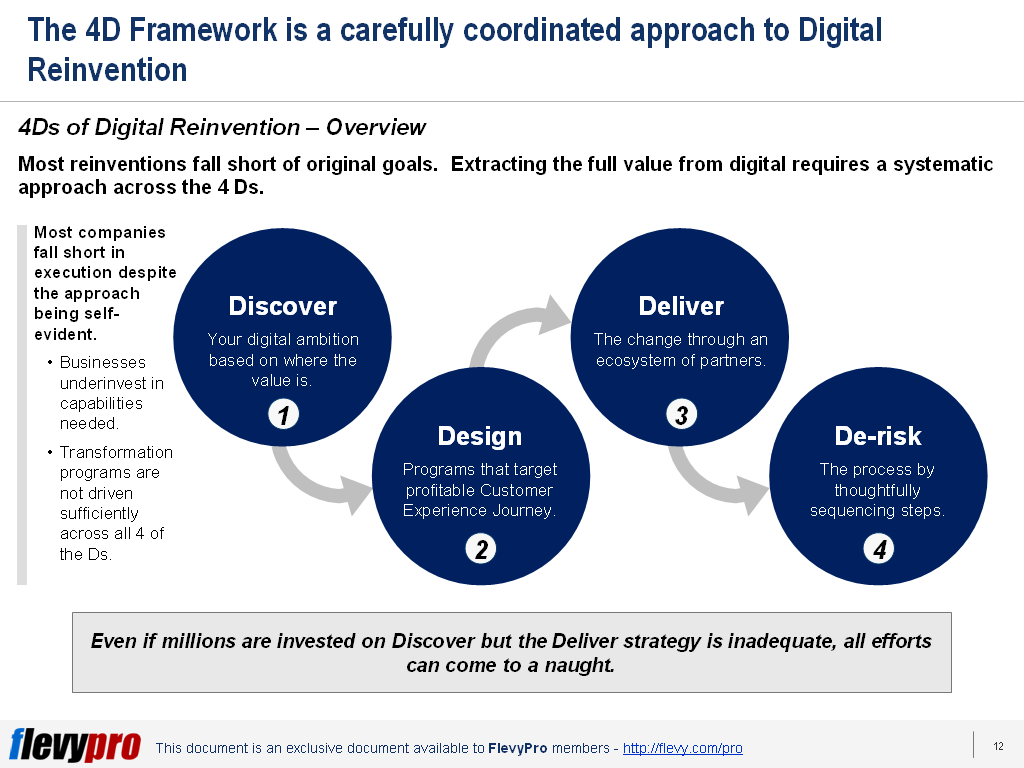 Discover. The primary goal of Discover is to develop a tight business case for change based on facts. Organizations must discover what your digital vision is based on where the value is. This will shape your digital ambition, strategy, and business case.
Design. Designing, creating, and prototyping breakthrough experiences is the main focus of Design. It is reinventing and developing new capabilities and breakthrough Customer Journeys.
Deliver. This is the third phase where organizations need to gather speed and scale necessary for reinvention. Its primary focus is to deliver and develop a network of partners who can rapidly scale your ambition. There is a need to activate an ecosystem to rapidly deliver at scale.
De-risk. The 4th D, it is focused on structuring the change program, resources, and commercial model to reduce operational and financial risk. It is essential for senior leaders to focus on structural and organizational issues that can hamper the organization's ability to manage cyber risk.
Having a good handle of the 4Ds of Digital Reinvention will prepare leaders towards Digital Transformation and new challenges.  It will be able to come up with the right answers to key questions that will arise in preparation for Digital Reinvention. Coming up with the proper answers to these crucial questions can guide companies to reinvent themselves ad stay in the game.
Interested in gaining more understanding of Digital Reinvention? You can learn more and download an editable PowerPoint about Digital Reinvention here on the Flevy documents marketplace.
Do You Find Value in This Framework?
You can download in-depth presentations on this and hundreds of similar business frameworks from the FlevyPro Library. FlevyPro is trusted and utilized by 1000s of management consultants and corporate executives. Here's what some have to say:
"My FlevyPro subscription provides me with the most popular frameworks and decks in demand in today's market. They not only augment my existing consulting and coaching offerings and delivery, but also keep me abreast of the latest trends, inspire new products and service offerings for my practice, and educate me in a fraction of the time and money of other solutions. I strongly recommend FlevyPro to any consultant serious about success."

– Bill Branson, Founder at Strategic Business Architects
"As a niche strategic consulting firm, Flevy and FlevyPro frameworks and documents are an on-going reference to help us structure our findings and recommendations to our clients as well as improve their clarity, strength, and visual power. For us, it is an invaluable resource to increase our impact and value."

– David Coloma, Consulting Area Manager at Cynertia Consulting
"As a small business owner, the resource material available from FlevyPro has proven to be invaluable. The ability to search for material on demand based our project events and client requirements was great for me and proved very beneficial to my clients. Importantly, being able to easily edit and tailor the material for specific purposes helped us to make presentations, knowledge sharing, and toolkit development, which formed part of the overall program collateral. While FlevyPro contains resource material that any consultancy, project or delivery firm must have, it is an essential part of a small firm or independent consultant's toolbox."

– Michael Duff, Managing Director at Change Strategy (UK)
"FlevyPro has been a brilliant resource for me, as an independent growth consultant, to access a vast knowledge bank of presentations to support my work with clients. In terms of RoI, the value I received from the very first presentation I downloaded paid for my subscription many times over! The quality of the decks available allows me to punch way above my weight – it's like having the resources of a Big 4 consultancy at your fingertips at a microscopic fraction of the overhead."

– Roderick Cameron, Founding Partner at SGFE Ltd
"Several times a month, I browse FlevyPro for presentations relevant to the job challenge I have (I am a consultant). When the subject requires it, I explore further and buy from the Flevy Marketplace. On all occasions, I read them, analyze them. I take the most relevant and applicable ideas for my work; and, of course, all this translates to my and my clients' benefits."

– Omar Hernán Montes Parra, CEO at Quantum SFE