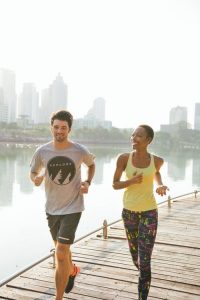 Bringing your best self to work is so important, and the only way to achieve it is to have a great work-life balance. The introduction of technology means that the fine line between work and home has started becoming more of a gray area. The right amount of "you time," being productive and working hard, will help you thrive at home and benefit the workplace too.
Establish boundaries
Whether you want to be at the school pick-up or don't want to be answering emails at midnight, setting boundaries is paramount. Communicate your needs to your boss and take into account the business needs too. Let them know if you would prefer to work late one night a week to catch-up with clients or employees, or work from home one day a week to free up valuable commuting time.
Look after your health
Sleep is vital, and if you're burning the candle at both ends, your work is eventually going to suffer. Prioritize it and make sure you have a set routine for the days you're in work. Getting a solid 7-9 hours each night will keep you fresh, so you can function at full capacity and complete your required tasks. It's also a great idea to plan your meals, whether you want to grab your breakfast on the way into work or prep your meals.
Best Health Mag realizes the importance of taking a lunch break and avoiding the mid-afternoon slump. It's tempting to grab food that's quick and easy, but putting effort into making healthier choices and getting away from your desk, will not only improve your work performance but also give you more energy.
Taking time for yourself in your lunch break is also a great way to improve your afternoon productivity. Booking a fitness class with Burn Studios is the best way to get those endorphins pumping. Whether you want to start your day with a sweat session or need to get rid of excess energy at lunchtime, you can choose from a selection of classes that will fit around your schedule, make you feel motivated and take on your day with more enthusiasm.
Work smarter
Don't get sucked into your email inbox first thing in the morning. Making a to-do list and flagging key tasks that require immediate action will help structure your day. Meetings can take over if you're not careful, so only attend them if they are absolutely necessary. If a meeting doesn't have a set agenda, establish the goal and desired outcome over email first. A great reference to keep on-hand is Get Minute's checklist, see if the meeting can be shortened in time or even be a quick email instead.
Invest time in family and friends
There's no better way to switch off than socializing with the people you love. Plan date nights with your partner, book in that spa day and take your kids to the park. By making your personal relationships a priority, your productivity and effectiveness on the job will also increase.