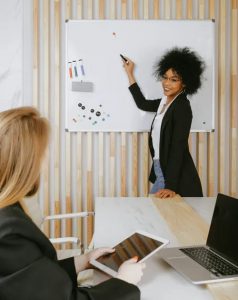 The Software as a Service (SaaS) industry is a competitive one. Due to cloud-based applications' agile nature, startups can quickly create a product and release it to customers.
But companies who fail to plan the launch of their products properly are likely to fail.
As many as 92% of software companies cease to exist within the first three years.
Here are 10 steps you should follow to launch your SaaS company the right way – so that it won't fail.
1. Put in place customer onboarding
Successful companies take great care to ensure their product is intuitive and easy to use. But it's vital to implement customer onboarding to turn users into paying customers.
Show users your core features with a short product tour. By highlighting the most important features, users can engage more with the app.
Create an email lifecycle which includes a how-to-guide after a user signs up, including activation and end of trial emails
Provide access to a FAQ guide and live chat for instant assistance
Other onboarding tools include tooltips, video guides, and onscreen animations.
2. Avoid releasing a bug-filled product
Releasing a bug-filled product will turn potential customers away, especially when alternative solutions are available from competing companies. To ensure a bug-free product, organizations can follow the software testing and automation life cycle.
Functionality testing
User experience testing
Performance and load testing
Compatibility testing
Security testing
Test management
Before going live with the final version, thoroughly test a beta version with a community of beta testers, a closed group of customers or people similar to your customers, and who can best replicate real-world use cases and environments. Avoid anyone with an emotional attachment to the product.
3. Look fresh
As a SaaS company you want to look fresh. Exciting! You do this by creating brand identity – this is the visual representation of their core values and character. To help build trust and create brand recognition, it needs to be professionally designed and memorable. Before considering any design options, first research your audience, create customer personas and determine the company's core values.
Then you can create the brand design and communication elements, such as:
Branding is crucial in a crowded industry. It helps showcase the organization's core values, create trust, and build a relationship with the customers.
4. Offer a free trial or release as a beta
When businesses first launch a SaaS product, initially charging customers may appear to be the best method to secure them and validate the product. But there are situations where delaying the need for customers to subscribe or pay can be beneficial.
Releasing a product as a beta version beforehand during a limited timeframe allows organizations to receive vital feedback and time to fix bugs while still allowing them to validate their product. It also allows customers time to adapt to using the product and implement it in their workflows. When it's time to pay, they will be more easily persuaded.
Implementing payment gateways (such as Stripe) can cost vital integration and launch time. Applications and requirements will need to be made, and changes to the company structure may be required, such as incorporating. The process of including payments could delay the launch by weeks or even months.
5. Utilize social media
Leveraging social media allows companies to communicate with thousands of potential users. And when a company launches its product, it's a vital tool to help spread its message. Identifying your target audience is key to optimizing your social media campaigns. LinkedIn is orientated towards B2B marketing, where-as Facebook and Instagram are used for B2C.
Many companies also use Twitter to update followers with news and updates about the business and product.
Creating a Facebook business page helps customers find you more easily, as more than 2 billion people use it.
6. Create a feedback funnel
The goal at launch is to provide a finished product with zero bugs and issues. But there will always be some that made it through, or some other kind of problem will occur.
While a soft launch can help resolve some of these issues, the optimal way to fix them is to set up a feedback funnel. Make it easy for users to report bugs by displaying a contact email address and auto-creating reports and logs users can send with their message.
Alternatively, provide a messaging option directly inside the product, including a feedback form.
7. Start writing blog posts
Publishing a blog posts allows companies to create awareness and establish trust and authority in their industry.
Create blog posts which identify pain points of customers and how the product helps
Perform research and publish results to be used by customers
Invite guests to publish articles
Businesses who share blog posts on social media sites and other channels can further increase their reach and create more awareness. B2B companies with a blog generate up to 67% more leads than companies who don't.
8. Establish an email funnel
Email allows businesses to create personal targeted messages, automate them with a funnel to help convert potential users to paying customers, and raise awareness before launching.
Generate email leads by asking users to sign up via social media and blog posts
Create a funnel that helps guide users through each stage of the buyers' journey and customer life cycle.

Awareness
Research
Comparison
Purchase
Retention

Share blog posts, updates, tips, and deals via email
Emails should retain the look and feel of the brand's design
9. Collect and analyze all data
Numbers and statistics are a significant selling factor and can help a business prove the popularity and usefulness of its product.
Compile data from different sources to use as a sales tool and prove the worth of the product. What stats to collect depends on the product. An invoice system, for example, can show the number of invoices and receipts generated, security software can provide the number of prevented attacks.
10. Create use cases/case studies
Use cases provide relevant examples of how a user can accomplish a goal using the product. It's a sales tactic that speaks more to the user than listing all the product's features and benefits. By performing market research beforehand, the organization can discover potential customers' pain points and showcase how the product benefits them.
Case studies are similar to use cases but are based on the real-life experiences of a customer. They act as social proof and use quotes and statistics as evidence to support the claims made.