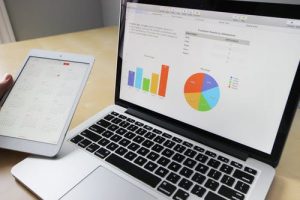 In the Digital Age today, most industries today in a state of flux driven by volatile market forces. These market changes are affecting how Finance needs to operate. Specifically, more than ever, Finance needs to be more strategic and likewise in stronger alignment with Strategy. Resultantly, an optimal Target Operating Model (TOM) is one that aligns for Strategy Development with Finance.
But, first, let's take a step back and look at some the global trends–and what their implications are on Strategy and, thereby, Finance.
Trend #1: Rising affluence of middle classes in emerging markets, rising risk profiles in individual markets.
The organization's strategic response to this trend can be summarized by: be global, act local. In other words, our market entry strategies should provide tailored, market-specific offerings–as opposed to a one-size-fits-all approach. A great example of this are financial product (e.g. insurance, banking) customization by country.
So, what's the implication for Finance?
We should develop alternative product and customer profitability models for markets.
Trend #2: Market consolidation.
As we see markets consolidate, the strategic response is faster entry into new geographies, as well as adopting business models with both organic and inorganic changes. We see this in the Hi-Tech industry, as companies are bundling and cross-selling products acquired through M&A.
The implication for Finance?
We need to make investments for more rapid integration. This is done through —
Robust process models and ERP system blueprint; and
Master data management
Trend #3: Dramatic shift in consumption patterns and emergence of consumer power.
The Strategy to react to this trend is to change business models to enable on-demand consumption of preferred devices. In Software, we see a noticeably shift from on-premise software to the rise of SaaS cloud consumption.
The implication for Finance?
We need to develop new pricing models. Furthermore, we should enable seamless bundling and cross-selling of services.
Trend #4: Boundary-less workforce.
Organizations now globally source talent with broader, deeper third-party leverage to create flexible capacity at low fixed costs. As for Financial implications, we can leverage a broader ecosystem of service providers for leading practice infusion. We also can develop more structured evaluation frameworks for service entities.
Trend #5: Increase in volume, velocity, and complexity of business data.
The strategic response is to develop new skills to best leverage newly available information. The financial response is train workforce on new methods (e.g., driver-based planning) and leverage external providers for niche services (e.g., advanced Analytics for second-order effects).
True gains are realized when Finance can strategically respond to changing operational requirements.
For the Finance Organization to be appropriately aligned with our Strategy Development, we require an Operating Model that supports this alignment. For us to design this Target Operating Model, we require a robust Governance Program that is anchored on 5 foundational elements:
Configuration
Mandate
Metrics
Tools
People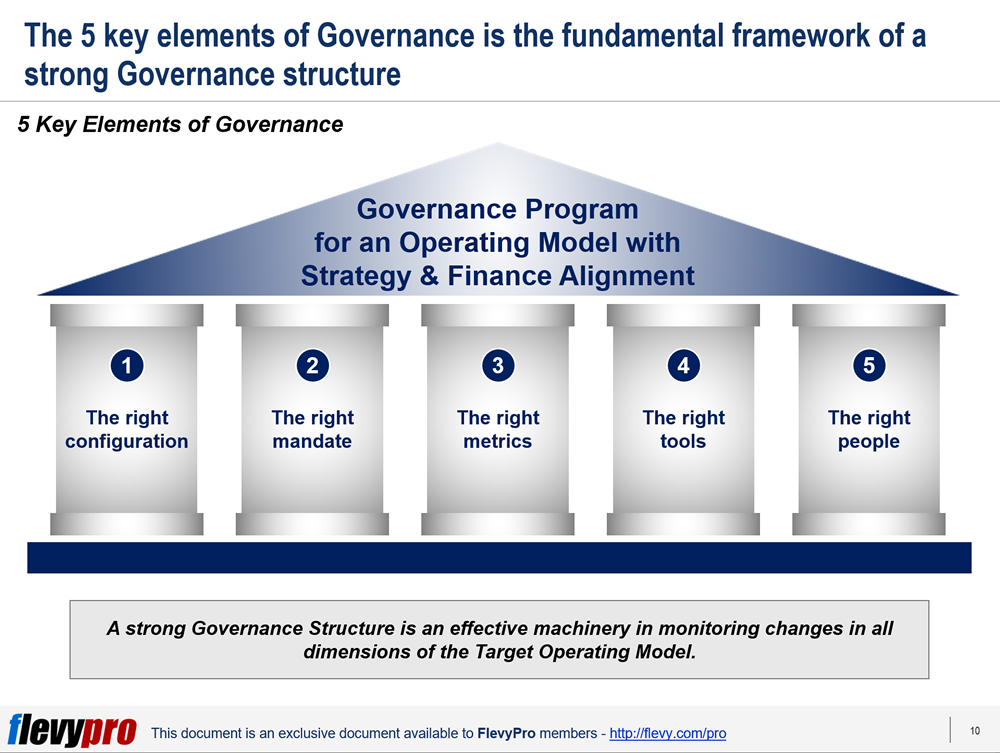 Let's dive a bit deeper into the 3rd element. The right metrics establishes the standards of measure in terms of Performance Management. The metrics framework should embody 3 factors:
1. End-to-End
All participants in the Value Chain must know how to contribute to the outcome. This requires understanding of the process inputs, outputs, and performance drivers.
2. Cascading
Good structures connect corporate goals to business drivers, performance metrics, and levers that impact those metrics.
3. Balanced
Measures should be effective and efficient, as well as reactive and predictive. Soft metrics such as succession readiness and the effectiveness of training program should also be measured by the scorecards. For more information on this topic, take a look at our materials on the Balanced Scorecard.
Be aware that Finance programs may take months or years to generate planned returns. This must be measured using separate scorecards and targets.
Interested in learning more about these elements of Governance? This, and most aspects around aligning Strategy and Finance, is discussed in our framework Strategy and Finance Alignment.
Do You Find Value in This Framework?
You can download in-depth presentations on this and hundreds of similar business frameworks from the FlevyPro Library. FlevyPro is trusted and utilized by 1000s of management consultants and corporate executives. Here's what some have to say:
"My FlevyPro subscription provides me with the most popular frameworks and decks in demand in today's market. They not only augment my existing consulting and coaching offerings and delivery, but also keep me abreast of the latest trends, inspire new products and service offerings for my practice, and educate me in a fraction of the time and money of other solutions. I strongly recommend FlevyPro to any consultant serious about success."

– Bill Branson, Founder at Strategic Business Architects
"As a niche strategic consulting firm, Flevy and FlevyPro frameworks and documents are an on-going reference to help us structure our findings and recommendations to our clients as well as improve their clarity, strength, and visual power. For us, it is an invaluable resource to increase our impact and value."

– David Coloma, Consulting Area Manager at Cynertia Consulting
"As a small business owner, the resource material available from FlevyPro has proven to be invaluable. The ability to search for material on demand based our project events and client requirements was great for me and proved very beneficial to my clients. Importantly, being able to easily edit and tailor the material for specific purposes helped us to make presentations, knowledge sharing, and toolkit development, which formed part of the overall program collateral. While FlevyPro contains resource material that any consultancy, project or delivery firm must have, it is an essential part of a small firm or independent consultant's toolbox."

– Michael Duff, Managing Director at Change Strategy (UK)
"FlevyPro has been a brilliant resource for me, as an independent growth consultant, to access a vast knowledge bank of presentations to support my work with clients. In terms of RoI, the value I received from the very first presentation I downloaded paid for my subscription many times over! The quality of the decks available allows me to punch way above my weight – it's like having the resources of a Big 4 consultancy at your fingertips at a microscopic fraction of the overhead."

– Roderick Cameron, Founding Partner at SGFE Ltd
"Several times a month, I browse FlevyPro for presentations relevant to the job challenge I have (I am a consultant). When the subject requires it, I explore further and buy from the Flevy Marketplace. On all occasions, I read them, analyze them. I take the most relevant and applicable ideas for my work; and, of course, all this translates to my and my clients' benefits."

– Omar Hernán Montes Parra, CEO at Quantum SFE