Indezine has done an in-depth review on Flevy Tools, our free PowerPoint plugin.  Indezine is one of the largest, most reputable online communities for PowerPoint users.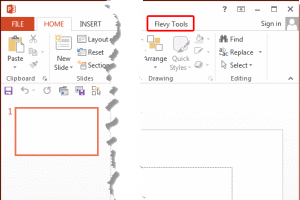 Here is the introduction from the review:
Most PowerPoint users either waste so much time recreating the same foundational business diagrams again and again. Others just copy something similar and reuse them. Either option is not the best available — yet that's what most PowerPoint users do. It is in scenarios like these that a PowerPoint add-in like Flevy Tools can help.

Flevy Tools lets you easily create automated diagrams such as Approach Diagrams, Step Box Diagrams, Harvey Ball Diagrams, Gantt Charts, etc. All graphics created are native PowerPoint objects that you can edit further. Even more amazing — this tool is free. All organizations from startups to large enterprises can benefit by using Flevy Tools to jumpstart projects.
Read the full review here: http://www.indezine.com/products/powerpoint/addin/flevy-tools.html.
Download Flevy Tools for free here: https://flevy.com/powerpoint-plugin.