A month ago, we released Flevy Tools to our modest list of newsletter subscribers. Flevy Tools is a PowerPoint plugin. It can dynamically create various business diagrams, such as Gantt Charts and Harvey Ball Diagrams.  The diagrams are highly customizable.
We immediately received great feedback via email, many compare the plugin to ones available at major consulting firms, such as Accenture.  Some even offered to pay!
However, we decided to keep it free, as it was part of an experimental social media campaign. The purpose of the campaign was to target presentation-heavy professionals, such as management consultants, on LinkedIn. Flevy Tools is free to download, but first, you need to "share" it on LinkedIn. This is the architected viral nature of our campaign.
Thus far, the campaign has been successful. With limited promotion other than the initial set of emails, we've reached 1000-plus LinkedIn shares. We expect the number of users to actually far exceed 1000.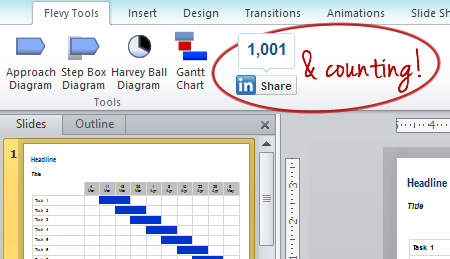 Our next milestone is 2,000 shares.  Once we reach this goal, we will release the next version to Flevy Tools, which will include support for additional diagrams.   Our goal is make Flevy Tools a leading plugin for business diagramming needs–to have it on par with, if not superior to, the ones developed in-house by top tier consulting firms.
So, stay tuned!
In the meantime, do you have Flevy Tools?  Share and download the link below–help us reach 2000 shares!
Have any diagram requests?  Waterfall Charts?  Marimekko? Pyramids?  Scorecards? Segment Diagrams?
Feel free to post them in the comments below.