Federal Enterprise Architecture Framework (FEAF): Business Reference Model (BRM)
Featured Best Practice on Enterprise Architecture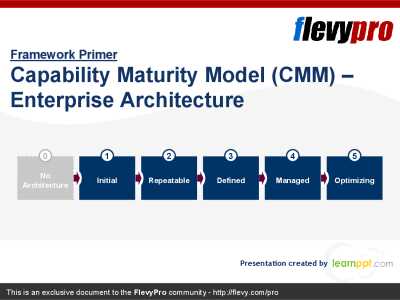 24-slide PowerPoint presentation
The Capability Maturity Model (CMM) is an organizational model that describes 5 evolutionary stages (or levels), in which the business processes in an organization are managed. The term "maturity" relates to the degree of formality and optimization of processes, from ad hoc practices, to formally
[read more]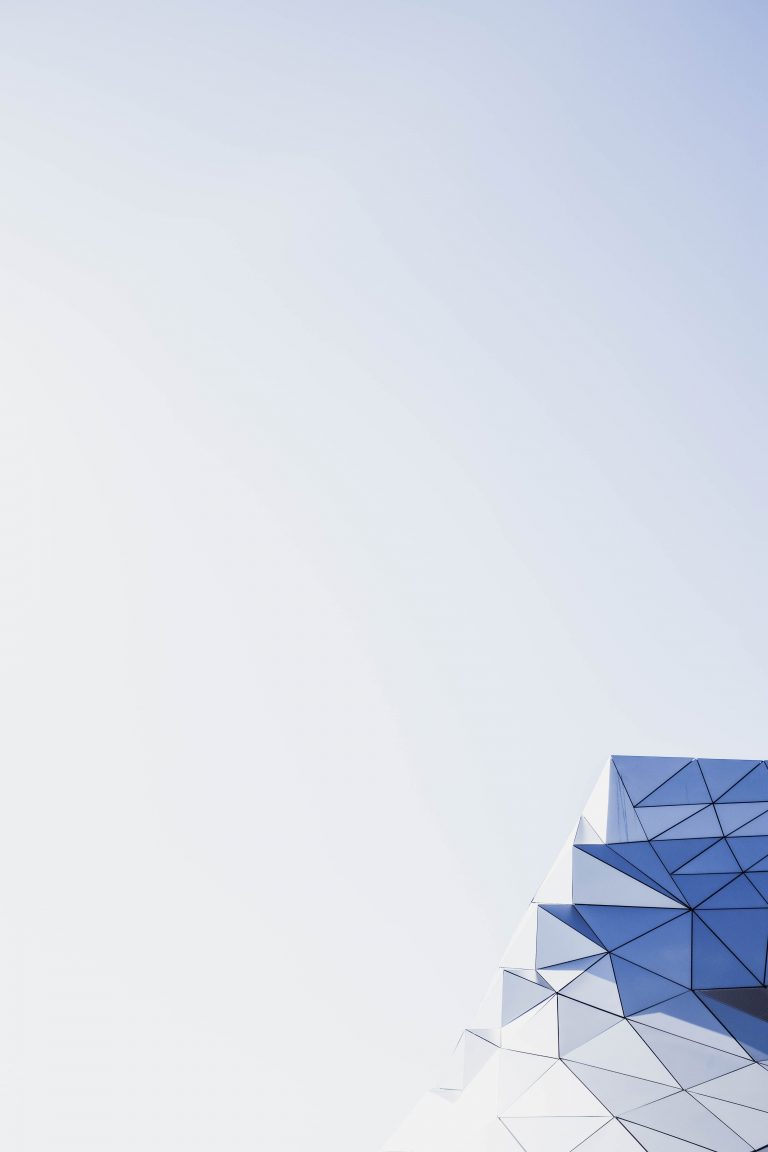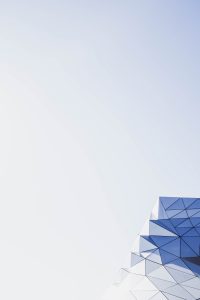 Business and technology resources are aligned using Enterprise Architecture (EA) in order to achieve strategic results, make organizational performance better, achieve Cost Optimization, and guide departments to fulfill their central missions more efficaciously through Operational Excellence.
Federal Enterprise Architecture Framework (FEAF) does that for any U.S. federal agency and helps systems transcend interagency boundaries.  FEAF offers a shared approach for the consolidation of strategic, business, and technology management as a component of Organization Design and Performance Management.  The Enterprise Architecture methodology introduced under FEAF transcended several interagency boundaries.
The FEAF comprises of 6 interconnected Reference Models, linked through Consolidated Reference Model (CRM), each relating to a sub-architectural domain of the framework.
These Reference Models convey word-based abstractions of original architectural data and deliver a structure for relating significant elements of the FEA in a collective and uniform manner:
Strategy Domain -> Performance Reference Model (PRM)
Business Domain -> Business Reference Model (BRM)
Data Domain -> Data Reference Model (DRM)
Applications Domain -> Application Reference Model (ARM)
Infrastructure Domain -> Infrastructure Reference Model (IRM)
Security Domain -> Security Reference Model (SRM)
Discussed here is 1 of the 6 reference models of the Federal Enterprise Architecture Framework—the Business Reference Model (BRM), its structure, framework, touchpoints with other reference models, and BRM Taxonomy.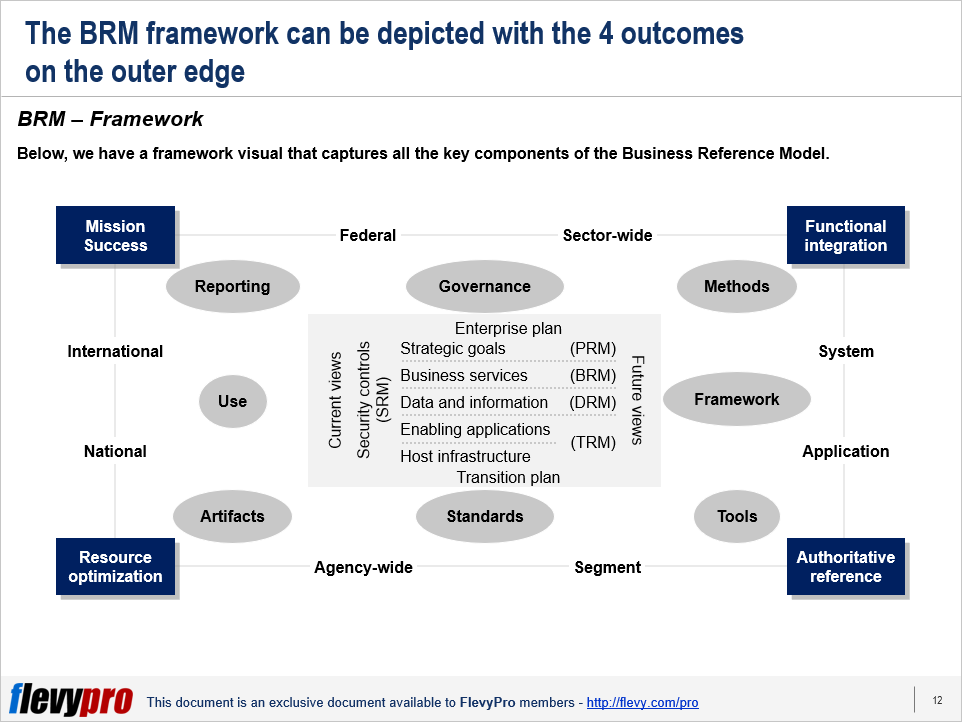 BRM is employed to explain the type of business functions at the system, segment, agency, sector, Federal, national, or international levels rather than giving an organizational vantage point.
Cross-government cooperation between the Executive departments and subsidiary agencies—as well as external partners—is promoted by describing the Federal government in this manner enabling:
Uncovering of possibilities for cost reduction.
Collaboration.
Shared services.
Solution reuse in agency IT portfolios and collaboration between and within agency.
BRM elucidates the "what we do" of the organization via the delineation of outcome-oriented and measurable functions and services.
BRM's real usefulness and worth is gained when it is put to use effectively in business analysis, design, and decision support that aids in improving the working of an agency, bureau, or program.
BRM classification is organized as a 3-layer order, embodying Executive Branch Mission Sectors, Business Functions, and Services.
Mission Sector – Pinpoints 10 business functions of the Federal government in the Common Approach to Enterprise Architecture.
Business Function – Defines the Federal government functioning at high level, by means of budget function classification codes.
Service – Elaborates further what the Federal government does at a subsidiary or section level.
Mission Sector is exclusive to the executive branch of the Federal government.  This layer should be used appropriately for other organizations.
The 3 layers allow arrangement and analysis of IT investments and applications for an assortment of purposes.
All reference models are envisioned to work jointly.  BRM's further mappings to other reference models contribute added context for the investment or activity.  Input for BRM is through Performance Reference Model (PRM) enabling BRM to feed other reference models.
BRM is intended to deliver agencies with a uniform means to classify their capital investments, detect areas for collaboration and reuse, centered on delivery of business capability.
BRM also aids in refining the general IT architecture to further improve mission outcomes. It extends decision-support abilities to stakeholders and various levels of staff, within and outside an agency, and across the Federal government.  From a Federal viewpoint, BRM permits discovery of prospects for joint effort and reuse of shared services, government-wide.  This collaboration takes 2 forms:
Inter-agency
Intra-agency
BRM is usable in combination with several architecture, development, or analysis methods to deliver all-inclusive standardized design, development, and governance abilities.  There are 3 primary types of BRM methods:
Business Architecture for Decision Support
Business Process Modeling
Business Process Modeling Notation (BPMN) 
Interested in learning more about the FEAF Business Reference Model?  You can download an editable PowerPoint on FEAF: Business Reference Model here and FEAF associated series PowerPoint presentations on the Flevy documents marketplace.
Do You Find Value in This Framework?
You can download in-depth presentations on this and hundreds of similar business frameworks from the FlevyPro Library.  FlevyPro is trusted and utilized by 1000s of management consultants and corporate executives. Here's what some have to say:
"My FlevyPro subscription provides me with the most popular frameworks and decks in demand in today's market.  They not only augment my existing consulting and coaching offerings and delivery, but also keep me abreast of the latest trends, inspire new products and service offerings for my practice, and educate me in a fraction of the time and money of other solutions.  I strongly recommend FlevyPro to any consultant serious about success."

– Bill Branson, Founder at Strategic Business Architects
"As a niche strategic consulting firm, Flevy and FlevyPro frameworks and documents are an on-going reference to help us structure our findings and recommendations to our clients as well as improve their clarity, strength, and visual power.  For us, it is an invaluable resource to increase our impact and value."

– David Coloma, Consulting Area Manager at Cynertia Consulting
"FlevyPro has been a brilliant resource for me, as an independent growth consultant, to access a vast knowledge bank of presentations to support my work with clients.  In terms of RoI, the value I received from the very first presentation I downloaded paid for my subscription many times over!  The quality of the decks available allows me to punch way above my weight – it's like having the resources of a Big 4 consultancy at your fingertips at a microscopic fraction of the overhead."

– Roderick Cameron, Founding Partner at SGFE Ltd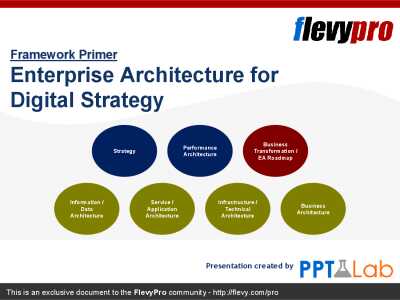 14-slide PowerPoint presentation
Enterprise Architecture (EA) is a well-defined framework for conducting enterprise analysis, design, planning, and implementation for the successful development and execution of strategy. Practitioners of EA, known as Enterprise Architects, are often called upon to draw conclusions from the
[read more]
Readers of This Article Are Interested in These Resources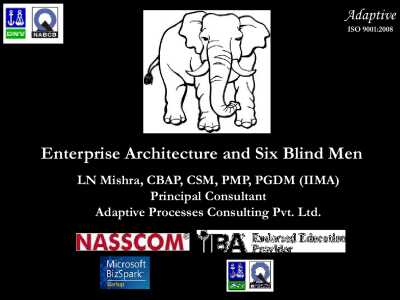 36-slide PowerPoint presentation
Enterprise architecture: Description of an organization's business processes, IT software and hardware, people, operations and projects, and the relationships between them.
Excel workbook

35-slide PowerPoint presentation
About Mark Bridges
Mark Bridges is a Senior Director of Strategy at Flevy. Flevy is your go-to resource for best practices in business management, covering management topics from
Strategic Planning
to
Operational Excellence
to
Digital Transformation
(
view full list here
). Learn how the Fortune 100 and global consulting firms do it. Improve the growth and efficiency of your organization by leveraging Flevy's library of best practice methodologies and templates. Prior to Flevy, Mark worked as an Associate at McKinsey & Co. and holds an MBA from the Booth School of Business at the University of Chicago. You can
connect with Mark on LinkedIn here.
application reference model, Applications Domain, ARM, Business Architecture for Decision Support, Business Domain, Business Function, Business Process Modeling, Common Approach to Enterprise Architecture, consolidated reference model, CRM, Data Domain, data reference model, DRM, Enterprise Architecture, Enterprise Architecture methodology, FEA, FEAF, Federal Enterprise Architecture Framework, Infrastructure Domain, infrastructure reference model, IRM, Mission Sector, performance reference model, PRM, Reference Models, Security Domain, security reference model, Service, SRM, Strategy Domain
Top 10 Recommended Documents on Enterprise Architecture
24-slide PowerPoint presentation
14-slide PowerPoint presentation
36-slide PowerPoint presentation
Enterprise architecture: Description of an organization's business processes, IT software and hardware, people, operations and projects, and the relationships between them.
Excel workbook
35-slide PowerPoint presentation
38-slide PowerPoint presentation
27-slide PowerPoint presentation
38-slide PowerPoint presentation
32-slide PowerPoint presentation
Business and technology elements are aligned by means of Enterprise Architecture (EA) so as to
24-page Word document

» View more resources Enterprise Architecture here.
» View the Top 100 Best Practices on Flevy.