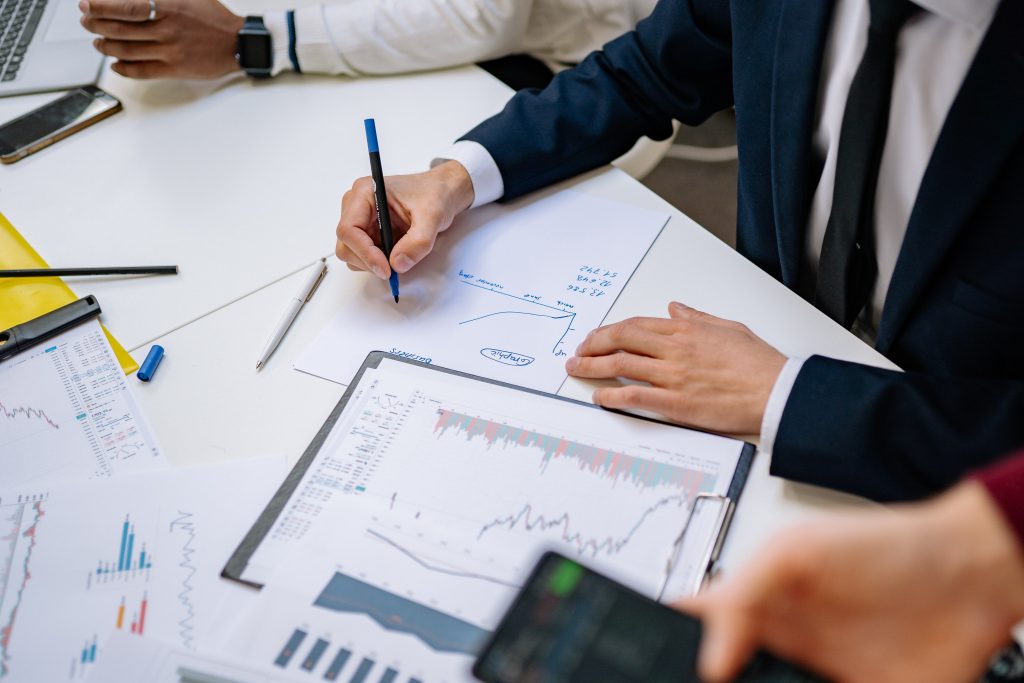 There is abundance of data being generated and stored by organizations across the globe. Data storage is growing at the pace of around 40% per year. Digital assets are of immense value for organizations. However, not too many organizations know the real worth of their data.
Technological disruption and adoption of Big Data and Analytics as the major engine to creating priceless insights and a Learning Culture has pushed the organizations to know how much their data assets actually value. Data Valuation, moreover, plays a key role in evaluating M&A deals, bankruptcy filings, and sales of data assets.
Enterprises are increasingly gathering and analyzing vast pools of data generated on a daily basis to know more about their customers' requirements and preferences. For instance, Microsoft purchased LinkedIn for $26.2 billion in 2016. The major drive behind this acquisition of LinkedIn was the 433 million registered users (100 million active users) and the vast pools of valuable data that they generated each day.
Instead of valuing their data assets, organizations are generally more concerned about the issues associated with data storage, security, access, and analysis. These issues are the core responsibility of the IT function however, the IT unit alone is incapable of making the call to transform data into business value.
At most companies there aren't any Data Valuation practices in place. In the name of Data Valuation practices, the most that majority of the organizations embark on include time and effort-intensive Data Classification efforts.
These Data Classification initiatives typically require categorization of terabytes of data into "critical," "important," and "other" groups. The "other" category is often challenging to categorize due to its context-specific nature. The valuation of this category is complicated as it is based on a number of attributes, e.g. content, usage, age, author, frequency, history, revenue potential, security needed etc.
To work around these challenges, executives need to formalize their data valuation practices into a structured Data Valuation Framework. The Data Valuation Framework is a combination of 3 sources of value:
Value of Data as a Strategic Asset – Deals with analyzing the availability, usability, and monetization of customer data that has the potential to produce critical insights.
Value of Data in Usage – Pertains to mapping the usage frequency, workload, and transaction rate of data across organizational applications and systems.
Expected Future Value of Data – Data assets are typically tracked with other intangible assets, e.g., goodwill, patents. However, their recognizable market-based transactions, revenue generated through savings, and cost borne to create / substitute them are important to measure their value.
Whichever way a business takes to incorporate Data Valuation into its overall strategy, research brings to light a practical 3-step approach that organizations can embrace to implement Data Valuation practices.
Define and Disseminate Data Valuation Policies Across the Board.
Develop Internal Data Valuation Capabilities.
Select and Establish Appropriate Data Valuation Processes.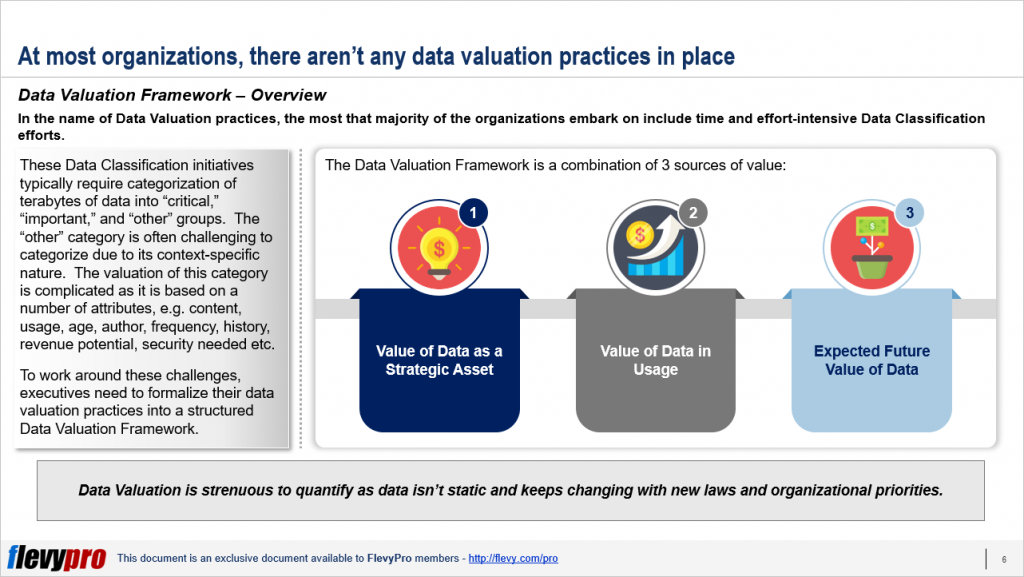 Let's delve deeper into the first step of the Data Valuation implementation approach.
Define and Disseminate Data Valuation Policies Across the Board.
The 1st step involves clearly outlining, classifying, and sharing Data Valuation policies throughout the organization. Leadership should analyze whether there is a practice to develop a data catalog—to track all data assets and their utilization—already in place at the organization. The business case for Data Valuation is often an internal security audit to assess data risks, a desire to evaluate which business units produce the most data volume, and the cost and value associated with data volume growth, or an M&A.
Interested in learning more about the other steps to valuating Data assets? You can download an editable PowerPoint on Data Valuation here on the Flevy documents marketplace.
Do You Find Value in This Framework?
You can download in-depth presentations on this and hundreds of similar business frameworks from the FlevyPro Library. FlevyPro is trusted and utilized by 1000s of management consultants and corporate executives. Here's what some have to say:
"My FlevyPro subscription provides me with the most popular frameworks and decks in demand in today's market. They not only augment my existing consulting and coaching offerings and delivery, but also keep me abreast of the latest trends, inspire new products and service offerings for my practice, and educate me in a fraction of the time and money of other solutions. I strongly recommend FlevyPro to any consultant serious about success."

– Bill Branson, Founder at Strategic Business Architects
"As a niche strategic consulting firm, Flevy and FlevyPro frameworks and documents are an on-going reference to help us structure our findings and recommendations to our clients as well as improve their clarity, strength, and visual power. For us, it is an invaluable resource to increase our impact and value."

– David Coloma, Consulting Area Manager at Cynertia Consulting
"FlevyPro has been a brilliant resource for me, as an independent growth consultant, to access a vast knowledge bank of presentations to support my work with clients. In terms of RoI, the value I received from the very first presentation I downloaded paid for my subscription many times over! The quality of the decks available allows me to punch way above my weight – it's like having the resources of a Big 4 consultancy at your fingertips at a microscopic fraction of the overhead."

– Roderick Cameron, Founding Partner at SGFE Ltd