Editor's Note: Ganesh Rajagopalan is a seasoned management consultant and former investment banker.  He is also a leading author on Flevy, having published numerous business frameworks on topics such as Strategy Development, Investment Analysis, and Value Chain Analysis.  You can view all his materials here.
* * * *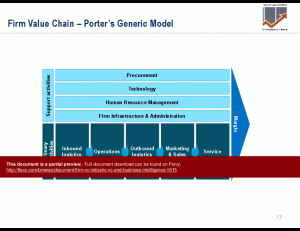 Most would be familiar with the term "value chain" (figure to the right). However, it is interesting to note that there are many standpoints from which it is viewed.  One key perspective is its customer oriented/focused approach. According to it:
All that a firm does or is planning to do in terms of products/services, operations, logistics and support functions should flow from its knowledge and understanding of the industry, the market place, potential customers and competition.
The terms 'does' or 'planning to do' encompass strategies, tactics, activities and tasks at all levels.
The larger environment in which the firm is seen to operate is many a times termed as the 'value system' which essentially is the 'industry value chain' as against the firm's "value chain." The firm value chain becomes a part of the larger industry value chain (figure below).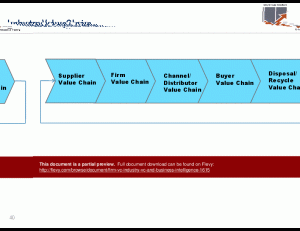 Other aspects of this standpoint from a 'firm focus' perspective can be as follows:
The environment and industry in which the firm functions is an essential element in determining the market's attractiveness in terms of present and likely future demand, ease of doing business, as well as the level of competition.
In this sense, it is the environment and industry in which the firm operates that will in-turn determine the firm's strategy in terms of the market segments to serve, products to offer, operations to perform (production, logistics, marketing & selling and after sales service), and the most effective method to do it.
The enablers to these key or primary activities also need to be configured and these are termed as support activities–human resources development, financial management & accounting, technology & information system, other firm administration activities etc.
The term value is used to indicate that it is these set of activities which create value for the customers the firm is aspiring to serve–the price that he/she/it is willing to pay for the product or service given the benefit/utility perceived or realized by using it.
The firm's strategy will also consider how direct and indirect competition is delivering and/or is looking to deliver this value and therefore how to do it better.
This value has to be delivered in a most cost effective way to ensure good profitability or margin.
From a 'value system' or external perspective it needs to be realized that:
Anyone associated with a given industry, be it the product manufacturer/service provider, supplier to these entities, product distributors, financial institutions, consultants, analysts, and such other players and stakeholders will be able to deliver better, reliable, and more consistent results/outputs if their focus is not just the firm concerned (internal or firm focus), but also larger industry value chain (firm's linkages to external dynamics).
For an effective achievement of the performance objectives set by such entities and individuals associated with a given industry, a good insight into the industry value chain also is imperative.
The firm and industry value chain also lends itself to the understanding the firm's efficiency dynamics and generating business intelligence. To get greater insights into these and many similar facets do check out this ready to use presentation with slide notes at Flevy here.
For the 'value system' point of view explained above, the ready to use presentation on mining industry value chain (again with slide notes) at Flevy sets outs out to do just that.