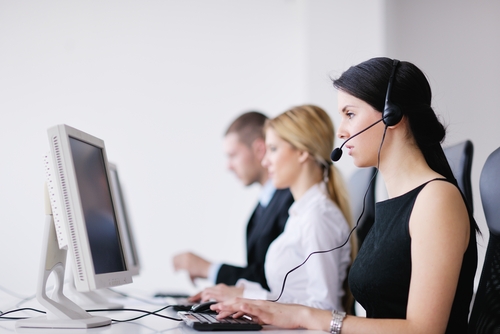 A product is a tangible thing. From the framework of relationship marketing theory, a product can never create or maintain a connection. This ability to develop long lasting relationships falls to the customer service team. Customer care is more than simply fixing problems. It is establishing a continual link between your customer and your business. If done properly, this link will lead to future business and positive marketing engagement. If handled incorrectly, your company is marketing its failure. Build a customer service team that will gain a good reputation for your company and brand fidelity in perpetuity.
Can't Fake Happiness
Your first step is creating a team that can handle all facets of customer care. They need to be clever enough to handle problems, personable enough to promote your marketing message, and loyal enough to be invested in the overall success of the organization. Most of all, they need to be happy. There is a large body of research coming out of the positive psychology camp that shows that happy employees are more productive and establish stronger positive relationships. As a business owner, these stronger positive relationships translate into lasting customer loyalty and future sales. Since happiness is a subjective quality, you can assess it without the need of a psychometrist. Simply ask what makes the person happy. If the answer has an internal locus of control, like love or fun, then you have a truly happy person.
One Size Does Not Fit All
Every business needs a customer service department but the type of customer care is dependent on the industry. Even substance abuse addiction facilities are touting the need for customer service as part of their treatment modality. They are finding that good follow-up leads to lower relapse and higher treatment success. Match your customer service methodology to your company. A tech company will have different needs than a membership service organization. If you use a cloud-based contact system, you will have scalability to offer customer service in multiple ways so that your customers can access your care center in the most convenient manner.
Follow Kano
The Kano Model of Customer Satisfaction is an analytic methodology for classifying product characteristics against consumer perception. According to Kano, there are three attributes: threshold, performance and excitement. Threshold is the minimum "must haves" of the product and your customer service people must deliver them to have any hope of positive customer engagement. If you sell car parts and the piece that the customer has is not compatible with his car then your company has not met threshold. The best your service people can do is refund the part.
Performance attributes are the quality indicators of the product or service. Generally a consumer is willing to pay more for high performance. This is where your customer service staff needs to over deliver. The performance indicator is the number one thing that the customer will be requesting. By delivering high on this indictor, the consumer will have a strong positive perception of your business.
Over delivering also lends itself to the excitement attribute which is often unspoken and unexpected. By throwing in those extras, your customer service department is guaranteeing a favorable reaction from the consumer. This will lead to a long term relationship with loyalty, good marketing, and consistent sales.