6 Best Virtual Data Room Providers: 2022 Reviews
Featured Best Practice on Information Technology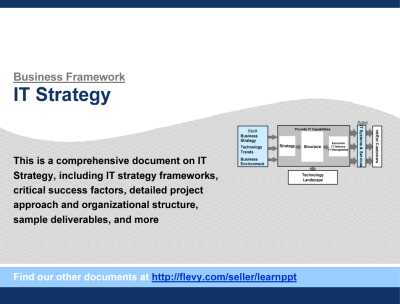 30-slide PowerPoint presentation
The key drivers of Information Technology (IT) or Management Information Systems (MIS) value are an organization's IT mindset and its ability to execute. Today's best practices show that IT value can be maximized when enterprise IT investments are aligned with business goals and IT execution is
[read more]
Leading Virtual Data Rooms for Business
A virtual data room (VDR) is a software-as-a-service (SaaS) that lets companies share sensitive information via the internet, while preserving full control and exclusive ownership of it. VDRs play an important role in supporting external-facing workflows in many fields, including finance (mergers and acquisitions and initial public offerings (IPOs) are two common use cases), law, and scientific research.
Starting a new business is always exciting, but it is backed up by a lot of critical thinking, planning, and fund management. As startups go digital, it is critical to choose the right virtual platforms, such as data room software, to streamline business processes.
If you're having a hard time deciding what type of digital data room you need for your business, this guide will help you make a better decision.
What Should You Look for in Data Room Software?
What you want in an electronic data room is entirely up to you. However, here's what you should look for in the data room.
The main purpose of the data room is to simplify things, not to complicate them. Choose a data room that is easy to use and your employees can navigate easily.
Look for a provider that will either help you set up a data room, or at least provide easy-to-understand guides for setting up and using a data room.
Audit logs or monitoring tools are a must-have feature for any data room. A virtual data room that does not keep track of everything is simply useless.
Never compromise the security of your data room. Data room software helps you protect your business data, and that requires using certified data room services. Always look for certified vendors that comply with international data security standards.
Virtual Data Room is only as good as its customer support. It is possible that you may encounter difficulties operating the data room, and only a strong customer support team can help you with this.
Last but not least, always compare multiple data rooms based on their features, customer support, pricing plans, and customer reviews.
Top 6 Virtual Data Room Providers
Online data room providers help streamline the data management system and can serve as a virtual workspace. Nevertheless, can you trust all the data room providers on the market? Choosing the right data room software is very important if you want to get what you really want from VDR software. Here are the Top 6 that we advise.
iDeals data room
An iDeals dataroom software employs over 100 tools to help clients share documents securely with user management options, the most reliable security features, and an intuitive interface. Besides, you get data room setup assistance from the iDeals team to be able to easily manage all the system options.
iDeals is a suitable choice for small, medium, and enterprise-level companies and organizations across all sectors, including investment banking, real estate, and government. iDeals virtual data room offers the necessary highest-grade security measures and instruments for various stages of M&A, board communications, fundraising, and more.
Key features:
Drop-n-Drop functionality
Wide range of customizable and collaboration tools
Bulk upload capability
Multilingual interface
IntraLinks
Are you looking for a data room for business that offers the robust features your business needs for due diligence? Internal links can be the answer to your company's problems. In addition, the digital solution also provides advanced features such as analysis and management of data files using artificial intelligence.
Key features:
Analytical tools
Intuitive interface
Drag and drop capability
Auto fill function
Multilingual support
Ansarada
Ansarada is an AI-powered software-as-a-service platform that has everything a business needs for a successful and seamless transaction process. Moreover, if you're looking for a platform with advanced security tools like save and print settings, security checks, and watermarks, Ansarada might be the one for you.
Key features:
You can easily integrate with Dropbox and Google Drive
Strong reporting functionality
Collaboration features
Governance, risk and compliance functions
Box
If you are just starting out and running your business on a small scale, Box data rooms could be the solution you need. This is because this data room service has multiple pricing plans for individuals, small businesses, and enterprises.
Box plans for businesses start at $5 to $25 per user per month. Moreover, Box also offers a free 30-day trial. Speaking of features, Box comes loaded with features like auto-expiry, mobile security controls, custom branding, and data loss prevention. Box data rooms support Windows, Windows Phone, Android and iOS and offer unlimited storage.
Digify
Digify provides user-friendly data room services that cater to the needs of everyone, including small and medium businesses. In addition, it offers top-notch document management features and customization tools that add a personal touch to your VDR interface. The biggest advantage is that its Gmail extension can help you keep track of email attachments.
Key features:
Offers real-time notifications for document actions
Robust security tools such as watermarks print and download permissions, administrative controls, etc.
Supports a wide range of file formats
File statistics for the whole team
Availability of Android, Linux, Mac, Windows, iPad, iPhone
SecureDocs
SecureDocs provides a digital solution available on all platforms, making it one of the easiest and most secure options even for individual users. Furthermore, the platform is equipped with features such as an embedded electronic signature, two-factor authentication, etc.
What's more, SecureDocs also offers a free demo and a one-week trial for large companies to test their skills.
Key features:
Advanced security tools
Customizable NDA tools
Annotation tools
Reporting tools
Final words
Virtual data rooms are an asset to your company, and careful research before investing in them can help you get the results you want. Choosing the right data room software depends on your needs, but make sure it is easy to use and has solid customer support. Also, you can read more here and see if you can find the right VDR software for your new business.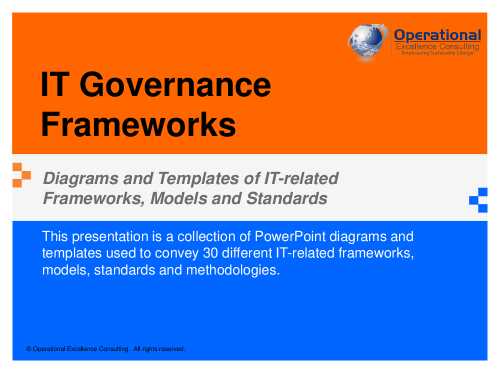 203-slide PowerPoint presentation
This presentation is a collection of PowerPoint diagrams and templates used to convey 40 different IT-related frameworks, models, standards and methodologies. (Please note that these are diagrams and charts that are to be used in your own business or classroom presentations. These are not
[read more]
Do You Want to Implement Business Best Practices?
You can download in-depth presentations on Information Technology and 100s of management topics from the FlevyPro Library. FlevyPro is trusted and utilized by 1000s of management consultants and corporate executives.
For even more best practices available on Flevy, have a look at our top 100 lists:
These best practices are of the same as those leveraged by top-tier management consulting firms, like McKinsey, BCG, Bain, and Accenture. Improve the growth and efficiency of your organization by utilizing these best practice frameworks, templates, and tools. Most were developed by seasoned executives and consultants with over 20+ years of experience.
Readers of This Article Are Interested in These Resources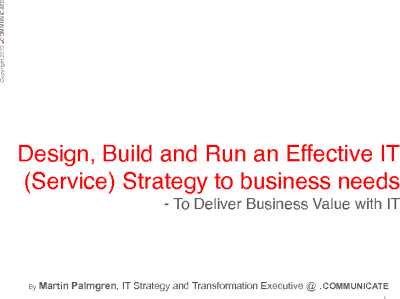 160-page PDF document
The "Deliver Business Value with IT" series provides a good overview and actionable material of the ways a CIO can provide valuable and effective support to your company strategy and leverages business model concepts to deliver business value from IT. Martin Palmgren propose an extremely
[read more]
129-slide PowerPoint presentation

197-page PDF document
About Shane Avron
Shane Avron is a freelance writer, specializing in business, general management, enterprise software, and digital technologies. In addition to Flevy, Shane's articles have appeared in Huffington Post, Forbes Magazine, among other business journals.
Top 10 Recommended Documents on Information Technology
30-slide PowerPoint presentation
203-slide PowerPoint presentation
160-page PDF document
129-slide PowerPoint presentation
197-page PDF document
41-slide PowerPoint presentation
16-page Word document
28-slide PowerPoint presentation
178-slide PowerPoint presentation
24-slide PowerPoint presentation

» View more resources Information Technology here.
» View the Top 100 Best Practices on Flevy.