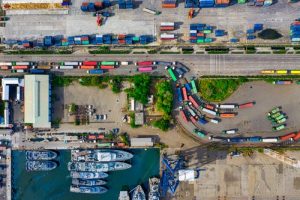 For many manufacturing companies, the biggest challenge is developing a successful and reliable supply chain. Supply chain management is always a critical part of the process, although it isn't always the easiest or fastest component to develop. Having a supply chain management strategy alone is not enough.
Supply chain management is also an ongoing and continuous process. You can't expect to establish a supply chain strategy and expect it to work indefinitely, especially with the market changing as rapidly as it is today. To maintain that competitive advantage, constant improvement to the supply chain is required, and these tips on how to improve your supply chain management will get you started.
A Well-Defined Strategy
Having a written strategy may not be a priority for many, but a written supply chain strategy is a necessity. After all, a supply chain strategy defines how resources are acquired and allocated over time. Without a clear, well-defined strategy, it is nearly impossible to establish a robust supply chain, let alone improve it over time.
Supply chain strategy goes beyond setting objectives and defining budgets for certain items. It also covers things like reduction of risk, procurement procedures, and collaboration in supply chain management. More importantly, it acts as a benchmark for assessing strengths and weaknesses of the manufacturing business.
A well-defined strategy must also include Key Performance Indicators or KPIs. These are the metrics against which the effectiveness of the supply chain gets measured. These are also the metrics that can be used to search for opportunities and potential improvement to the entire process. It is easy to see how a written supply chain management strategy is important.
Invest in Skills
A lot of business owners and decision makers immediately look towards systems and sources when trying to improve their supply chains. Yes, these elements are important; we will get to them later in this article. However, they are not the first thing to improve when trying to take the supply chain to the next level of efficiency and effectiveness.
What you need to be investing in is people – particularly people directly connected to the business process of supply chain management. In recent years, there has been a growing demand for skilled supply chain managers and operations managers in general, signaling that the market is paying attention to all the right things.
Many business owners even go as far as going back to top universities like Kettering University upon realizing the importance of having a robust and reliable supply chain in a manufacturing process. You can learn more about the opportunity to pursue an Online Master of Science Supply Chain Management degree to help you and your business thrive in this economy.
Set Detailed Goals
Supply chain is a big process that involves people, systems, and other elements. It is essentially a series of processes and workflows designed to produce and distribute commodities. That crucial part, the one that says a supply chain contains processes and workflows, is often neglected. Aside from seeing the bigger picture, it is also necessary to go into the details and optimize smaller processes.
Setting detailed goals for individual processes is a must. You have to balance between focusing on the entire process and appreciating the smaller workflows and processes within the supply chain. Set objectives to achieve at every stage and begin marking milestones as you go along.
The more you dig into details of the supply chain, the easier it will be to find ways to improve the supply chain. Making small adjustments to a workflow may not seem like a big change at first, but incremental changes across the entire chain will lead to a substantial boost in efficiency and effectiveness, especially in the long run.
The Perfect Loop
Let's not forget that supply chain management is also about communications. The process itself involves a lot of people – and potentially external sources and contractors – and all parties involved need to be able to communicate seamlessly. This is where a good unified communications system can be invaluable. By creating the perfect communications loop, managing even the most complex supply chain becomes easy.
A good communications loop has other benefits too. For starters, parties that are included in the loop feel more appreciated and involved, which means they are more likely to contribute to the growth of the supply chain in many ways. At the same time, information can be distributed faster and more accurately, adding a layer of reliability to the process.
The communications loop works both ways. Suppliers and stakeholders can also communicate with key decision makers easily. Issues such as late payment and scheduling errors can be minimized – if not avoided entirely – thanks to seamless communications. Again, these improvements add up when done across the entire supply chain.
Reach for the Star
Lastly, get a better understanding of the actual capacity of the supply chain, including the capabilities of elements within the chain. The understanding is important for two reasons. First, you can take steps to really optimize the potential of employees, machines, partners, and other elements in the supply chain to produce an incredible set of improvements.
The second reason is scalability. When you know the actual capacity of the supply chain, you can choose to scale up – or down, for better efficiency – at the right moment. This leads to less waste and higher cost-efficiency, which eventually leads to a more effective supply chain. Maintaining a bird's-eye view of the process is how you gain the ability to assess the capacity of your processes.
Scaling up at the right moment will lead to more opportunities. You can, for example, scale up to lower the stress faced by the supply chain. This makes the entire process not only more reliable, but also less prone to errors and mishaps. Everything will run smoother for longer; this is always a great thing for a business.
Combined, the tips and tricks we covered in this article will help you get started with optimizing your own supply chain management. Improving your supply chain management is the key to growing as a business, even in a competitive market.