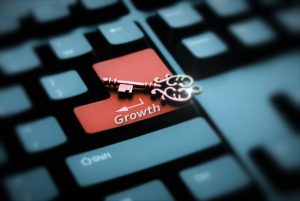 The landscape of e-commerce is one that is always changing, and as an e-commerce business owner, that can be a mixture of being scary but also exciting at the same time. These changes that occur can be very beneficial to your business and they can also be quite the challenge that's hard for your business to overcome but either way you look at it, you're going to have to adapt to the changes if you want your business to grow.
The Numbers Don't Lie…
Because this industry is growing at a rapid pace, there's no better time than now to learn more about buying and registering domain names to go on and get your online business started. Why is that? Because global e-commerce sales are expected to reach a whopping $4.9 trillion by the year 2021! Not only that but e-commerce sales have increased so much in the retail market that in the year 2021, it's expected to account for 17.5% of total sales globally.
17.5% is still a very small percentage of global retail sales… so what does that mean for your business? That means that there is plenty of room for your business to get started "while the gettin' is still good." So in order for your e-commerce growth strategies to be successful, you have to base them on how customers shop, how well they respond to certain technologies that businesses present, and what type of products they're buying.
Ideally, you need to stand out from your competitors because there are millions of business-minded people out there just like you trying to raise that 17.5% just like you are. So if you want to start your e-commerce business and you want it to grow, now is the time to do it. If you implement these strategies to your e-commerce site, it's going to put you at a greater advantage of experiencing growth by leaps and bounds.
Interactive Product Visualization
There used to be a time where in order for you to see how something looked in your home or how an article of clothing looked on you, you had to physically go into a store… that was the best way. It allowed you to see the product, touch the product, and even smell the product. Online shopping didn't and still doesn't allow customers that luxury… it's intangible, leaving customers with lots of guesswork.
BUT the technology works… technology wasn't going to let intangibility be a problem with no solution for too long… thus came interactive product visualization. Now, this strategy still doesn't allow customers to physically touch or feel the products but it does help them to study the product in great detail, like a zoom feature, allowing customers to zoom in on certain features of a product to help customers understand a product even though they're not physically touching it.
Product demo videos are also very helpful. In fact, one study reported that 52% of consumers stated that they felt more confident in buying certain products online when they have product videos to watch. Also, 3D experiences are becoming very popular among customers now. This allows customers to see what a piece of furniture looks like in their home without purchasing the product or what glasses will look like on your face without buying them.
Every aspect of interactive product visualization will definitely boost customer engagement but it has the potential to substantially increase your conversion rates as well.
E-Commerce Personalization
Personalization in the world of e-commerce is quickly coming from being something that businesses were just learning about to now, and the forthcoming years, becoming an e-commerce marketing standard. Long gone are the days of personalizing marketing efforts simply by acknowledging a customer's name… personalization has gotten way more sophisticated with its approaches.
In the world of e-commerce, personalization is now about giving customers a unique and memorable shopping experience by offering them products based on analyzing certain aspects  of the customer's personal information including, but not limited to:
Past purchases
Buying history
Demographics
Browsing history
Other relevant shopping data
One of the other ways personalization is incorporated is by way of shopping cart suggestions. When a customer is shopping, you can suggest other products that are relevant to the products they have in their shopping cart.
Advance Product Filtering
As technology advances, does it not seem like people are becoming busier and busier? Well, they are, if you haven't noticed already. People go to work every day and are tired afterward, so when they have any moment of free time, they want to utilize their free time relaxing and any shopping they need to do, they want to do it in the quickest and most efficient way possible by shopping upfront.
Advance product filtering allows your customer to go to your site and find exactly what they're looking for without having to look through multiple pages. A good example of this would be like going to a physical store needing a particular product. Instead of walking down aisle after aisle hoping to stumble upon this product, you can just go to a store employee and ask where that product is and they'll tell you which aisle it's on so that you can just grab the product you need and leave.
Unfortunately, around 16% of e-commerce stores give customers a good filtering experience, according to smashingmagazine.com… but that doesn't mean that your business has to give customers similar filtering experiences; that should motivate you to do 10 times better than other business with your filtering options. Remember, you're trying to put yourself at a greater advantage than other businesses and this is a step in the right direction.
Conclusion
As mentioned earlier, the landscape of e-commerce is continuously growing and the industry is going to get considerably larger in the future. By adopting these growth strategies, the success of your business will be inevitable. As an e-commerce business owner, it's imperative that you keep track of the emerging technologies and utilize the ones that fit your business best… that will help you achieve success now and on into the coming years.