There are tons of "value"-driven management frameworks.  Value Stream Mapping (VSM) is one of the most well know–but, do you know what exactly this methodology refers to?
Value Stream Mapping Overview
VSM is Lean Management method for analyzing the current state and designing a future state for the series of events that take a product or service from its beginning through to the customer.  Like most Lean models, VSM is often associated with manufacturing processes.  However, it is used in Logistics, Supply Chain, Service-related industries, Healthcare, Software Development, Product Development, and Administrative and Office processes.
The goal of VSM is to identify, to demonstrate, and to decrease waste in the process. Waste is defined as any activity that does not add value to the final product. The word is often used to demonstrate and decrease the amount of "waste" in a manufacturing system.  VSM can thus serve as a starting point to help management, engineers, production associates, schedulers, suppliers, and customers to recognize waste and identify its causes.
The Value Stream Map
Our Value Stream Map is a visual representation of the flow of materials from supplier to customer through your organization as well as the flow of information. This enables us to see at a glance where the delays are in your process, any restraints, and excessive inventory.   It is primarily a communication tool, but can also be used as a Strategic Planning and Change Management tool.
We can construct a Value Stream Map following an 8-step process, depicted below.  VSM is a team effort. It should involve representatives from all of the areas within the process being mapped.  This creation of a Value Stream Map should be facilitated and led by an expert with experience in creating value stream maps.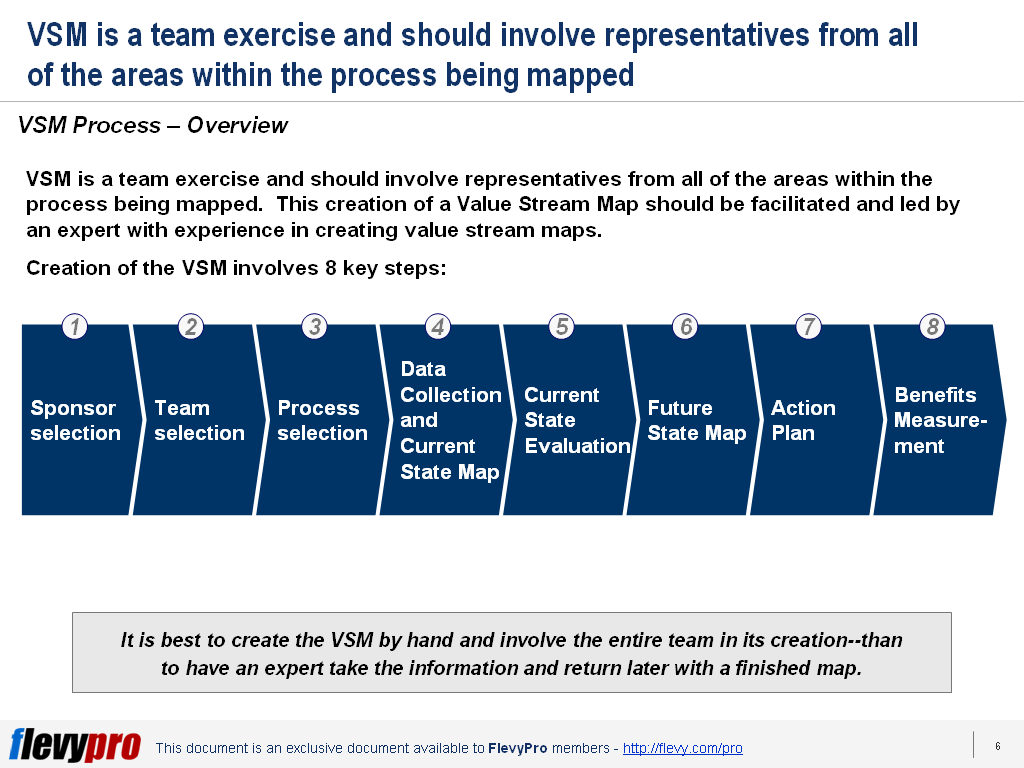 Step 1. Select your sponsor and set expectations.
Appoint someone who is responsible to make decisions, arbitrate solutions, and plan the project.
The sponsor usually selects the processes that will be mapped and will usually have a firm grasp of what achievement is being targeted.
Step 2. Select your team.
You should ensure that each area or stakeholder of the process is represented e.g. Sales, Purchasing, Warehouse, etc.
Step 3. Select process to be mapped.
Value Stream Mapping is suitable for most businesses and can be used in manufacturing, Logistics, Supply Chain, and some Service-orientated Organizations.
Step 4. Collect data and produce Current State map.
Process times, inventory or materials information, customer (or demand) requirements.
The future state maps will be developed using information captured here so it's imperative you have a correct understanding of the business.
Step 5. Critique the Current State.
Challenge the current thinking, encourage your team to make suggestions, look for areas of waste.
Step 6. Map the Future State.
Compile a future state map based on the current state map and the critiques.
Step 7. Create an action plan and deploy.
Taking the Future State map consider an action plan that could be implemented to change the current process to the future state.
Step 8. Measure the benefits.
Check to ensure that the benefits expected have been obtained.
Review each change made and analyze benefits.
Here are couple examples of Value Stream Maps.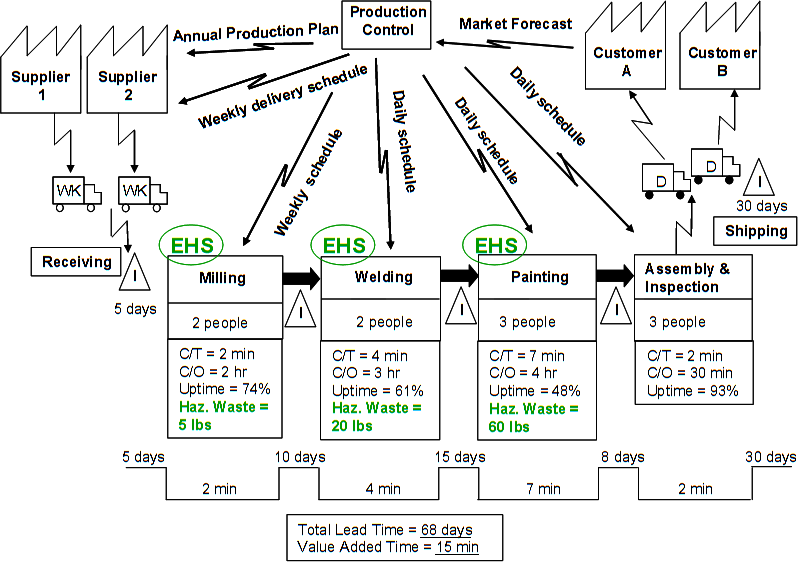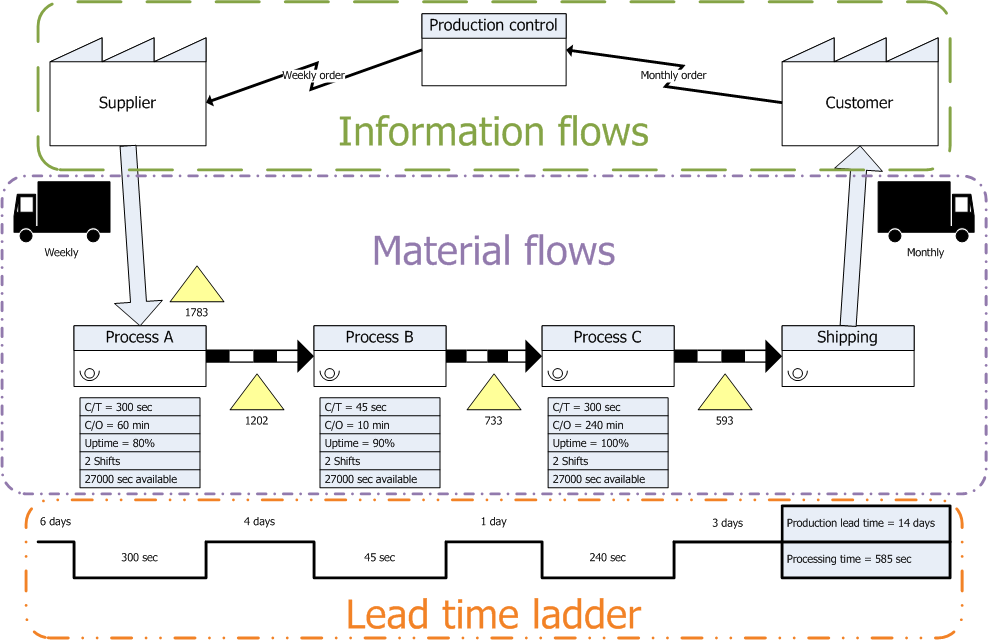 Interested in learning more about Value Stream Mapping?  Have a look at these very in-depth training decks and templates on Flevy: https://flevy.com/business-toolkit/value-stream-mapping.
For shorter primers on various management topics, including Value Stream Mapping, take a look at the FlevyPro Library of business frameworks: http://flevy.com/pro/library/frameworks.