BENEFITS OF DOCUMENT
Provides a proven approach to help you visualize and resolve disconnects, redundancies, and gaps in your value delivery system.
Provides a highly effective means to transform leadership thinking, define strategy and priorities, and create customer-centric workflow.
Provides a means to bring disparate organizational silos together and acts as a catalyst for stimulating and prioritizing organization-wide transformation.
DOCUMENT DESCRIPTION
This product (
Value Stream Mapping [VSM]

) is a 184-slide PowerPoint presentation (PPTX) with a supplemental Zip archive file document, which you can download immediately upon purchase.

Many organizations today suffer from silo-centric behavior and intra-organizational conflict. Yet most don't understand what's holding them back from achieving outstanding performance.

Value Stream Mapping (VSM)—an essential but underused methodology—is a proven approach to help you visualize and resolve disconnects, redundancies, and gaps in how work gets done. More than merely a tool to eliminate operational waste, value stream mapping is a highly effective means to transform leadership thinking, define strategy and priorities, and create customer-centric work-flow.

At the strategic level, a VSM exercise should be conducted first before teams dive into problem solving and/or kaizen activities.

In today's high-pace business environment, there are many problems to be solved and too many opportunities to be leveraged to operate without a highly effective means for accomplishing the important work to be done.

Value stream mapping is the missing link in business management and, properly executed, has the power to address many business woes.

In this training powerpoint, you will learn the meaning and benefits of value stream mapping, and prepare for a value stream mapping activity that includes four simple phases: 
• Phase 1: identify a product/service family;
• Phase 2: document a current state value stream map, analyze value and waste;
• Phase 3: design the future state value stream; and
• Phase 4: create an implementation plan.

||||||||||||||||||||||||||||||||||||||||||||||||||||||||||||||||||||||||||||||||||||||||||||||||||||||||||||||||||||||||||||||||||||||||||||||||||||||
NOTE: This training package includes:
1. VSM training presentation (PowerPoint format)
2. VSM project template (PowerPoint format)
3. VSM templates comprising VSM Charter, Results Table, Implementation Plan and Common VSM Icons (Excel format)
4. VSM poster (PDF format, in color and monochrome, printable in A3 size)
||||||||||||||||||||||||||||||||||||||||||||||||||||||||||||||||||||||||||||||||||||||||||||||||||||||||||||||||||||||||||||||||||||||||||||||||||||||

LEARNING OBJECTIVES

1. Gain an overview of Lean concepts and principles.
2. Gain in-depth understanding about your current work systems and the related barriers to delivering value.
3. Design a future state that enables outstanding performance.
4. Develop action plan to achieve the future state and lay the foundation for continued improvement.

CONTENTS

1. Overview of Lean Thinking
• What is Lean?
• Lean Management Framework
• Benefits of Lean
• What is Value?
• Lean Principles
• Eight Types of Waste
• Causes of Waste
• How to Eliminate Waste
​
2. Introduction to Value Stream Mapping
• Value Stream Defined
• Value Stream Mapping vs. Process Mapping
• Why Value Stream Mapping
• Value Stream Mapping Process
• Value Stream Examples

3. Value Stream Mapping Icons
• Basic Mapping Icons
• Key VSM Components: Manufacturing
• Key VSM Components: Office/Service

4. Phase 1: Define Product/Service Family
• Scoping: Define a Product/Service Family
• Value Stream Mapping Charter
• Value Stream Walk
• Key Value Stream Mapping Activities & Deliverables
• Interim Briefings

5. Phase 2: Document Current State
• Rules of Engagement for VSM Activities
• Step 1 – Label Map
• Step 2 – Define Process Blocks
• Step 3 – Define IT Systems
• Step 4 – Number the Process Blocks
• Step 5 – Add Data
• Step 6 – Create Timeline
• Step 7 – Identify VA and Non-VA Activities
• Step 8 – Define Goals & Gaps

6. Phase 3: Design Future State
• Future State Design Considerations
• Generating & Testing Ideas
• Moving to the Future: Kaizen Events
• Lean Techniques & Tools
• Future State Value Stream Map
• Projected Results

7. Phase 4: Create Implementation Plan
• Define Tasks
• Prioritization Matrix
• Future State Implementation Plan
• Tracking Results
• VSM: Actual Results
• Continuous Improvements
• VSM Summary
• Practical Tips for Value Stream Mapping
• Critical Success Factors

Appendix: VSM Template

Got a question about the product? Email us at [email protected] or ask the author directly by using the "Ask the Author a Question" form. If you cannot view the preview above this document description, go here to view the large preview instead.

Source: Best Practices in Value Stream Mapping PowerPoint Slides: Value Stream Mapping (VSM) PowerPoint (PPTX) Presentation, Operational Excellence Consulting

ABOUT THE AUTHOR: OPERATIONAL EXCELLENCE CONSULTING

Operational Excellence Consulting is a leading management training and consulting firm dedicated to helping individuals and organizations improve their effectiveness and productivity in the post-pandemic new normal. Our mission is to drive lasting beneficial change by leveraging design thinking and lean management approaches. [read more]

We work with a diverse range of clients, including government bodies, multinational corporations, and small and medium-sized enterprises, across a wide spectrum of industries.

Our firm offers a comprehensive suite of capabilities, including Design Thinking, Customer Experience Management, Business Model Innovation, Lean Process Redesign, Total Quality Management (TQM), Total Productive Maintenance (TPM), Kaizen, Value Stream Improvement, Hoshin Kanri (Policy Deployment), Problem Solving Techniques & Tools (e.g. PDCA, 8D, A3, etc.), Training Within Industry (TWI), Suggestion System and Benchmarking.

To ensure the widespread adoption of operational excellence techniques and tools, we pride ourselves on developing high-quality, customizable training materials, presentations, frameworks, and templates to complement your training and business needs.

Operational Excellence Consulting has published 209 additional documents on Flevy.
---
$79.00
All fees included. Immediate download upon purchase.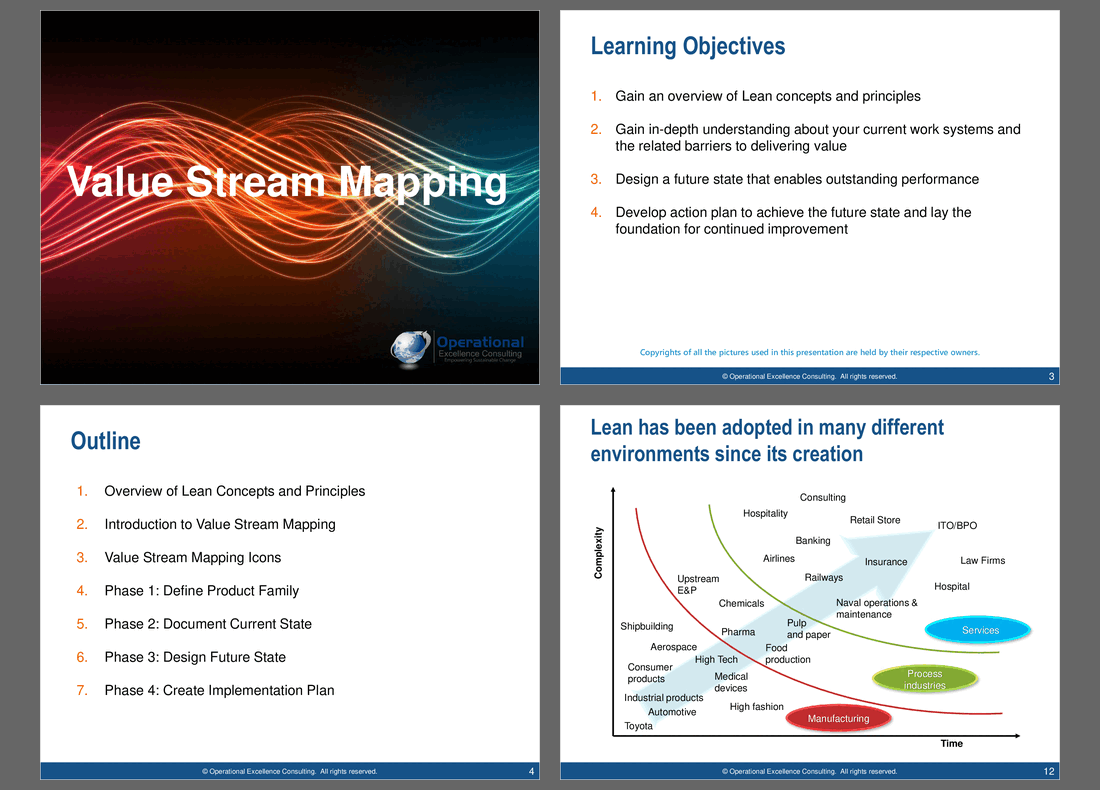 DOCUMENT DETAILS
File Type:
PowerPoint

(
pptx
)
File Size: 7.8 MB
Number of Slides: 184 (includes cover and all slides)
Immediate digital download upon purchase.
Lifetime document updates included with purchase.
Completely editable & customizable PPTX document.
Supplemental ZIP document also included.
Terms of usage
(for all documents from Operational Excellence Consulting)
Initial upload date (first version): Feb 29, 2016
Most recent version published: Dec 27, 2021
---