Many companies balk at the idea of implementing ethical supply chain management (SCM), as they only think of increased operating costs. Despite how much executing ethical SCM may affect the bottom line, companies should not immediately reject the idea without doing some research. For example, a recent survey by Software Advice, a supply chain management system review firm, showed that consumers would pay a premium for ethically manufactured and distributed products.
Here are some of the key findings from the report:
Consumers say they will pay 18% more for a product made of ethically sourced materials
Consumers say they will pay 27% more for a product produced under good working conditions
34% of consumers say they are likely to buy products that were manufactured in a safe working environment

How Much More Consumers Would Pay by Supply Chain Link (Average)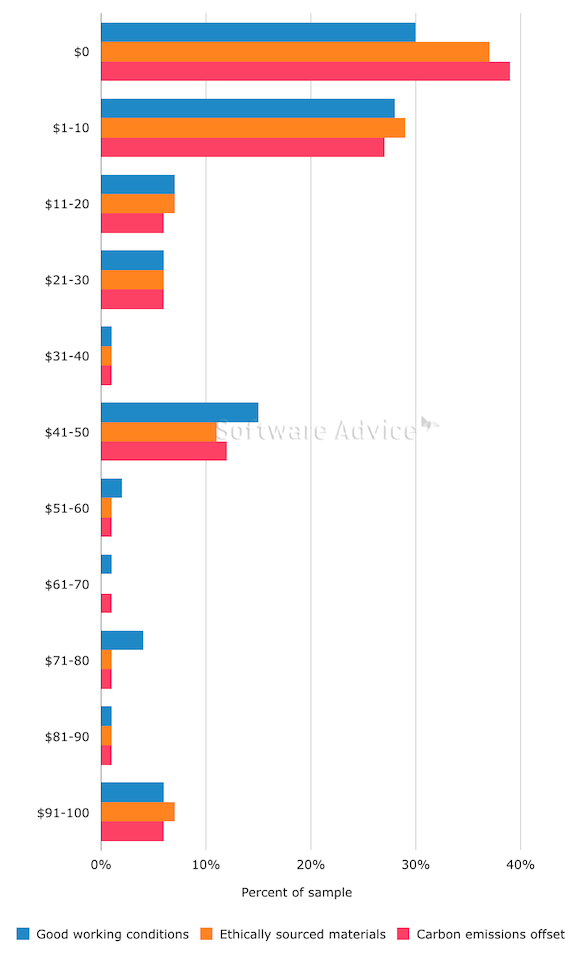 How Much More Consumers Would Pay by Supply Chain Link (All)
 To get some more information on this report, we conducted a Q&A with Forrest Burnson, who is the SCM market researcher at technology review firm Software Advice.
How is a supply chain's efficiency impacted by making it more ethical?
Once in awhile, the stars align and the decision to make a supply chain more ethical is also a wise financial and organizational move, or has a marketing value that can make up the difference. When it comes to something like ethically sourcing raw materials, you often run the risk of facing more frequent disruptions if you're not able to diversify your suppliers when you're holding them to higher standards. There's also the issue of scaling up: take clothing manufacturer, American Giant, for example. Their trendy, durable, American-made sweatshirts became insanely popular, and they couldn't scale up their operations to meet the demand. They built their brand on making quality American products, so they couldn't just outsource their operations overseas. As a result, customers had to wait months after ordering to receive one (though some would argue that only enhanced their appeal). In short, a supply chain's efficiency can be drastically impacted when ethics are given as much consideration as profits. There's just no getting around that.
What industries are known for having ethical supply chains?
I can't think of specific industries that are inherently more ethical, but there are definitely players in most industries that are taking the concept of corporate social responsibility to new levels. Obviously, we see the most concerted efforts to make (or market) products that are more ethical in the consumer goods, apparel and food industries—sectors where consumers have a lot of choice.
What are some ways for companies to make their supply chains more ethical, while maintaining low costs?
Think small first and be pragmatic. Find areas where financial interests and ethical interests align and pursue those first. A lot of efforts to make a supply chain more "green" or environmentally friendly are relatively easy to implement and actually produce a strong return on investment. You can cut costs by increasing fuel efficiency, reducing energy use, rethinking product packaging, etc. When it comes to labor, many businesses view their bottom line too simplistically. When you pay people the bare minimum and don't treat them well, you shouldn't be surprised when they're not productive and they don't last. Those "hidden" costs—lower productivity and high turnover—can add up. In this day and age, I think automation certainly plays a role here—if you can find processes to automate that reduce labor costs, then you can leverage those savings to pay your workers better wages or otherwise improve their working conditions. Look at Costco, for example. Their employees are paid very well and are given great benefits, but they run a very lean operation in their stores.
Are consumers of certain product categories (e.g. foods, apparel, industrial products) more willing to pay for ethical supply chains?
Of course, where there is a demand, the market will meet it. Right now there is a growing population of consumers who will pay a premium for products that are more ethical (regardless of whether they actually are, or are just being marketed that way). We probably see this most with small, everyday purchases—food, clothes, etc. People like to feel good about their purchases, and businesses are capitalizing on that.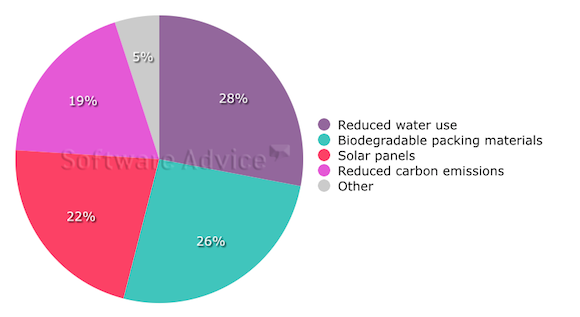 Environmental Effort That Would Convince Consumers to Pay More
* * * *
Researcher Bio
Forrest Burnson is a Market Research Associate at Software Advice, where he covers the construction, inventory management and supply chain markets. He graduated in 2011 from the University of the South with a degree in political science and French studies. In 2013, he graduated from the University of Texas with a master's degree in journalism. During his second year of graduate school, Forrest was a fellow for News21.
Prior to joining Software Advice, he was a writer and researcher for Global Water Intelligence. He has also written for a number of other outlets, including the Texas Tribune, the Austin Business Journal, Market News International and the Austin American-Statesman.