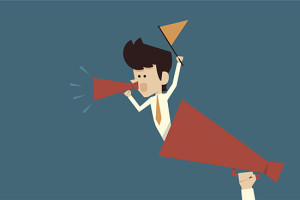 It's not all that difficult to market your business at the end of the year for those huge Christmas and New Years sales, but the smaller holidays are less intuitive. For Valentines Day, Mother's Day, St. Patrick's Day and other holidays, it can be challenging to come up with creative hooks to bring in new customers. Here are a few easy-to-implement tips to help get the word out about your big sales and make the most of any holiday.
Clean Graffiti Marketing
Catchy taglines that relate your company to the holiday are key when sending out mailers. This will help the consumer remember and recognize the upcoming holiday as well as remember your business. Sidewalk sales are always good for drawing attention. Team up with other small businesses and host the event together to maximize your customer base. Advertise the sale a few weeks ahead of time with giant floor stickers around your shop that are emblazoned with a catchy slogan and the dates. You can also print and hang giant tags in the store with holiday catch phrases for marketing that doubles as festive decor.
Online Campaigning
There's no sense avoiding it, social networking is a huge tool for marketing. If you haven't created a Facebook page for your business, as well as Instagram and Twitter accounts, now is the time to do so. Send out updates and use those catchy taglines to draw your customers in. By getting your social media fan base involved, you can count on your dedicated patrons to help spread your marketing message. Contests are another effective way to grab the attention of your future customers. After all, who doesn't love free stuff? Contests and giveaways are a cost-effective technique to help create some buzz about your brand without blowing half of your marketing budget. Decide what type of contest would work best with your brand and your audience. Maybe a sweepstakes would work well or a photo contest on Facebook, Instagram or Twitter. Sweepstakes require minimal effort for your fans, which yields more participation. Be sure to use hashtags on all of your promotional posts, so that savvy social followers can see who else is in the know.
Spice up your website to look festive for each holiday as well. Use key graphics that relate to the upcoming holiday. Look to gift companies like FTD or big-box stores like Target for inspiration about how to incorporate celebratory details into your website for any holiday, from Valentine's Day to Mother's Day.
Event Marketing
Use in-store events to celebrate any holiday and increase foot traffic. Host a Father's Day shopping event for kids or sponsor a patriotic picnic in the parking lot for the Fourth of July. For additional marketing reach, partner up with a charity or foundation. People love knowing that part of the money they spend will be donated to a good cause.
The biggest thing to remember is to be creative. Not all small businesses take the time or effort to drive sales during these smaller holidays. They depend on the bigger holidays to bring in the capital and forget that the smaller holidays are every bit as important. Separate yourself by taking advantage of this, all while having fun with your customers.