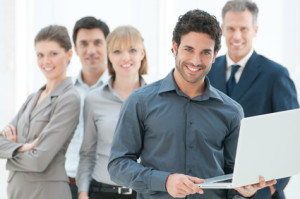 Ah, company pride. Your business has grown from the one-person startup in your living room's corner into a rented office space with 20 employees. You're finally a major competitor in your market segment. It's time to expand operations. You've made all the right choices for your business so far. To expand safely, you need to make the best educated decisions, from order processing to warehouse management.
Collect Accurate Data
The International Institute of Analytics found that 66 businesses and organizations improved data they gathered for better decision-making of their operations, according to SAS. By improving data, companies can perform analytical testing of their processes to address problems accurately and more efficiently. Top ways to acquire data include automated business informational tools and specialized software information displays.
Intuit has an online research data collection software called Quickbase that can help organize your business data from all your computer software, databases and spreadsheets and store it in one convenient place for viewing. Find out more information at Quickbase.Intuit.com.
Make sure not confuse the process of getting accurate data with getting as much data as you can. Gathering too much data will not improve decision-making, as it will take more time and work to sift through all the data to find only the information that is relevant and important, according to Business Insider. Focus on accurate data collection versus data overload.
Research Partnerships & Acquisitions
Even big businesses can make uneducated decisions when they are working with other companies, for example, when Yahoo didn't sell its company to Microsoft or when Timer Warner erroneously bought AOL. While partnering with other businesses or acquiring them into your company, clearly identify how business relationships will benefit your company. Also, learn about your competition to make better, informed decisions.
If you work with international companies or employees, you may not know how to securely obtain information or question its accuracy. International investigation firms, such as Wymoo, perform background checks and investigations on a global scale. Not only can you find out more about the international company or individual with whom you'll be investing, your business will minimize the chances of fraud and international scams.
Foster Family Business Relationships
The best educated decisions are made when everyone in your business works together as a team to positively find a solution. Yet, opposing viewpoints among a spouse, parent, adult child, or other relative who is also a business partner can inhibit family-run operations. Communicate and commit to learning from resources designed for family businesses that need to effectively work together better, and thus grow the business. Many business schools work with 30 to 40 percent of students from family-owned businesses to help them understand company roles, according to Bloomberg BusinessWeek. If heading into the classroom isn't feasible, check out online resources such as the FamilyBusinessInstitute.com for tools to help your family business overcome challenges.