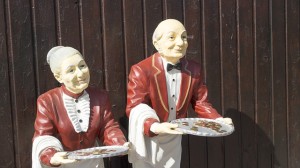 As 2014 wound down, I took the time to pause, and look ahead to what top customer service trends will surface in 2015 and beyond. Good service — whether it's to answer a customer's question prior to purchase, or help a customer resolve an issue post-purchase should be pain-free, proactive at a minimum and pre-emptive at best, deeply personalised, and delivered with maximum productivity.
Here are 6 top trends – out of a total of 10 – that I am keeping my eye on!
Trend 1: Customers Embrace Emerging Channels to Reduce Friction.
In a recent survey, we found that web self-service was the most widely used communication channel for customer service, surpassing use of the voice channel for the first time. In 2015, I predict that customers will continue to demand effortless interactions over web and mobile self-service channels. They will also explore new communication channels such as video chat with screen sharing and annotation.
Trend 2: Companies Will Explore Proactive Engagement.
Proactive engagements anticipate the what, when, where, and how for customers, and prioritise information and functionality to speed customer time-to-completion. In 2015, I expect organisations to explore proactive engagement – whether it's proactive chat, proactive offers, or proactive content – delivered at the right time in a customer's pre-purchase journey to help answer customer questions. They will use learnings from these proactive engagements to improve operational performance and to predict future customer behaviour.
Trend 3: Insights From Connected Devices Will Trigger Pre-emptive Service.
Connected devices are expected to proliferate at a rate of 50 billion by 2020, and the Internet of Things (IoT) is becoming a business reality. Companies are starting to use support automation to pre-emptively diagnose and fix issues with minimal human intervention. Pre-emptive service wins on all fronts: faster resolution at lower costs, deeply personalised engagements, better planning, and anticipation of future customer needs. In 2015, businesses will focus on realising the benefits of building and servicing smarter products. But there are barriers: companies will have to pay a close eye to merging interoperability standards: device to network connectivity, data messaging formats that work under constrained network conditions, and data models to aggregate, analyse, and act on the data.
Trend 4: Knowledge Will Evolve From Dialog To Cognitive Engagement.
Organisations will look at ways to reduce the manual overhead of traditional knowledge management for customer service. They will start to explore cognitive engagement solutions — interactive computing systems that use artificial intelligence to collect information, automatically build models of understanding and inference, and communicate in natural ways. These solutions have the potential to automate knowledge creation, empower agents with deeply personalised answers and intelligence, scale a company's knowledge capability, and uncover new revenue streams by learning about customer needs.
Trend 5: Predictive Analytics Will Power Offers, Decisions, and Connections.
The use of decisioning — automatically deciding a customer's or systems next best action — is pervasive in customer service organisations. Rules drive the routing of interactions to the right resource and are used to automatically recommend the right answer to customer questions. In 2015, organisations will extend the power of predictive analytics to offer service tailored to the customer's profile, historical data of past interactions and transactions, and current situational data such as geographic location, device, and browser. They will use predictive analytics to connect a customer to the right customer service agent. They will also use it to make better workforce decisions such as hiring, retention, and employee performance.
Trend 6: The Customer Service Technology Ecosystem Will Consolidate.
The customer service process involves a set of complex technologies that fall into three main software categories. They are: queuing and routing technologies, CRM customer service technologies, and workforce optimisation technologies. These three software categories are mature, and leading vendors within each category offer robust end-to-end solutions in which many capabilities are commoditised. Today, the complexity of the technology ecosystem affects the quality of service that can be delivered. I believe that the combination of mature software categories in which vendors are struggling with growth opportunities, the rise of robust SaaS solutions in each category, and rising buyer frustration make for ripe conditions for further consolidation to happen in the marketplace, putting in question the long-term vendor direction of those who will be acquired.