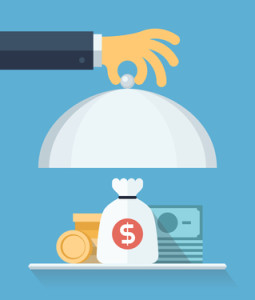 The average amount of money entrepreneurs needed to start a small business in 2012 was $15,000, according to a study conducted by the Global Entrepreneur Monitor. The study also found that 69 percent of these businesses started at home, and 82 percent of the funding came from friends and family.
The 3 F's—family, friends and fools—are a common way to get the capital necessary to start a home-based business. But the potential to permanently strain close relationships may make this option more trouble than it's worth. If you want to launch your own small business without borrowing from family or friends, consider these funding alternatives:
Try Peer-to Peer Lending
Crowdfunding via platforms like Kickstarter, Indiegogo and RocketHub is a popular way to raise money, but peer-to-peer lending is becoming a viable alternative. In P2P lending, you explain your business plan to other people in hopes they will lend you the cash directly. Websites such as Prosper.com and LendingClub.com act as middle men, administering and aggregating loans from people who decide to invest in your idea. The loans do not necessarily carry lower interest rates than banks, but they are typically easier and faster to obtain.
Funding Circle, a U.K.-based P2P lending company, announced it will be expanding its operations to the United States in the near future. It is also purchasing Endurance Lending Network, a small U.S.-based P2P business, to help expand its operations further. The company told the New York Times that Endurance will now specifically target entrepreneurs looking to enter the restaurant business.
Inventory Your Assets
Probably the easiest and least intrusive way to launch a business is to fund it yourself. Housing prices have risen steadily for the past 18 months in virtually every major market, and homeowners may have gained enough equity to be able to borrow against it. Or, consider withdrawing funds from your IRA or 401(k). Financial advisors generally tell people not to do this because of tax implications, but investing in your business is one situation that makes this option viable.
Some companies will give you money now for funds you know are coming in the future via a structured settlement or annuity. Visit JGWentworthCashNow.com for more information about selling your future structured settlement or annuity payments.
Federal Loans
You may qualify for a loan via the Small Business Administration, particularly if a private lender turned you down. Grants are a different story—traditionally, grants are available only to nonprofits in areas such as medicine, education, scientific research and technology development Visit Business.USA.gov to learn more about the federal financing programs that may be available for your type of small business.
The money is out there if you are willing to go the extra mile to get it. If the first option fails, move on to the next one, until you reach your goals.