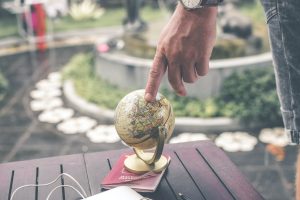 They say, when your business crosses continents, you start making history – and we couldn't agree more. Here's why: Today, being interculturally competent and culturally aware is a must for success in this cutthroat business landscape. Besides, businesses are now globalizing and breaking down international barricades and bringing diverse cultures together.
All of which is a part of the "global mindset" game.
A global mindset means having an open mind, learning about various cultures, and persuasively communicating to meet a common goal. Businesses with a global perspective are aware of the diversity across numerous cultures and countries and how operations in one area can affect the other. They are quick at spotting patterns across markets and territories. They tend to be quite aware of the territorial challenges and are open to global opportunities.
It is safe to say that enriching your business acumen with a global mindset can help you make the most of your global objectives. If that's not reason enough, take a look at why embracing a global perspective in business is now more critical than ever:
1. Sharing of Information, culture, and technology 
Sharing has become the new business norm, which is another brilliant reason for having a global mindset. Expertise, information, technologies, cultural traditions, and morals are being shared in the international marketplace. It also includes business practices, meaning you can share your competencies with the world.
Additionally, for those seeking to benefit from the exchange of knowledge across borders, online learning is the way forward. So, if you plan to work in a managerial capacity or have entrepreneurial aspirations, eLearning should be your priority. It's best to opt for an online MBA no GMAT required program to understand the dynamic business world and develop a global business mindset. It can act as a stepping stone for many individuals looking to thrive – whether globally or locally.
2. Minimizes the costs of customer service
If you own an eCommerce business, you most certainly require a customer service department to handle complaints and orders. But, with the help of globalization, you can delegate your customer service to remote overseas staff. They can handle customer inquiries 24/7 at a much lower cost than local services based in your region. This strategy allows you to minimize expenses while still providing excellent customer service at every hour of the day.
3. New revenue streams and product development 
When entering new markets, you have to develop your services and products in novel ways. And this is one of the most significant reasons why you need globalization. When expanding into new markets, every business needs to frequently redesign its processes and change its offerings to meet local demand. While this may appear to be more work, it is an excellent opportunity for growth. You can expand your revenue streams well outside national or state borders by creating high-quality services and products. What's more, you may unearth ways to develop your market offerings at low costs.
4. Globalization evens out the playing field
In today's age, it's challenging for an organization to secure a vast market share and compete with industry giants. Nonetheless, globalization has leveled the international playing field. Now, even small businesses can compete for a piece of the global market share. Uber is a remarkable example of a company that entered the taxi industry and changed the game by offering ride-sharing services that customers could order on their mobile devices. Uber began small but grew into a corporation worth an estimated $70 billion by leveraging social media and mobile marketing.
5. Increases competition 
Even though globalization benefits small businesses, it also poses a significant challenge in increased international competition. Because of increased access to various regions and markets, globalization has risen the number of companies vying for a piece of these developing markets. And this means that your company will have to define new ways to differentiate itself from the competition. It usually means developing a unique selling proposition that expresses why your company is worthy of being chosen by your target audience. Consider this an opportunity to devise new ways for your company to grow – all thanks to a global mindset.
6. Cross-border investment
Globalization has increased cross-border funding. At the macroeconomic level, it demonstrates how overseas investment improves welfare on both sides of the border. The country that provides the equity earns a higher return abroad than it can at home. At the same time, the one receiving capital inflows benefits from foreign direct investment and enhanced business. Foreign investment is frequently accompanied by or in the form of technology or even access to distribution channels that can assist the recipient country.
7. Access to a wide range of talent 
Selecting competent employees from a highly varied talent pool is an immediate benefit of adapting to a global mindset. If your company hires remotely, you can choose candidates based on their skill set, regardless of their background or location. Organizations looking to hire for their offices or foreign subsidiaries can also find excellent talent that will help them build, change, and grow as a whole. Each new diverse employee brings a plethora of new perspectives and opportunities to a company.
Conclusion
We can undoubtedly deduce from the above information that a global mindset helps businesses drive competitive advantage. The companies that don't benefit from adopting a global perspective are the ones that neglect its long-run prospects. Many studies prove that companies with a global mindset are more successful, especially since they do business with people across borders. So, devise international strategies and venture into the global marketplace for lucrative opportunities.