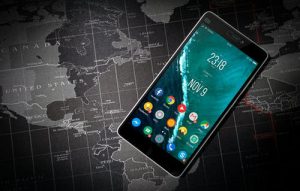 Most would agree there is tremendous potential for Digital Transformation initiatives to drive value within the organization. However, when we dig a little deeper, people may struggle in answering some basic, qualifying questions…
How do our Digital Transformation initiatives drive value? (And, how much value?)
Exactly where within the organization is the value coming from?
Are our efforts focused on the right functions and initiatives?
To address these questions, we can leverage the Digital Value Chain Model (depicted below).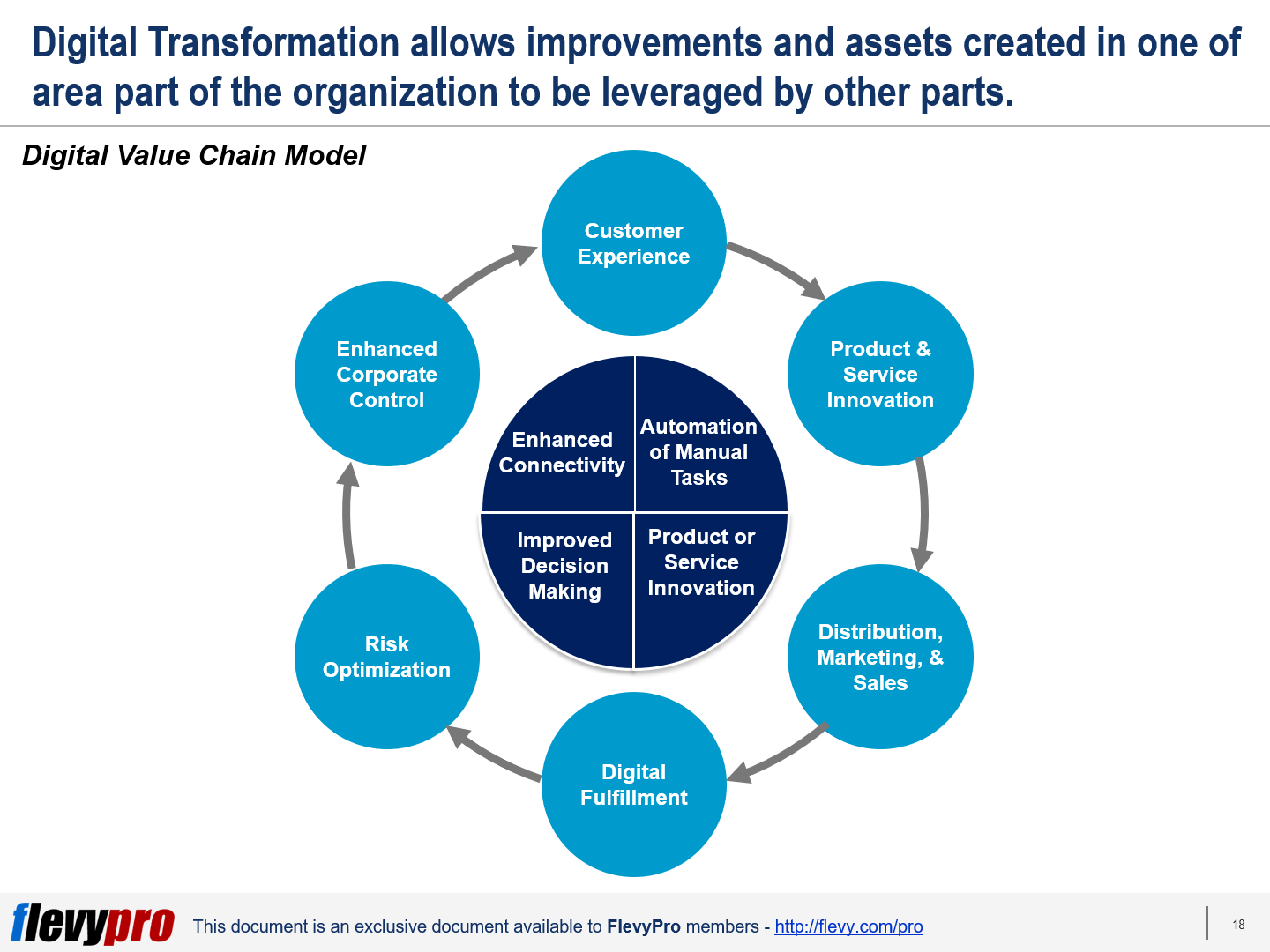 At the core of this framework (in the navy blue), we have the 4 general sources of value from Digital Transformation. This touches upon our first question. Through Digital Transformation, value is generated from 4 primary areas:
Enhanced Connectivity (often driven by Social Media, Mobile, IoT technologies)
Automation of Manual Tasks (often driven by RPA, AI/ML technologies)
Improved Decision Making (often driven by Big Data, Analytics technologies)
Product or Service Innovation (essentially all emerging tech can drive this)
These benefit areas can be applied to nearly every function within the organization.
Pictured around these benefit areas (in the light blue), we have the 6 core functions where value can be created by Digital Transformation. This answers our second question, regarding where value comes from. These 6 functions are:
Customer Experience
Product and Service Innovation
Distribution, Marketing, and Sales
Digital Fulfillment
Risk Optimization
Enhanced Corporate Control
Although digital investments are often selectively applied to certain more "obvious" functions (the most prevalent being Customer Experience), Digital Transformation initiatives should embrace the full Digital Value Chain, including support functions, e.g. Risk Optimization.
Now, let's take a deeper look at these functions and what our Digital Transformation projects should be focused on.
1. Customer Experience (CX)
The Customer Experience should be a seamless, consistent multi-channel experience. There is a plethora of frameworks and tools centered around this thinking, known as Customer-centric Design (CCD) or Customer-centricity. More and more organizations are adapting their processes to be more customer-focused. (At Flevy, we have a Stream offering dedicated to this topic of CCD here.)
The goal of CX Strategy is to attain a service proposition of "whenever, wherever." This type of experience is becoming of a requirement, rather than a nice-to-have, as customer expectations evolve.
2. Product & Service Innovation
Introduce new digital products and services enabled by emerging technologies, e.g. Social, Mobile, Cloud, Big Data, Analytics, Blockchain, RPA, etc. Digital Transformation also enables better collaboration and co-creation of new products among different organizations.
3. Distribution, Marketing, & Sales
Invest in digital marketing campaigns, where results can be clearly tracked, attributed, and finetuned to increase the return on investment of marketing spend.  Detailed attribution is a significant advantage over traditional channels of distribution, marketing, and sales.
4. Digital Fulfillment
For e-commerce sites, digital fulfillment allows for the complete payment to provisioning process to be completely and seamlessly automated. Depending on the offering, virtual servicing and administration features are also enabled.
5. Risk Optimization
With customer insights and other data and analytics, we can improve customer targeting. Enable embedded/automated controls and risk profiling.
6. Enhanced Corporate Control
Digital technologies enable an improved, real-time management information systems and decision making. We can also seamlessly integrate with third parties.
Now, to address our final question on whether we our Digital Transformation efforts are properly optimized, this answer is a bit more complicated. There are a number of factors that impact this–e.g., competition, industry, timing, organizational structure, culture, etc.
To answer this question, we should perform an assessment on our Digital Transformation opportunities portfolio. On a high level, such an assessment follows a 4-phase approach —
Estimate the Value at Stake
Prioritize Opportunities
Take an End-to-End View
Align the Business Portfolio
Interested in learning more about Value Creation through Digital Transformation? Take a look at our framework presentation on the topic, Digital Transformation: Value Creation & Analysis here.
This framework is part of the Digital Transformation Stream.
Do You Find Value in This Framework?
You can download in-depth presentations on this and hundreds of similar business frameworks from the FlevyPro Library. FlevyPro is trusted and utilized by 1000s of management consultants and corporate executives. Here's what some have to say:
"My FlevyPro subscription provides me with the most popular frameworks and decks in demand in today's market. They not only augment my existing consulting and coaching offerings and delivery, but also keep me abreast of the latest trends, inspire new products and service offerings for my practice, and educate me in a fraction of the time and money of other solutions. I strongly recommend FlevyPro to any consultant serious about success."

– Bill Branson, Founder at Strategic Business Architects
"As a niche strategic consulting firm, Flevy and FlevyPro frameworks and documents are an on-going reference to help us structure our findings and recommendations to our clients as well as improve their clarity, strength, and visual power. For us, it is an invaluable resource to increase our impact and value."

– David Coloma, Consulting Area Manager at Cynertia Consulting
"As a small business owner, the resource material available from FlevyPro has proven to be invaluable. The ability to search for material on demand based our project events and client requirements was great for me and proved very beneficial to my clients. Importantly, being able to easily edit and tailor the material for specific purposes helped us to make presentations, knowledge sharing, and toolkit development, which formed part of the overall program collateral. While FlevyPro contains resource material that any consultancy, project or delivery firm must have, it is an essential part of a small firm or independent consultant's toolbox."

– Michael Duff, Managing Director at Change Strategy (UK)
"FlevyPro has been a brilliant resource for me, as an independent growth consultant, to access a vast knowledge bank of presentations to support my work with clients. In terms of RoI, the value I received from the very first presentation I downloaded paid for my subscription many times over! The quality of the decks available allows me to punch way above my weight – it's like having the resources of a Big 4 consultancy at your fingertips at a microscopic fraction of the overhead."

– Roderick Cameron, Founding Partner at SGFE Ltd
"Several times a month, I browse FlevyPro for presentations relevant to the job challenge I have (I am a consultant). When the subject requires it, I explore further and buy from the Flevy Marketplace. On all occasions, I read them, analyze them. I take the most relevant and applicable ideas for my work; and, of course, all this translates to my and my clients' benefits."

– Omar Hernán Montes Parra, CEO at Quantum SFE