Value Based Management (VBM) is a management philosophy that states management should foremost consider the interests of shareholders in its business actions.  This framework encompasses the processes for creating, managing, and measuring value.
It is important to note VBM differs from a profit-focused way of managing business.  Specifically, VBM means that the decisions that you make today are not simply driven by short-term profit. Instead, we consider the longer-term effects that the decisions will have on organizational sustainability and profitability, reflected in future cash flows.
VBM asks people within a company to think like owners and to make decisions that will ultimately benefit the owners.  Managers and executives must constantly look for investment and growth opportunities that will create value—and use the company's capital in ways that ensure long-term, sustainable success.
The Definition of Value
First, let's define what "value" means to us within the context of Value Based Management.  In VBM, the value of a company is determined by its discounted cash flows (DCF).  In other words, value is created only when companies invest capital at returns that exceed the cost of that capital.  We employ DCF, because it is the only metric that takes a long-term view, while still focusing on the balance sheet.
VBM can best be seen as a combination between a Value Creation Mindset and the Management Processes and Systems that are necessary to translate that mindset into action.  Let's take a deeper look into each of these 2 components.
Value Creation Mindset
First, we must adopt the Value Creation Mindset.  This means we need to embrace value maximization as the ultimate financial objective for a company. Traditional financial performance measures, such as earnings or earnings growth, are not always good proxies for Value Creation. To focus more directly on creating value, companies should set goals in terms of discounted cash flow value. These targets also need to be translated into shorter-term, more objective financial performance targets
To determine where we create value, we need to uncover our  Value Drivers.  A Value Driver is any variable that affects the value of our organization.  These are often best visualized and captured using a tree structure, where we see how Value Drivers at varying levels are derived.  See the image below as an example.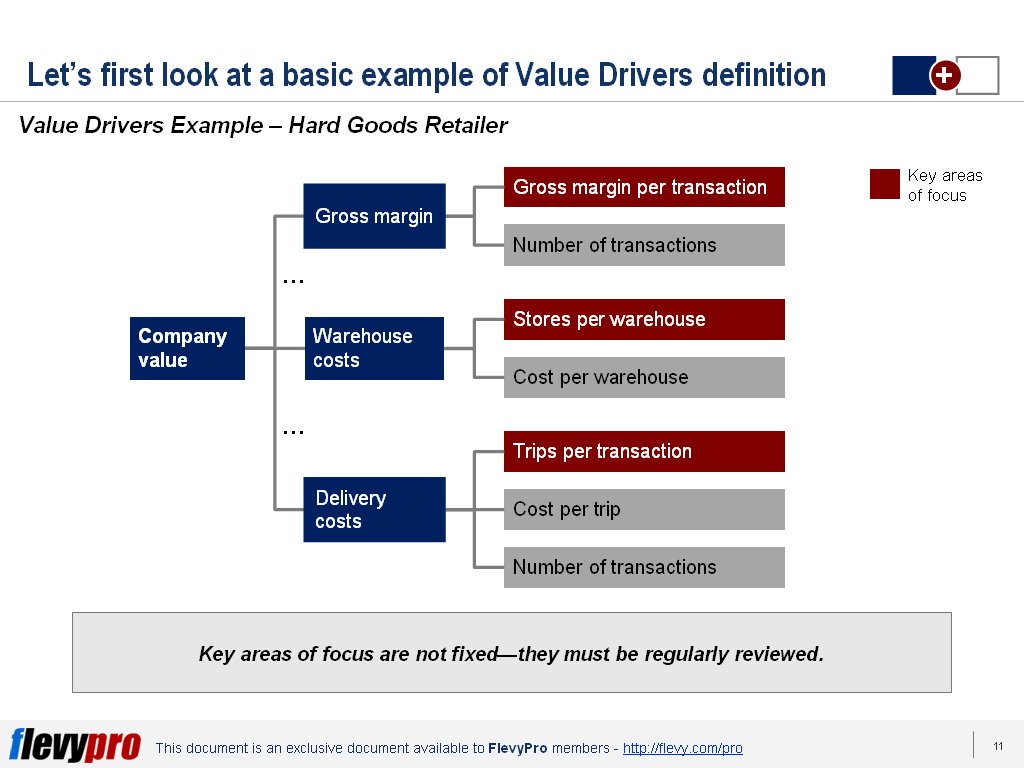 When developing our Value Drivers, we should follow these 3 guiding principles:
Value Drivers need to be organized, so that managers can identify which have the greatest impact on value and assign responsibility for them to individuals who can help the organization meet its targets.
Value Drivers must be defined at a level of detail consistent with the decision variables that are directly under the control of line management.
Generic value drivers (e.g. sales growth, operating margins, and capital turns) might apply to most business units.  However, these lack specificity and cannot be used well at the grass roots level.
Management Processes & Systems
Adopting a Value Based Mindset and finding the Value Drivers only gets you halfway there. Managers must also establish processes and systems that bring this mindset to life in the daily activities of the organization.
The 4 essential management processes to consider, in sequence:
Strategy Development
First, our company or business unit develops a strategy to maximize value.
Target Setting
Next, we must translate this strategy into short- and long-term performance targets.  These are defined in terms of our key Value Drivers.
Action Plans and Budgets
We then develop action plans and budgets to define the steps that will be taken over the next year to achieve these targets.
Performance Management
Lastly, we need to institute performance measurement and incentive systems in place to monitor performance against targets and to encourage employees to meet their goals.
These four processes are linked across the company at the corporate, business-unit,  and functional levels.
Interested in gaining more understanding on how to implement VBM?  You can learn more and download an editable PowerPoint about Value Based Management here on the Flevy documents marketplace.
Do You Find Value in This Framework?
You can download in-depth presentations on this and hundreds of similar business frameworks from the FlevyPro Library. FlevyPro is trusted and utilized by 1000s of management consultants and corporate executives. Here's what some have to say:
"My FlevyPro subscription provides me with the most popular frameworks and decks in demand in today's market. They not only augment my existing consulting and coaching offerings and delivery, but also keep me abreast of the latest trends, inspire new products and service offerings for my practice, and educate me in a fraction of the time and money of other solutions. I strongly recommend FlevyPro to any consultant serious about success."

– Bill Branson, Founder at Strategic Business Architects
"As a niche strategic consulting firm, Flevy and FlevyPro frameworks and documents are an on-going reference to help us structure our findings and recommendations to our clients as well as improve their clarity, strength, and visual power. For us, it is an invaluable resource to increase our impact and value."

– David Coloma, Consulting Area Manager at Cynertia Consulting
"As a small business owner, the resource material available from FlevyPro has proven to be invaluable. The ability to search for material on demand based our project events and client requirements was great for me and proved very beneficial to my clients. Importantly, being able to easily edit and tailor the material for specific purposes helped us to make presentations, knowledge sharing, and toolkit development, which formed part of the overall program collateral. While FlevyPro contains resource material that any consultancy, project or delivery firm must have, it is an essential part of a small firm or independent consultant's toolbox."

– Michael Duff, Managing Director at Change Strategy (UK)
"FlevyPro has been a brilliant resource for me, as an independent growth consultant, to access a vast knowledge bank of presentations to support my work with clients. In terms of RoI, the value I received from the very first presentation I downloaded paid for my subscription many times over! The quality of the decks available allows me to punch way above my weight – it's like having the resources of a Big 4 consultancy at your fingertips at a microscopic fraction of the overhead."

– Roderick Cameron, Founding Partner at SGFE Ltd
"Several times a month, I browse FlevyPro for presentations relevant to the job challenge I have (I am a consultant). When the subject requires it, I explore further and buy from the Flevy Marketplace. On all occasions, I read them, analyze them. I take the most relevant and applicable ideas for my work; and, of course, all this translates to my and my clients' benefits."

– Omar Hernán Montes Parra, CEO at Quantum SFE