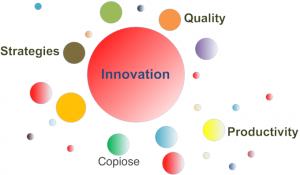 The emergence of total quality management (TQM) has been one of the major developments in management practice. The recognition of TQM as a competitive advantage is wide spread around the world and today, very few (especially manufacturing) companies can afford to ignore the term TQM (Dean and Bowen, 1994).
There are some arguments that support a positive relationship between TQM and innovation. These studies contend that companies embracing TQM in their system and culture will provide a fertile environment for innovation, because TQM embodies principles that are congruent with innovation (Dean and Evans, 1994; Kanji, 1996; Mahesh, 1993; Roffe, 1999; Tang, 1998).
While standardization is necessary for conformance and error reduction, from the innovation point of view, it could trap people into staying with what is workable; resulting in rigidity (Glynn, 1996; Kanter, 1983). In addition, Lawler (1994) and Samaha (1996) suggest that the concept of continuous improvement is basically aimed at simplifying or streamlining a process and carrying it out in a better or faster manner. Such an approach could be detrimental to innovation because companies may continually work upon, and improve, processes that are already fundamentally flawed.
It may be difficult indeed, to accept that a company can be successful with innovation if it cannot produce products that meet acceptable quality standards, it is argued here that in certain situations, companies have to prioritize quality over innovation or vice versa. This is particularly true when industry and market conditions are taken into consideration (Nowak, 1997).
One important question then would be, is there any significant relationship between quality performance and innovation? If yes, what is the nature of this relationship? The nature of this relationship may be on the frame innovation is compared to. In other words, how these indicators are made of. TQM and quality are about performance measures; then it would make sense to build innovation performance measures to relate them with TQM and quality also.
There were some findings that indicated a positive and significant relationship between quality performance and innovation performance, particularly process innovation. This suggested that the achievement of quality performance as a result of the implementation of TQM practices does, to a certain degree, lead to realization of innovation performance. (Prajogo, Sohal, 2002).
From a practical point of view, organizations that want to pursue innovation performance are recommended to adopt TQM and co-align it with other practices and techniques relating to research and development (R&D) and technology management. Future studies in this area therefore, should be focused on developing adequate innovation performance indicators and investigating the compatibility of TQM with those practices in determining innovation performance.
Often success is simply the repeated, periodic achievement of some levels of operational goal; and sometimes success is defined in terms of making progress toward strategic goals. In Copiose, we help you to evaluate the success of your organization. We use various techniques to assess the present state and its key activities of your business to develop the right performance indicators. Contact us today (http://www.copiose.com) to help you define the appropriate set of values against which to measure your business improvement.