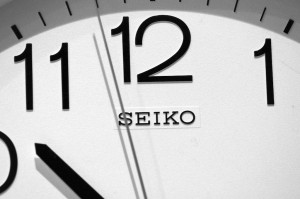 Time management is the act or process of planning and exercising conscious control over the amount of time spent on specific activities, especially to increase effectiveness, efficiency or productivity.
Poor time management can be related to procrastination, as well as problems with self-control. Skills involved in managing your time. include planning for the future, setting goals, prioritizing tasks, and monitoring where your time actually goes
A McKinsey study solicited responses from nearly 1,500 executives across the globe to describe how they spent their time, revealing that only 9 percent of the respondents deemed themselves "very satisfied" with their current allocation. Less than half were "somewhat satisfied", and about one-third were "actively dissatisfied." What's more, only 52 percent said that the way they spent their time largely matched their organizations' strategic priorities. Nearly half admitted that they were not concentrating sufficiently on guiding the strategic direction of the business. These last two data points suggest that time challenges are influencing the well-being of companies, not just individuals.
Download the Time Management template and I will review the top four time wasters and provide potential solutions you can implement today.
Top 4 Time Wasters Identified and Ways to Increase Productivity
1. Meetings
The top time waster are meetings.
Some ways to increase productivity in meetings are to schedule meetings in Outlook or other calendar software solutions, list the criteria in the meeting invitation, provide meeting purpose, objectives and desired outcomes, and align the meeting to either a strategic initiative and/or corporate strategy. By aligning the meeting to a strategy, this enables individuals to align their activities and tactics to meeting business objectives.
2. Email Communications
The second most time waster are email communications.
Some ways to increase productivity for reading and responding to emails are to remove your name off of distribution lists, utilize technology to place discussions copied on (Cc) into "Review Later" folder, utilize technology to place unwanted items in spam/junk folder, respond to emails that are deemed important or have a "Respond by" date and utilize technology to identify emails from persons who require an immediate response (e.g. CEO, CFO, COO, Manager). By utilizing technology and identifying email communications that require immediate responses, this will reduce time spent reading received emails.
3. Procrastination
The third most time waster is procrastination.
Some ways to reduce time procrastinating are to know what inspires you and why, complete the most important and productive task first, create a To-Do list, set major goals and know your skills. By understanding your skills, you can identify areas where leveraging others' expertise could help increase productivity in meeting strategic goals.
4. Disorganization
The fourth most time waster is disorganization.
In the document displayed above (available for download for free from Flevy here), I discussed the Top 4 Time Wasters and potential solutions to increase productivity, creating more time for Strategy and Planning Management. Strategy and Planning Management provides the ability to deliver long-term strategic and financial goals; provides next-step guidance to meet strategic initiatives; enables trade-off decisions subsequent to planning processes; and, supports multi-dimensional views for risk management.