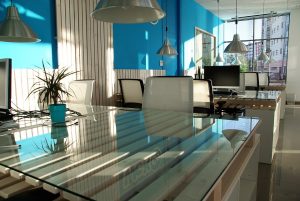 There are modern offices that are thoughtful as per nice designs or layout, which addresses the nuances of different work settings and provides options for you to create your own workspace and carve out your own space, one that really suits your needs.
Setting up an office space is imperative when you carry out all your professional tasks in that space because you need to make the environment comfortable for your productivity.
It is important to make it comfortable, but not too casual at the same time so that you can easily zone out and do your work with full concentration without distractions. You will also want to distinguish exactly what your office will and will not be used for when it comes to keeping the space modernized. Decide what will be found and what won't be found in your office space to feel less overwhelmed.
Office lighting
When it comes to modernizing your office space, the first and foremost thing you need to do is get good lighting, I cannot overemphasize how important this is, especially in an office space. Daylight is the most balanced source of light, so it is incredible to have as much natural light as you can flowing in through a door or window where you can turn your gaze to and give adequate relief to your eyes. This will boost your wellness and productivity.
Where this is absent, a combination of general and task lighting will do just the same work. Low lighting levels can cause depression, especially if you have to stare at the monitor all day.
Keep it simple and functional
Clutter makes a really nice space look clumsy, having enough storage is very imperative. To avoid chaos caused by disorganized piles of paper and scattered work space you need a functional desk. Having the right type of machines is good. In fact, some of these machines like having a Franking machine, a computer, e.t.c are inevitable but you want to have them arranged properly and not cluttered. You are going to spend most of your time at your desk, so get a desk that is functional, even if it is nothing too fanciful, make sure it is durable with plenty of storage units in it, to help you stay organised while working. Keep in mind that your desk space needs to be organised and clutter-free at all times to help you concentrate better on your work rather than distract you.
Choose a desk that has a large top where you can comfortably place your desktop or laptop. Make sure it is large enough to handle your paper flow, stationery and files.
Your office space needs to be a no-fuss zone, you don't have to struggle to get hold of paperwork or stationery. Everything should be handy.
Office essentials
Modern office space requires having all your office essentials (example flash drives, biro pens and pencils, copier paper for printing, headphones, extension boards, etc). at hand as this eliminates distractions, so you don't have to run out every now and then to fetch what you need. You should also invest in machines such as a franking machine. According to the team at FP Mailing, having a franking machine saves a lot of money through the reduction of overstamping and under stamping and it brings about accountability and efficiency and saves a lot of time.
Define the space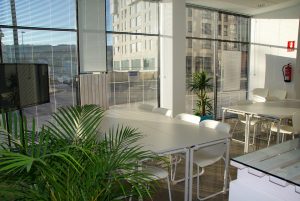 Your office space reflects your personality and taste. Adding a few personal touches to the surroundings will reflect your spirit, your preferences and comfort.
Set up your modernized functional and organized office space as a place where you want to spend time and at the same time positively influence you to be more productive.
Customize your space to soothe your personality, maximize productivity and wellness with wall paint or wallpaper, depending on what you choose. It is very important to have consistent décor and colour palettes choosing the right paint colours can stimulate your creativity and productivity. You can also add some inspiring paintings or pictures to brighten up the walls and boost the energy in your workspace but try as much as possible to keep the space clutter-free and fuss-free. Keep it simple, functional and bright.
Quality and appropriate office furniture
Invest in ergonomically designed office furniture to prevent back pain and prevent wrist pain from using the mouse all day. A desk with enough drawers that you can open and close or lock at ease, a mouse pad, arm-stand desk extender and a comfortable chair, which will help maintain your posture. You will also need a few extra chairs to offer clients and visitors.
Skip the filing drawer and invest in a good organizer.
This way your paperwork will be in place and you can access all your important documents quickly. If your work is online, get a computer monitor that you can have a lot of room to work.
Using an entire drawer in your desk is not an efficient use of space especially if your desk has little or no room for that. You can choose a filing space that suits your needs without being fuzzy, use an inexpensive filling folder, a portable filing system or storage ottomans for filing.
You don't have to spend big sums to modernize your office. All you need is to know what you want and have the right systems in place for every task you need to carry out. The office tips and hacks mentioned above will help you achieve the right aesthetic for your office, and make the look and feel of your space more modern.