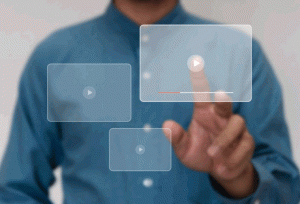 With nearly two years of the pandemic under your belt, a virtual event is nothing new for your organization. Attending and hosting these digital webcasts is normal now for the corporate world.
Despite how common virtual/hybrid investor events are nowadays, it's easy to fall into traps when organizing your own. Avoid the mistakes below, and you'll deliver virtual events that stand out to all your attendees.
Mistake #1: Using the Wrong Webcasting Platform
There's a broad range of "wrong" when it comes to webcasting. Perhaps the most obvious problems involve glitchy tech, security vulnerabilities, or bad design.
But there are less flashy issues that can drive away investors. Subtle things like not having tech support or a branded environment reveal you aren't at the same level as your competitors.
Outsourcing your webcasting to an established IR firm will help you avoid making such blunders — large or small.
You should expect a fully branded webcast that you can customize to suit any event — from digital roadshows and townhalls to earnings meetings and more. It should also come with intuitive design backed by reliable event support and security.
Mistake #2: Overlooking Accessibility
Accessibility is just as important as when you gather under one roof for an in-person event. Your IR software should make it easy to stream for all your investors — whether they're tech luddites or Hard of Hearing.
Accessibility is all about removing barriers that may prevent guests from participating. Your first step to achieving this is by choosing inclusive webcasting design.
Next, consider having IT and web design professionals test whether assistive technology is compatible with your IR software before you go live. You may also want them available on the big day as tech support if attendees have questions.
Mistake #3: Choosing Presenters without Remote Experience
You can have the best content in the world. It won't resonate with your audience if it isn't delivered in an engaging, charismatic, and confident way.
Delivery comes down to your presenters, who face unique challenges with virtual events. They're performing in front of a screen, potentially all by themselves. They won't pick up on any of the energy of an audience like they would at a live event.
They're also juggling a lot of technology while trying to deliver their presentation. Tech can trip up inexperienced presenters, resulting in frustrating delays as they attempt to navigate a system they don't understand.
That's why it's best you stick with someone familiar with webcasting tech. A digital native will make it look easy.
Mistake #4: Running Long
Lastly, you'll want to avoid creating an event that disrespects your audience's time.
Your guests are likely fitting your virtual event in between other important obligations, and there's a very good chance this isn't the only digital meeting they'll attend in the day.
You also have to consider your guests are tied to their computer screens. You don't want to make a long presentation that keeps them staring at the screen all day.
Instead, keep things concise. Aim for 45 minutes, so you don't take up too much of anyone's time. And if you need more time, mix things up by scheduling breakaway rooms, fireside chats, and bathroom breaks.
Bottom Line
Learn from other people's mistakes when organizing your next virtual/hybrid investor event. They provide you a rubric of what not to do!