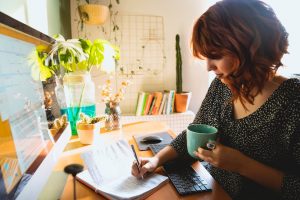 After COVID-19, 92% of survey respondents expect to work from home at least one day per week, and 80% expected to work at least three days from home per week, according to one survey by Owl labs. While many may find natural success in hybrid working models, others may find the adjustment to be particularly difficult, whether it be individual employees or an organization as a whole. From finding the value of hybrid working models to how employees can overcome the blurring of work/life boundaries, here's what one should take into consideration.
The Benefits of a Hybrid Work Model
When it comes to the benefits of a hybrid working model, both employees and organizations as a whole can benefit in several ways. With employees able to gain the freedom and flexibility of working when and where they feel most comfortable to do so given the option, organizations will gain benefits in the form of quality work from happier employees, the ability to hire talent from all over the globe, and a boost in overall productivity. It's important to realize that hybrid working models can have many variations across the board, with some companies opting to allow every employee the flexibility to work on site and remotely part of the week, while others may opt for either fully remote or fully on-site employees (whereas others may choose to do a combination of both).
Overcoming the Challenges
While hybrid work models can be beneficial in multiple ways, challenges can arise. For example, employees may find it difficult to transition from working in-person to remotely working. When managed poorly, one of the main challenges of remote employment is the "blurring of boundaries" between work and home, which can lead to further problems, according to Benjamin Miller, a mental health expert and president for Well Being Trust, a national foundation.
One way that many can help solidify the boundary between work and home, however, is by creating a designated home office space. While this can be challenging itself, especially for those who may not have the room to do so, there are ways that this can be overcome. For example, an office space can be a result of a savvy closet transformation, a bookshelf-desk hybrid, or even by converting a room into a multi-purpose space by using dividers. By having a set work space in the home, employees can enjoy a nourished working mindset as well as the potential for greater productivity through better focus.
How Organizations Can Help
While implementing a home office space can be a way that employees can elevate their remote working experience, organizations can also make a difference in how well employees receive the transition. Compiling research of your employee's current status (for instance, how many work remotely vs. in office) will allow the business to keep track of and gain insight on what direction or decisions to make later on. Additionally, scheduling your employee's return and ensuring there are plenty of engagement activities can also make a difference. Team interaction, for example, can allow for company insight on what makes employees feel productive, empowered, and connected on a day to day basis, allowing an organization to make the right changes when needed.
Hybrid working models are becoming increasingly popular, largely due to the pandemic. With many organizations choosing to keep the work style or choosing to make a change (whether it be to hybrid working for the first time or to another hybrid work style), navigating the challenges that can arise will allow for both employee and business success.