The Importance of Workplace Communication under Social Distancing Orders
Featured Best Practice on Virtual Teams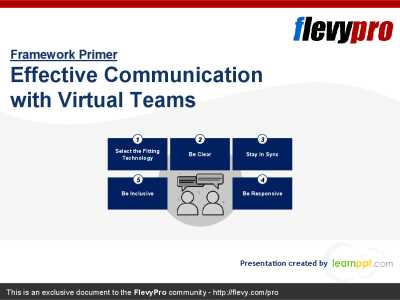 23-slide PowerPoint presentation
The number of people working remotely has been increasing progressively across the globe. An employee benefits report narrates that around 60% companies in the US offer telecommuting opportunities. According to Upwork, freelancers and contractors have increased by 81% from 2014 to 2017.
[read more]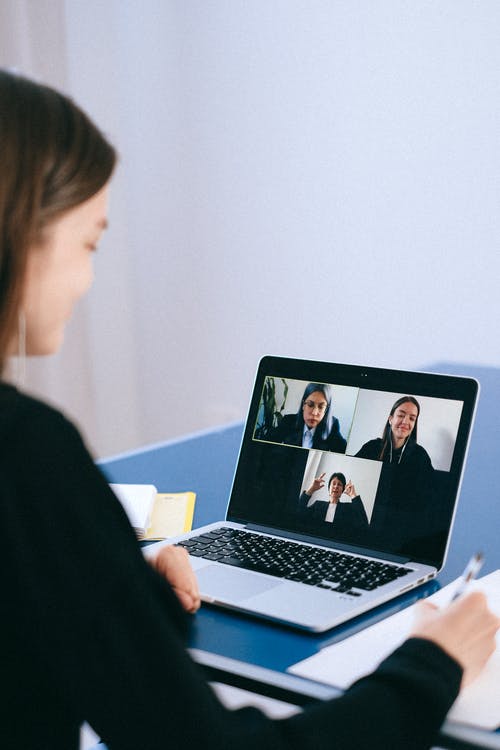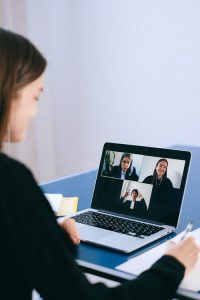 From the looks of it, social distancing protocols, lockdowns and stay-at-home orders will continue to be a reality for some time. Granted, this has made a number of things awkward and complicated, but by now we have learned to work around these new limitations. Not only that, but the sudden need to improvise and adapt has been a catalyst for multiple trends across industries.
One of the biggest trends we've observed in the past two years is rapid tech development. It follows market laws of demand and supply, and demand got high really fast. The pandemic hit us without warning and without preparation; this forced us to adapt and overcome to keep the cogs turning. And one of the biggest challenges – but also a top priority – was keeping communication running.
As things developed, we now have a deeper understanding of this new reality and the importance of communication in a remote or hybrid work model. We've managed to keep it running, and now it's time to improve and optimize!
Communication Challenges in the Remote Workplace
The foremost challenge is managing yourself and your work responsibilities against a backdrop of distractions and non-optimized work environments. We all needed to juggle home, children, more complicated errands, and keeping the work afloat. On top of that, managers needed to do that for whole teams.
The first step to do in that regard is dedicated effort to simply stay in touch. Regular contact with everyone in your team is a win/win – it shows you genuinely care, and it's an opportunity to stay in the loop with your team members. Making an effort to maintain contact is essential because that used to happen naturally in the office, and we all took it for granted.
While you're keeping in touch with people working remotely, there are some communication considerations to bear in mind. You need to be aware of your focus and your listening ability, and make sure that you don't succumb to distractions and multitasking. Technology has enabled us to efficiently divide our focus among various tasks, but sometimes your undivided focus is what's needed – especially if the communication is more support-related.
The Somewhat Endemic Roadblocks in Remote Workplace Communication
A very human thing happened when the pandemic first hit – fear crawled in. And fear is the mind killer: in a corporate setting it can hinder proactivity, and the direct consequence of that are workers who become compliant instead of committed. The job of a manager is to keep fear in check, and the best way to do so is optimism – it's contagious, especially when backed with tasteful humor!
Then there's uncertainty – essentially a shortcut to anxiety. The workaround here is doing simple, frequent updates. Keep your team in the loop at all times; update even if there is no major news. Maintaining a transparent environment is always welcome; making sure you keep doing so even in a crisis will showcase your dedication to team integration, making sure everyone's eyes are on the ball.
On top of that, it's the manager's responsibility to take care of their team. This begins by having and showing an interest in the team's wellbeing.  You can start by monitoring stress levels. It doesn't have to be rocket science – take cues from video calls, like gesticulation and overall appearance; monitor the tone and style (and changes) of written communication.
Aside from stress, monitor your team's engagement levels. There could be various indicators depending on your KPIs, but productivity levels and motivation are a good baseline. See how they fluctuate, and try to determine a cause-and-effect relationship. Remember that stress can induce both sudden and huge effects, but also minor disturbances that snowball over time.
Challenges As the Doorway to Growth and Development
Just like the problems that arose from the new normal, the workarounds were many and various. As they become our new routines, we have an opportunity to streamline, optimize and improve to make them a sustainable long-term solution.
One of the first things to keep in mind is the focus on goals and results. As mentioned above, it's the manager's job to keep everyone's eyes on the ball. However, if you're aiming to maintain focus in a rapidly changing environment, you need to make flexibility your top priority.
Good staff scheduling that allows for self-management and flexible hours is a start, and being flexible with work methods that yield results is the next step. If we accept the fact that things have irreversibly changed, then we must also provide space for new developments. This is as good a time as any to innovate or reconsider anything and everything in your workflows.
Another great opportunity is stepping up your in-house learning. Let's face it: your team will have to brush up on a number of things. With travel restrictions in place, it's difficult to arrange week-long seminars and training – but this doesn't mean you should neglect upskilling. This is a chance to try out microlearning: short sessions dealing with a specific skill, tool or workflow, developed in-house and aiming precisely at your skill gap.
The Human Aspect of Remote Workplace Management
Finally, the job of the manager is to be there for their team. An open-door policy doesn't cut it, even with Slack channels and various project management tools. You are bound to experience communication difficulties without the benefits of face-to-face communication – such as picking up on voice, facial or body language cues. A good way to encourage people to articulate their thoughts, opinions and feelings more freely is to gather information using open-ended questions.
As counter-intuitive as it may be – with people being focused on data and information – every opportunity for communication is also an opportunity to reiterate your willingness to support your team. Use every chance you get not only to silo your business data, but also to pick up on cues, and to provide your team with the opportunity to simply – open up.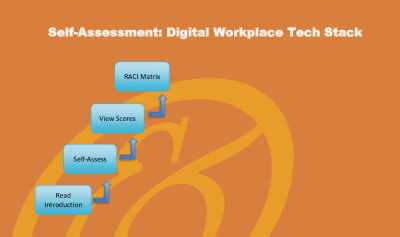 Excel workbook
The Digital Workplace Technology Stack Toolkit includes a set of best-practice templates, step-by-step workplans, and maturity diagnostics for any Digital Workplace Tech Stack related project. Please note the above partial preview is ONLY of the Self Assessment Excel Dashboard, referenced in steps
[read more]
Do You Want to Implement Business Best Practices?
You can download in-depth presentations on Virtual Teams and 100s of management topics from the FlevyPro Library. FlevyPro is trusted and utilized by 1000s of management consultants and corporate executives.
For even more best practices available on Flevy, have a look at our top 100 lists:
These best practices are of the same as those leveraged by top-tier management consulting firms, like McKinsey, BCG, Bain, and Accenture. Improve the growth and efficiency of your organization by utilizing these best practice frameworks, templates, and tools. Most were developed by seasoned executives and consultants with over 20+ years of experience.
Readers of This Article Are Interested in These Resources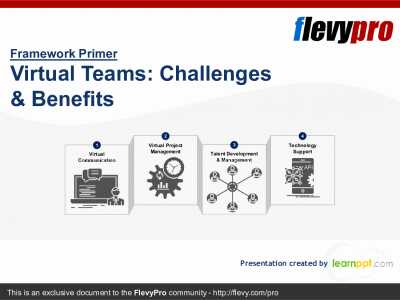 26-slide PowerPoint presentation
To quote, Richard Branson, a British business and philanthropist, "One day, offices will be a thing of the past." While organizations still need to travel to reach their physical offices, the rapid changes in the world is requiring businesses to form Virtual Teams. A Virtual Team refers to a
[read more]
Excel workbook

14-page PDF document
About Derek Jones
Derek Jones (VP Enterprise Strategy, Americas) - Derek spearheads key initiatives at Deputy, a global workforce management platform for employee scheduling, timesheets and communication. With a focus on workforce, Derek helps business owners and workforce leaders simplify employment law compliance, keep labor cost in line and build award-winning workplaces. Derek has over 16 years' experience in delivering data-driven sales and marketing strategies to SaaS companies like MarketSource and Griswold Home Care.
Top 10 Recommended Documents on Virtual Teams
23-slide PowerPoint presentation
Excel workbook
26-slide PowerPoint presentation
Excel workbook
14-page PDF document
23-slide PowerPoint presentation
26-slide PowerPoint presentation
20-slide PowerPoint presentation
23-slide PowerPoint presentation
25-slide PowerPoint presentation

» View more resources Virtual Teams here.
» View the Top 100 Best Practices on Flevy.