Strategy Development and Deployment with Hoshin Planning
Featured Best Practice on Hoshin Kanri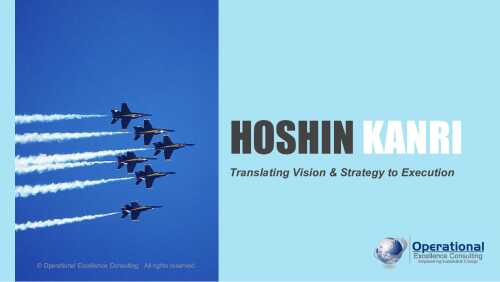 141-slide PowerPoint presentation
Hoshin Kanri process (a.k.a. Hoshin Planning or Policy Deployment) is a powerful strategy deployment methodology for defining long-range key entity objectives. These are breakthrough objectives that extend 3-5 years with little change. In addition, the Hoshin Kanri process does not lose
[read more]
People and their managers are working so hard to be sure things are done right, that they hardly have time to decide if they are doing the right things. – Stephen R. Covey
Strategy is an expression of what an organization intents to do to get from a current state to a future state.
Strategic plans are often developed in isolation and rarely aligned across an organization. As a result, the organization's strategy and strategic objectives are not well defined, are not well communicated and do not impact day-to-day decision making.
Our Strategy Planning and Deployment Process, using Strategy Maps and Hoshin Kanri, provides an organization with simple and effective methods and tools to develop, communicate and align its business objectives, strategic initiatives, operating plans, targets and goals.
A Strategy Map is a logical framework for identifying and organizing a collection of initiatives and activities, that support a specific Strategic Focus Area and Objective, over the four Balanced Scorecard dimensions; Financials – Customers – Internal Business Processes – Learning & Growth. Everything is linked to capture and visualize the cause and effect relationships.
To cascade each Strategy Map, interaction between the different level of an organization is necessary. This process is often called "catchball", reflecting that all the participants in the process should be given the opportunity to "throw" ideas back and forth. An effective "catchball" process will result in well-defined and aligned action plans engaging the entire organization. The outcome of the "catchball" process is often documented and visualized using a Hoshin X-Matrix.
Strategy Maps are also the foundation for building an effective Performance Management Systems and aligned Balanced Scorecards for the different levels of an organization.
A well-defined, methodical and disciplined review process and the deployment of Process Excellence Solutions, including Lean Management, Six Sigma, Business Process Development and Problem Solving, will ensure that progress toward the Strategic Breakthrough Objectives is made and that any risks and roadblocks are identified and resolved in a timely manner.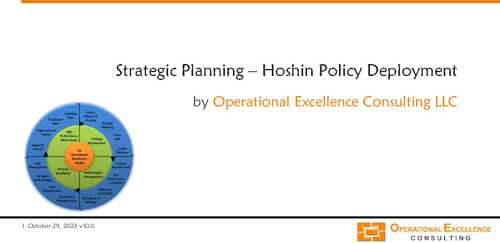 137-slide PowerPoint presentation
Our Strategic Planning Process, based on Hoshin Policy Deployment, provides an organization with proven and effective methods to develop, communicate and align its strategic goals, objectives, and initiatives. The Strategic Planning - Hoshin Policy Deployment Training Module includes: 1. MS
[read more]
Do You Want to Implement Business Best Practices?
You can download in-depth presentations on Hoshin Kanri and 100s of management topics from the FlevyPro Library. FlevyPro is trusted and utilized by 1000s of management consultants and corporate executives.
For even more best practices available on Flevy, have a look at our top 100 lists:
These best practices are of the same as those leveraged by top-tier management consulting firms, like McKinsey, BCG, Bain, and Accenture. Improve the growth and efficiency of your organization by utilizing these best practice frameworks, templates, and tools. Most were developed by seasoned executives and consultants with over 20+ years of experience.
Readers of This Article Are Interested in These Resources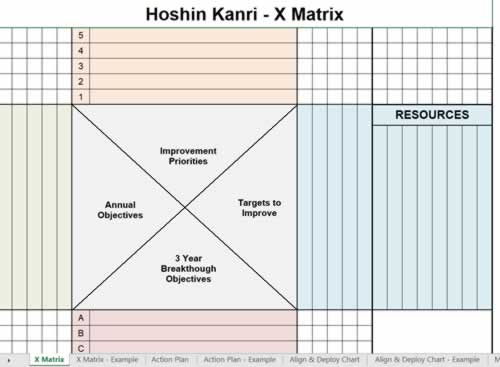 Excel workbook
Hoshin Kanri process is a powerful strategy deployment methodology for defining long-range key entity objectives. These are breakthrough objectives that extend 2-5 years with little change. In addition, the Hoshin Kanri process does not lose sight of the day-to-day business measures required to run
[read more]
Excel workbook

50-slide PowerPoint presentation
About Frank Adler
Frank Adler co-founded Operational Excellence Consulting (OEC) in 2009 to follow his passion for Operational Excellence and to be able to work with individuals and organizations that share this passion. He has over 20 years of international executive leadership experience in General Management, multi-site Operations & Supply Chain Management, Quality & Customer Support Management, and Operational Excellence & Lean Six Sigma. View more of
OEC's materials on Flevy here
, including training guides and free downloads.