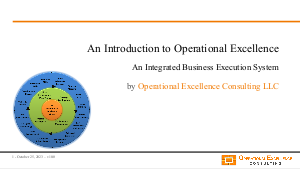 Achieving Operational Excellence requires the successful implementation of a Business Execution System that effectively and seamlessly integrates the following four building blocks: Strategy Deployment, Performance Management, Process Excellence, and High Performance Work Teams.

This 50-slide presentation provides a high-level introduction to the 4 Building Blocks of Operational Excellence.

By downloading this document, I agree to continue receiving educational materials, newsletters, product updates, event invitations, and other information from Flevy and the author. I understand I may opt out or update my preferences at any time.