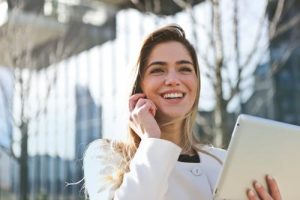 Seeing your business grow is very exciting. You worked hard to make this happen and now you're seeing the fruits of your labor. However, you must not fail to remember that you did not get here alone. You had the help of your hardworking employees. 
It can be easy to forget them in the process of transitioning, as you're busy hiring more employees, getting new infrastructure, catering to a growing clientele. Make sure you don't make this mistake. More often, the well-being of employees takes a toll during company growth. They may now find that management is hard to reach and that they are unsure where they fit in the overall picture of the business. 
When you're going through a transition, you need to follow these five tips to ensure that your employees stay happy.
1. Have Open Communication
As you're in the process of growing your business, you want to keep in touch with the employees who were there with you along the way. This means having open communication about what your plans are, how they feel about the change, how the transition can possibly help with their career.
Doing this makes them feel their contributions are valued. On your part, it shows that you are still connected with your employees who made all this growth possible.
2. Think of Their Career
No one likes to get stuck in the same position for years. In line with having open communication, you need to discuss your employee's career path. Things are about to get serious with your business; this means your employee may be thinking about their increasingly important role in your organization. 
You don't necessarily have to do it with constant salary increases. Sure, more money is good but what will really make your employees happier is knowing their role is making a more impactful change to your business. 
3. Maintain a Positive Work Culture
Your business got to where it is because of your work culture. Most of the time, employees leave a company not because they don't get paid enough but because they're not happy with the culture. A positive work culture worked well for you before and it's only going to keep getting better if you maintain that positivity around your employees. 
4. Keep Tasks Manageable
Often the result of a growing business is a growing workload that your employees might find overwhelming. They may not have a more flexible schedule as before and often need to stay at home all day just finish tasks required of them. This can lower employee morale making them feel stressed and overworked. 
If your business is growing, it's only right that your employee number and infrastructure should be growing too. For example, your accountant may be doing more work for your growing staff so you may want to consider accounts payable automated for businesses. Your employees shouldn't be swamped with work. This only makes them prone to making errors which can be detrimental to your business. 
As workload increases, hire new employees or adapt new technology that can help your current employees cope. If you haven't done that yet, assure that that more help is coming along the way. 
5. More Reward Opportunities
As your business is growing, you want to make sure that your best employees stay with you. You have come a long way. It would be a waste to lose someone who was with their during your growth. A way to retain your top-performing employees is by offering rewards. 
This can come in the form of salary bonuses or more flexible time at work. If you don't have the resources to do those just yet, a simple recognition in the group chat can make a big difference. This makes your employees feel seen and appreciated and will motivate them to work better for the success of your business.
Which of these tips did you find the most useful? Share your thoughts in the comments below.